'We felt why not have the hope that is intrinsic in every child's life, embodied in our happy protagonist and let viewers see the world full of double standards and confused adults around her through her innocent and questioning eyes?'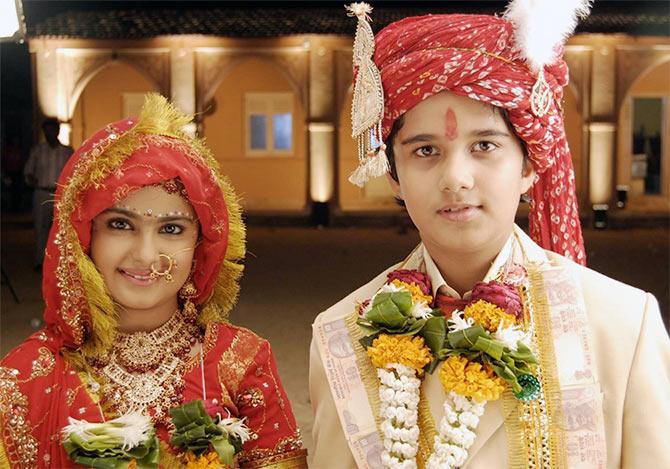 IMAGE: Avika Gor and Avinash Mukherjee as the hugely popular Anandi and Jagya in Balika Vadhu.
It was a television serial that set many benchmarks.
It took on a subject that seemed outdated. And went on to handle that subject so sensitively that audiences rooted for the child bride, Anandi, and followed her story avidly.
It gave a newly launched channel, Colors TV, much needed success when Balika Vadhu began airing on July 21, 2008, and soon notched up viewership records.
Nearly eight years later, the multiple award-winning serial crossed another landmark -- it was listed in the Limca Book of Records as the longest daily fiction soap in Hindi, with a run of 2,196 episodes and on June 5, 2016.
Its characters -- Anandi, Jagya, Dadisa and Shiv, among others -- virtually became family members in many homes across the country.
Gajra Kottary, who teamed with Purnendu Shekhar, to co-write the serial, is proud of what they achieved.
Though Gajra -- whose serial writing credits also include Hamare Tumhare, Astitva Ek Prem Kahani, Ghar Ek Sapna, Jyoti, Panaah, Godh Bharaai, Ek Veer Ki Ardaas Veera, Buddha and Satrangi Sasural -- is no longer associated with the serial, she is thrilled with the honour and looks back at what has been a long, enlightening journey.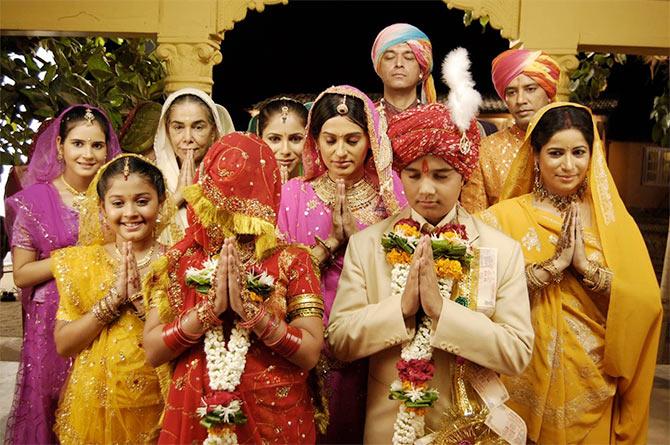 IMAGE: The initial Balika Vadhu family.
I have always been a city girl, sheher ki ladki. For me, the image of a balika vadhu (child bride) was always that of the baby doll I had dressed, rather overdressed, like a dulhan (bride), as a kid, fascinated by all the bling associated with an Indian bride.
A glittering tasselled scarf, the remainder of a mata ki chowki prasad, wrapped over her frock, felt pens used to decorate her face, a broken bracelet doubling up as a necklace.
That was the closest I had ever been to the image of a child bride.
I knew Balika Vadhu was going to be a tough one. It had been far easier for me to relate to the life of a 30 plus Dr Simran, getting under her skin as she fell in love and, through the ups and downs of her married life, still excelled in her chosen career path, since the preceding four years of the telecast of my first daily soap, Astitva, on Zee TV.
It was so progressive, so modern, etc, said everyone around me, that nothing else will ever match that storytelling on Indian television. I too believed it back then.
So when offered work on the subject of child marriage, I too questioned how relevant the subject would be to viewers at the time. Moreover, the project was being planned for a new channel and therefore, as it was not a readymade and popular platform, doubled the risk for us.
But the conviction of my senior colleague Purnendu Shekhar in his concept, and the memories of the hugely positive experience of working with him on Astitva, made me the first one to come on board after the channel and producer, and we began our in-depth research on the subject of child marriage in 2007.
At the end of three months of research, I was a different person in my approach to both the relevance and progressiveness of a particular subject to tell a story about.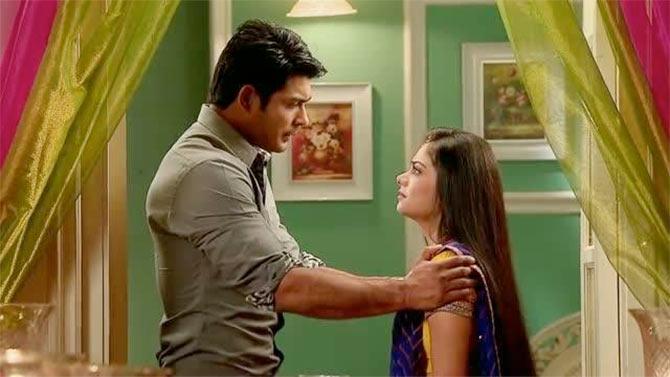 IMAGE: Siddharth Shukla as Shiv and Toral Rasputra as the new Anandi in Balika Vadhu.
Shocking data stared me in the face of how prevalent child marriage was, not only in India, but across the world -- from South East Asia, to the Middle East, to Africa and South America, not just in villages but in the metros too.
Interestingly for any writer, the phenomenon was inextricably interlinked with poverty, gender issues and relationship stigmas in a certain socio-economic strata of people.
As I scrolled through endless pictures that illustrated the data, I realised that none of the child brides I saw looked anywhere like my much decorated childhood doll. They stared back at me with vacant, lost and frightened eyes, both hiding and revealing their stories.
I felt compelled to tell their many stories as one story. I felt chastened at having earlier questioned how relevant this subject was at the time. I also realised how badly it needed to be brought alive for people in a truly progressive way.
Each child bride's story was different and yet they were all the same. A lost childhood, a robbed chance at education, ravaged bodies, broken hearts and a bitter future.
If this story was to be told realistically, it would have to be a combination of the cutest visuals and the grimmest of stories surrounding them, for the worst thought for anybody is a childhood without hope.
This story, if it were told too grimly, would only drive people away from the channel. It was clearly going to be the challenge in storytelling, but we were all sure this story would have to be told truthfully, yet in a palatable and attractively packaged manner.
In fact, that's how the formula for the storytelling in Balika Vadhu worked itself out. We felt why not have the hope that is intrinsic in every child's life, embodied in our happy protagonist and let viewers see the world full of double standards and confused adults around her through her innocent and questioning eyes?
The formula made sense, yet the risk was huge on another front too.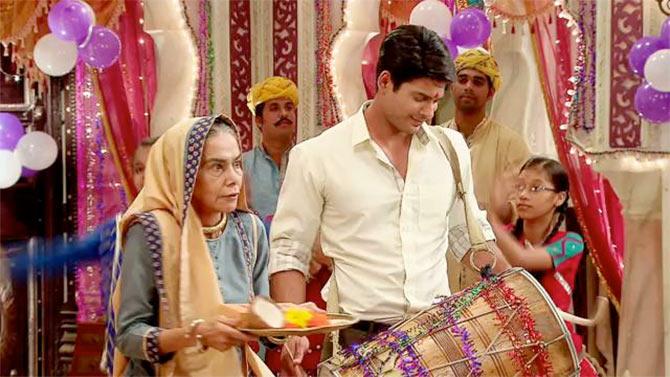 IMAGE: Surekha Sikri as the much-beloved Dadisa and Siddharth Shukla as Shiv in Balika Vadhu.
As I have discovered in the world of television and films -- sometimes painfully -- just as you are as good as your last film or serial, a writer's fresh or unique vision can come to nought if not brought alive with equal and more conviction by the performers.
Luckily, in this respect, Balika Vadhu has been perhaps the most blessed show in the history of Indian serials.
Beginning with Avika (Gor) who tugged at viewers' heartstrings with her performance as the child bride Anandi, taking the character several notches above our own expectations, to Dadisa (Surekha Sikri) who, for us writers, was the goddess of acting and through all others, too many to mention individually.
These two, of course, were the two pillars on which the edifice of Balika was built, brick by brick. Every performer who joined the cast as the story progressed felt the need to outdo their own selves, simply so they could meet the standards set by these two. And so, Balika grew from strength to strength.
As writers, we consciously tried to cover all aspects of rural and, later, urban life and its challenges and yet expose a slew of social issues -- going much beyond the concern of child marriage, but never letting our concept out of sight.
We took many risks too. The first time leap happened despite everyone telling us that we were being foolhardy by having our hugely popular faces be replaced and have the kids grow up.
But though we initially took a small TRP beating, Shashank (Vyas) and Pratyusha (Banerjee) gave their all to make themselves completely believable as the grown-up Jagya and Anandi, both in their own ways suffering due to their child marriage, and we slowly climbed the TRP charts again.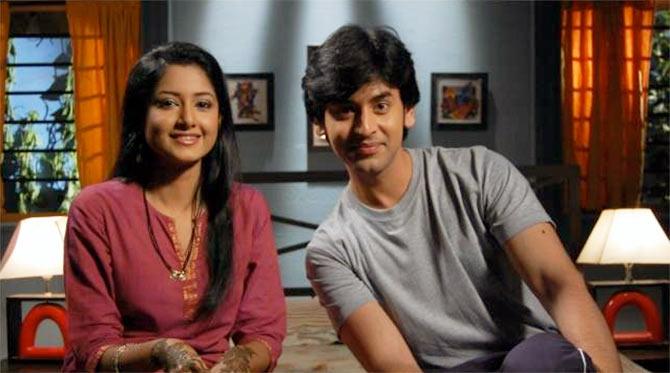 IMAGE: Anjum Farooki as Jagya's second wife Gauri and Shashank Vyas as Jagya in Balika Vadhu.
People's hearts particularly went out to the petite Pratyusha, who essayed the devastated wife to haunting perfection.
They sometimes neglected to appreciate the very difficult and layered role brilliantly essayed by Shashank, just because his character was doing unpopular things -- a severe case of reel life being mistaken for real life!
Down the line, many other characters had their faces change until we no longer feared the word 'replace' and, dare I say, we helped the industry too to include it in their lexicon, for better or for worse.
Many awards and rewards followed us, as Balika Vadhu was feted not only for its writing but for its sensitive direction and fascinating production values.
Yet internally, after its fifth year, we were all dealing with the baggage that comes with all long running shows -- the price of success might one describe it?
To keep up the standards that our own show had set, we had to battle with so many problems with our lips sealed, much like the silent suffering bahus of the serials of yore.
Every other day, there were physical and mental health issues of artistes and their tantrums, which in turn affected delivery deadlines and therefore our writing.
In hindsight, one realises that all this was triggered by the stress of overwork that everyone was feeling -- a side effect of the daily soap phenomena.
Added to that, there were nerve-racking competitive tactics of rival channels and sometimes just a lack of commonality of vision or ego clashes, as newer people with different mindsets got added to the teams behind and in front of the camera.
Yet, we telecast day after day without fail, with viewers both liking and criticising us for what they saw. Either way, we writers could not speak up about anything of what was happening behind the scenes and had to take it straight on the chin, when sometimes content did not live up to people's very high expectations.
Sometimes, there were downright scary brickbats. After I joined Twitter, I received a death threat, 'You kill Shiv (Siddharth Shukla) and your family will mourn your loss.' While it psychologically affected my kids for some time, it amused me as to how seriously even educated people take their daily soaps!
But as Pratyusha's death has painfully reminded us all, life or death, the show always goes on. So Balika Vadhu lives on, though the original team has bid adieu since April 12, 2016.
It has been a wonderful 2,176 episodes and it is a great feeling being in the record books.