There's no formula for success. But there are definite rules for a hit television serial. Ask Neelima Bajpai, who is fast emerging as the next Ekta Kapoor in showbiz.
A Science graduate from Delhi, Neelima moved to Mumbai six years ago. Her first TV serial was Reth, which ran for 360 episodes. Some documentaries for Doordarshan Network followed, and then Sab TV's Hadsa.
But it's her current show on Zee TV that has made her a star. Bano Main Teri Dulhann has one of the highest TRP ratings, and after 390 episodes, things are only hotting up.

Neelima tells us that she initially wanted to name the show Dulhan. But the title belongs to Yash Raj Films, and so she could not use it. She used the next best thing: Bano Main Teri Dulhann.

The award-winning serial revolves around an illiterate village girl and a mentally challenged man.

Neelima interacts regularly with her creative team, which keeps her updated on audience reactions to twists in the story.

The shooting for one episode -- which runs for 20 minutes -- takes one and a half days on an average. If it is a dramatic episode, the shooting lasts for three days.

Revenge, incidentally, has the best drama. "Revenge is used for dramatic effect," she explains.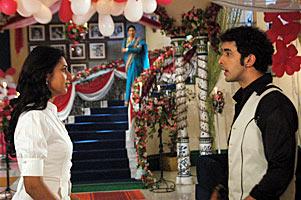 Besides Dulhann, Neelima is also producing Star Plus' Santaan.

So how does it feel to be at the top of the TRP ratings? "I am not affected," Neelima says. "Last year, we were down from January to April. Now, it has picked up. I cannot be bogged down by ratings. It restricts my creative abilities. I try to do my best without worrying about the ratings."

Neelima gives us her 10 rules to make a hit telly show:

1. Half the batter is won if you have a good story and good characters. There is no known formula for success. What works for one serial might not work for another.

2. Get the cast right; make lovable characters. You must choose the correct artiste for a particular role. Take your time until you find the right person.

3. Be innovative. You must try out something new every week.

4. What do you like in your man? Put all those qualities in your hero. Likewise, make your heroine have all the qualities that you would like to see in a woman.

5. The villain should have all the qualities you don't like in people.
6. The serial should have a husband you would never meet in real life -- the husband that does everything for his wife. So the housewife watching this serial falls in love with him. He is everything her husband is not. And the wife in the serial should also be so loving that every man watching it wants her to be his wife. This is a dream we create and people fall in love with that dream.

7. Style your characters well. Many women choose their saris according to what they see their favourite characters wearing. If it is set in a village, they should wear village costumes. If you are showing Lucknow, make them wear clothes from there.
8. Select a good director, who not only understands the story but also its nuances. This is crucial. Being dramatic is easy. Being subtle is difficult.
9. The serial should have a distinctive flavour. The costumes, dialogues and the settings should have a distinct flavour.

10. Follow your heart. If you don't have it in you, then pick the best in the market.