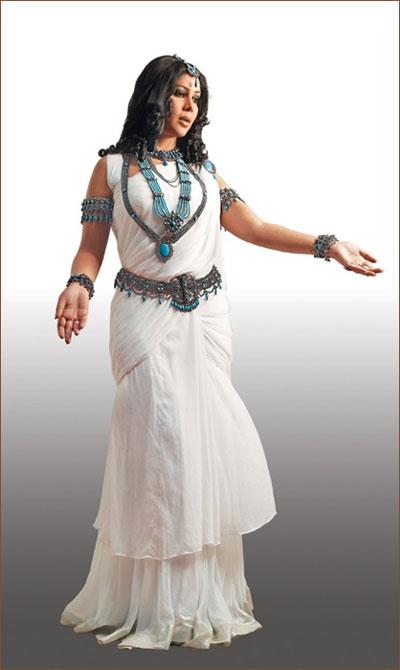 Saakshi Tanwar, who is best known for her role of Parvati in the popular Kaahani Ghar Ghar Ki, has a lot in her kitty, starting with her role as Ganga in the mythological serial Kahaani Hamaaray Mahaabhaarat Ki.
Earlier too, Saakshi played a spiritually inclined woman with a strong connection to goddess Durga in the serial Devi. The actress will also be seen in a few movies later in the year like Coffee House and Ekta Kapoor's film C Kompany.
Rajul Hegde caught up with the busy actress to know more about Ganga.
How was the experience of playing Ganga?
It was a wonderful experience. Something I will always cherish. The aura and the mystique surrounding Ganga is what made the character such a challenge to portray. A short yet powerful role, I loved playing Ganga.
How much do you know about Ganga?
My basic knowledge about Ganga was acquired from whatever I had seen in B R Chopra's Mahabharat. I was a big fan of the show and watched it religiously. But I was amazed to know that in our mythology there are so many other stories about Ganga apart from Mahabarat. All this was very enriching for me.
What kind of research have you done for this character?
I was given detailed narrations about the character and then I just followed my instinct to portray it.
Let's talk about your look and costume.
Ekta [producer] knew exactly how she wanted Ganga to look like. I appeared for a 'look' test with Bharat and Dorris. It was instantly approved. My costume has been designed by Manish Malhotra, who has always performed magic for me. He made me look like a dream. That's the response I got from everyone, who saw the hoardings and promos. 
How long you have been shooting for this show?
I shot for just 10-12 days, as it is a brief role.
How has the experience been so far?
I really enjoyed shooting for Mahabharat. With every different show, an actor learns and grows as a performer, and the same has been with me on Mahabharat. The canvas on which it was shot was huge -- the sets, the costumes, treatment of scenes -- the entire feel was so mesmerising.
It was reported that you fell sick during the shooting. What happened?
Nothing much. It was just a little acclimatisation problem in Ladakh due to lack of oxygen. I was fine in a couple of hours and resumed shooting the next day as scheduled.
After that, you didn't resume shooting for sometime. Are you trying to work harder now to keep episode bank?
Not really, since my role as Ganga was very brief and everything was managed very well.
How was it to share screen space again with Kiran Karmarkar who play's Shantanu, your husband?
Having worked with Kiran for the last many years, there is a comfort level and a great on-screen rapport which helped both of us in portraying our respective roles with so much ease.
What is the kind of response you have got from people, who have already seen it?
Well, everyone who has seen it liked the look of my character. Now the performance remains to be judged. I have my fingers crossed.
Are you working hard because the show is being aired before the scheduled time?
My work was done even before the telecast date was decided so there are no pressures on that end.
Will you be able to evoke the same kind respect which you got for playing Parvati?
I have performed with full earnestness, honesty and 100 per cent dedication. Now it's for the viewers to decide. It's their verdict that finally counts.
Does it mean that you will be seen less as Parvati in Kahaani Ghar Ghar Ki?
(Laughs) No, I am still there in 14 out of 15 scenes in Kahaani.
What next?
I have recently done a film directed by Gurbir Grewal titled Coffee House opposite Ashutosh Rana. I also have a comic cameo in Balaji Motion Pictures film C Kompany directed by Sachin Yardi. As an actor, I am always greedy for good roles. So far, I have been lucky to play strong and powerful roles on television. Now, I am looking at doing good cinema.
Catch Kahaani Hamaaray Mahaabhaarat Ki every Monday to Thursday on 9X at 9 pm.