Vishal Dadlani and Shekhar Ravjani, better known as Vishal-Shekar, are one of the best music composers today.
The duo were friends even before they started working. After their big hit, Pyaar Main Kabhi Kabhi, there was no looking back. The duo have a string of hits like Taxi No 9211, Salaam Namaste, Shabd, Karam and Ta Ra Rum Pum. They have also composed some of the songs for the Shah Rukh Khan-starrer Om Shanti Om.
Rajul Hegde caught up with the busy duo on the sets of the music reality show Zee SaReGaMaPa Challenge at Mumbai's Famous Studio which they are judging.
In between, Raja -- one of the finalists on the show -- enters the room, and asks the duo for some singing tips. The interview has hardly begun when another finalist, Aneek, comes in, and discusses pitch problems.
While the entire nation looks up to the three finalists, which also includes Amanat Ali, they trio look up to Vishal-Shekar for help and advice.
"Being mentors was a learning experience for us because we learn from them as much they learn from us," Vishal says. "They are new and refreshing, untouched by the business. Proper guidance can really mould them.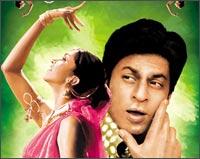 "Honestly, winning the contest is irrelevant. These kids are talented singers and will definitely make it big in their own way," he adds. "But they lack one fundamental thing -- experience -- which they will gain with time."
Asked whether reality shows help them judge a good singer, the duo quickly say, "Yes, all Bollywood songs are not empty, we make them sing in various styles -- from old to extremely modern."
"We were friends before we starting working together," Vishal says, talking about themselves. "We were into our respective family business. I was and still am with the rock band Pentagram. We do music for pleasure. It comes straight from the heart. We hope people love it as much as we do. Actually, Woh Pehli Baar is a song which I wrote for my wife but it became a hit when it was used in a film."
Shekar picks up a red shirt from a rack and asks Vishal whether he is supposed to wear that shirt for the shoot. "Wear a white cap and carry a picnic basket in your hand," Vishal chuckles.
Shekar then notices to his dismay that the sofa is of the same colour as the shirt, and wonders aloud whether they are of the same material.
After a few moments, he gets serious and says, "We had worked with Farah (Khan) for some ads. So she knew our work. She is the coolest director we have worked with. She knows exactly what she wants and she listens to music like an expert."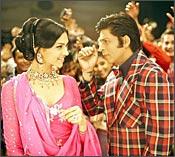 As for the star of OSO, Shah Rukh Khan, Shekar says the actor is a great producer, very encouraging and loves to listen to music.
Asked if the presence of the stars and director of Om Shanti Om on the SaReGaMaPa show recently was a publicity gimmick, Vishal says, "For the entire team of OSO to be on SaReGaMaPa was a big thing. There was so much positive energy and you could see the audiences' reaction when Raja, Aneek and Amanat performed. The song which Amanat sang -- Ajab si -- was an instant hit. Dard-e-disco is already becoming a hit and played on all the radio stations and night clubs."
Shekar cannot stop praising one of the show's judges, Himesh Reshammiya. "Himesh is a great guy. He is lucky and hardworking," he says. "It has been a great year for him and whatever he has touched has been successful. Even he said that Om Shanti Om's music and the film will be a hit. And I trust him."
As for Vishal, he predicts that the OSO's debutante Deepika Padukone is going to be huge star. "She is a chilled out person and I would love to take an autograph from Deepika's father (Prakash Padukone, the badminton legend). He is one of the few sports stars India has." 

Besides OSO, the duo have their hands full with Yash Raj Films' Tashan, Siddharth Anand's film, Karan Johar's next, Sujoy Ghosh's Aladdin and Ravi Chopra's Boothnath.
They will also release an album with Abhishek Bachchan, which Vishal says 'was completely Abhishek's idea.' He adds, "We have recorded six songs; the rest will be recorded when Abhishek is free."
It was reported recently that lyricist Javed Akthar was upset with one of his songs in Om Shanti Om, which was not used. Vishal clears the air, saying, "We share a cordial relationship and have worked on many corporate tracks. We have great respect for him. Everything is blown out of proportion by the media."