Two decades, 300 films. What started off with a stellar performance in Saraansh is still going strong with his portrayal of an NRI in the just-launched Gandhi Park. Anupam Kher looks a simple man, and seems blissfully content. We caught up with him during the launch party of his latest film Gandhi Park, directed by Tom George.
 "This is a love story and I am playing Sneha Ullal's father in the film. Tentatively named Simon -- which might change any moment since there is a mystery which I cannot disclose at the moment -- I stay in New York and yet am connected to my roots. I will be the main hurdle Sneha has to cross to get married to her love in the film," says Kher, who is dressed in black trousers and an off-white kurta.
Does 
Gandhi Park
have something to do with the Mahatma, now that
Gandhigiri
is the latest buzzword? "Not at all. It has a totally different storyline." By a strange coincidence, Kher has been considered for most of the films which had something to do with Mahatma Gandhi. Is it because of his looks? Kher smiles. "I really don't know why. In this industry once you have a reputation of being a good actor and perform well in a role, people like you in the same role again. Perhaps that is why I am being considered for similar roles. But let me tell you again, I am not playing Gandhiji in
Gandhi Park
! The story revolves around a park in New York."
Kher clarifies that
Gandhi Park
is not there to cash in on the latest buzzword. "The script was conceived two years back. In fact, come to think of it, Jahnu Barua had conceived
Maine Gandhi Ko Nahin Maara
10 years back. Just that people wait for the right opportunity to make the film and it is a coincidence that
Gandhi Park
is being launched after
Lage Raho Munnabhai 
became a craze."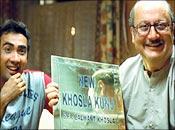 Gandhi Park
is an English film; does he think language would be a deterrent? "Actually, it is the other way around. Making it a bilingual would have spoiled the film. We tried it with
Bend It Like Beckham
and I don't think it worked too well. Post
Rang De Basanti
and
Lage Raho,
people want to watch films with substance. I hope
Gandhi Park
will offer them that."
There is another reason for Kher to be so upbeat -- his upcoming Khosla Ka Ghosla has been received warmly by critics at advance showings so far. "It has been an extremely satisfying experience working in the movie. After a long time, I was completely satisfied with my performance in a film."
"I feel one of the toughest jobs for an actor is to portray an ordinary character. That is precisely what my character demanded in Khosla Ka Ghosla. But the script was so well written and my character so well created that the task became much easier for me. But let me tell that besides laughing, you will also come out with a lump in your throat."
Kher is very comfortable with the new breed of directors. "Whenever any person takes up a new profession, be it direction or anything else, the passion and burning desire to do something good in him or her is exemplary. And I have always seen that passion in young directors works wonders for me."
The veteran actor has an impressive line-up of films coming up this year, including American Blend, Vivah, Apna Sapna Money Money and Jaan-e-man. "In Jaan-e-man I have played a dwarf's role," says Kher. "After Kamal Hassan I will be the first Hindi film actor to play a dwarf! I was thrilled when Shirish Kunder offered me the role and thought I'd try this out. But I never knew what was in store for me!"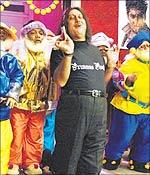 Anupam is extremely appreciative of the way Shirish Kunder conceived his character 'Chachu' in
Jaan-e-man
, (
left
) a happy-go-lucky suit-clad dwarf who happens to be a successful lawyer and is the friend, philosopher and guide to Salman Khan in the film. But playing a dwarf was quite challenging and pain-staking for an actor his age. Kher had to be on his knees throughout long shooting shifts.
"Imagine how it is for a 5' 9" man to play a dwarf! Every day I used to carry an ice box and a pair of knee caps for the shooting. Even today when I climb the stairs, a rattling noise comes from my knees -- all an effect of 40 strenuous days of shooting. Sometimes I feel it was too much of a risk, but when I look back at my character, I feel I would have missed a very good role if I did not take this up."
Kher is also ready with the script of his new directorial venture. "After
Om Jai Jagadish
fared badly at the box office, I have become a bit careful. I have been working on the script for quite some time now and it is ready now. The film's shooting is scheduled to start in March next year. I have even thought of two titles  --
Happy and Gay
and
Pyaar Hai To Keh De Yes!
But I am yet to decide on the star cast." Kher will be producing and directing the movie.
However, Anupam feels films are not his crowning glory. That honour is saved for his acting school An Actor Prepares. "I feel this is my greatest achievement in life. Just a few days back the first batch of 160 students passed out. It was a really momentous day for me – the joy of seeing your own creation is something unparalleled."