K
amal
, one of the best directors in Kerala, is ready with his latest film,
Karutha Pakshikal,
starring Mammootty, Meena and Padmapriya.
The ace director has made 34 films in the last 20 years, one of the most notable ones being Perumazhakalam. Some of his films like Niram and Swapnakoodu have broken box office records in Kerala.
But Kamal says his best yet is Karutha Pakshikal, as he has done the minimum compromise in it. 
He chats with Shobha Warrier about his film that releases on November 17.
You make films like Perumazhakalam and Megha Malhar as well as commercially successful ones like Swapnakoodu and Niram. What is your idea of a good film?
Films are for enjoyment. They should be enjoyable to the targeted audience.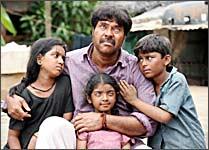 What exactly do you mean by enjoyment? Happiness?
Not exactly. How do you feel when you read a good book, look at a good painting, listen to good music? There are people who enjoy fast music, others who enjoy ghazals, and still more who love classical music. I want my audience to have the same feeling when they watch my films.
I don't like to make realistic films because those are more like documentaries. I like to look at people and situations with a detached mind. I also like to fictionalise things. As a professional, I would like to have a target audience too.
I make a living out of making films but I did not drift into this profession to make money. I am a filmmaker because I love making films.
Even when I make a commercial film like Swapnakoodu (Meera Jasmine, Bhavana, Prithviraj), I try to see whether there are any ingredients in the film that I can enjoy.
Can you detach yourself from your own films and watch them?
No, that is not possible.
When did your passion for filmmaking start?
When I was in college, I became a serious film-watcher. I grew up in the late 1970s when the film society movement -- started by people like (director) Adoor Gopalakrishnan -- was very strong. Even the literary movement was very strong in those days. The political atmosphere was very volatile with the Emergency, the Naxal movement, etc. Naturally, the youth of Kerala had strong views on many issues. So, I grew up in an atmosphere when art forms had the best of times.
Did you have to struggle to be a filmmaker?
Fortunately, no. My uncle, an advocate, and a man passionate about films, decided to make a film. He chose a short story that I wrote in my college magazine, and both of us wrote the script. So, at the age of 20, I became a scriptwriter. It was an offbeat film with death as one of the characters.
As luck would have it, I got a chance to assist great filmmakers like P N Menon and K S Sethumadhavan. I became an independent filmmaker in 1986 with Mizhineer Pookal, starring Mohanlal, Urvashi and Nedumudi Venu. But it was my second film, Unnikale Oru Katha Parayam, again with Mohanlal, that got me attention.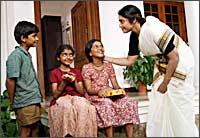 You said as a professional filmmaker, you have to make commercially successful films. Does that put pressure on you as a filmmaker?
It is a question of my survival too. I make films like Niram and Swapnakoodu with youngsters in mind, and both films were very successful. But the truth is, commercial success of such films makes me guilty and I feel this is not my kind of cinema.
And you felt guilty because you had to compromise to make such films?
Exactly. That is the bitter truth. Films like Niram and Swapnakoodu were liked by youngsters and the producers made a lot of money. But I was dissatisfied. Usually, I go to my next film carrying the guilt of making a commercially successful film. After Niram, I wanted to make a film that will satisfy me. That's why I did Madhuranombara Kattu. It was a serious film.
So far, which is the film that you have made without any compromise?
To tell you the truth, none. I've compromised on all my films. But I have made Karutha Pakshikal with very little compromise.
What about Perumazhakalam?
I have made compromises for the theatre release of Perumazhakalam by adding unnecessary songs.
Those songs neither add any value to the film nor made it a box office success. It was a mistake on my part. I was misled; not by others but my own preconceived notions.
I removed them when I sent the film to film festivals and award committees. I know the songs affected the strength and flow of the film. Unfortunately, the common audience likes songs and comedy. As a filmmaker, I am forced to compromise to please the audience. I think such tastes are born out of habit. Our audience is used to such films and a few films of Adoor or Aravindan won't change that habit. But I am sure if we go on feeding them good films, they will slowly change.
I tried to eliminate those mistakes in Karutha Pakshikal. There is a song in it but it is integrated into the film.
Why did you decide to cast Mammootty? Was it aimed at commercial success?
Mammootty has been a part of the film from the day we discussed the idea. Mammootty has acted in my films earlier too. In this film, I have not used Mammootty as a star. Has he not acted in Adoor Gopalakrishnan's films? Similarly, he is Murugan in my film.
When Mammootty has been acting in commercial films, how did you think of him as a poor Tamilian who makes a living out of ironing clothes?
That is the specialty of the film. While we were talking, Mammootty showed eagerness to portray a role that he had not done before, and he seemed to like this character.
It is a common sight to see people like Murugan in the urban centres in Kerala. They are there in all localities and all of them are Tamilians. Unfortunately, they live a life of isolation in Kerala.
I wanted to highlight the injustices done by the Kerala society to this community. So, in the film, Murugan's blind daughter does not get eyes after Meena dies because her husband thinks it demeaning to donate his wife's eyes to a very poor Tamil girl. This is how the hypocritical Kerala society behaves now.
When did you start noticing this hypocritical nature of Kerala society?
I have been watching the degradation for quite sometime. As all of us are making films for this hypocritical society, we try not to show the bitter truth. We hide such realities because we know people will not like to see those things.
I myself did such a thing in Megha Malhar. A couple, who were in love when they were young, meet after they get old. Then, they realise that they still yearn for each other. But as I was scared of this hypocritical society, I made them part ways though I knew they really wanted to be together in their old age.
Just imagine a few decades ago, we have made the most offbeat and radical films here. Now, Kerala society has become more intolerant, self-centred than any other society in India. I am sure we will not be able to make a film like Nirmalyam (by M T Vasudevan Nair, which won the best film award at the National level) where the occult spits on a deity. Today, if we do something like that, the theatre showing the film will be burnt.
Is it not the duty of writers and filmmakers to mirror the ugly side of society?
Yes. But as far as filmmakers are concerned, nobody wants to take the risk and antagonise the audience. This happens not only in films but also in literature.
Let me ask you about the most talked about film of your career at the national level, Perumazhakalam. What attracted you to the news report?
When scriptwriter T A Razak told me about this news report, I felt it was a situation that anyone in Kerala could relate to because many families in Kerala are connected to what was happening in the Gulf. Then, I thought we could tell this story from two angles -- from the angle of the two men in the Gulf and from the point of view of the two women who were left alone in Kerala. I decided to tell the story of the two women.
Why did you choose rain as a symbol to highlight the pathos in the lives of these women?
Kerala is one society that loves rain because it is part of our lives. Our love, sorrow, happiness, separation, birth and death are connected to rain. Rain can make us happy when we are sad. Rain can alleviate our pain. Rain can influence our lives in many ways. That is why I decided to link the lives and the sorrows of these women to rain.
At the Goa film festival last year, the film was much appreciated but I am not sure whether the Kerala audience accepted the film the way I wanted them to. It disappointed me.
Photograph: Sreeram Selvaraj