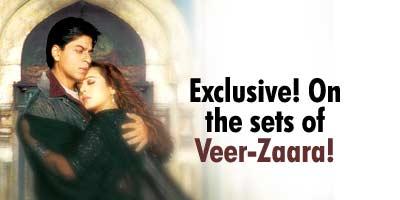 I
t's a full moon night but not a single star adorns the sky. Dogs bark in the quiet of the hours, which leisurely tick-tocks towards midnight.
Suddenly, the lights come on and the ice is broken as Lata Mangeshkar's magical voice takes charge of the colourful and resplendent sets of Yash Chopra's latest love story, Veer-Zaara.
Starless may be the sky, but there is no dearth of stars at Mumbai's shooting haven, Film City. And so Amitabh Bachchan, Hema Malini, Shah Rukh Khan and Preity Zinta prepare to celebrate the Punjabi festival of Lori for celluloid in fancy traditional attires.
While the actors put on make-up in their respective trailer vans, the father-son duo of Yash and Aditya Chopra concentrate on the lighting, ambience and animatedly discuss the dance movements of the extras with choreographer Saroj Khan in the song appropriately titled, Lori.
| | |
| --- | --- |
| | More on rediff.com! |
| | |
Dressed in a fluorescent green and magenta kurta-lungi outfit with heavy zardozi embellishments, Preity is the first to step out of her trailer. We think she looks absolutely perfect as she walks towards the set. That's not what she thinks though. She makes an unexpected halt after discovering that the pleats of her outfit aren't properly pinned.

'Dresswala!' she calls out for aid. No one, however, comes to the rescue of our damsel in distress. With half a mind, the actress resolves to continue walking.

The ramp walk towards the set continues when another gorgeous member of the cast makes an appearance. It's Hema Malini. The dream girl walks carefully and consciously in a blue and yellow kurta-lungi. She doesn't look comfortable in this get-up. Plus, her tacky wig looks slightly out of place. That probably explains the expression on her face.

Amitabh Bachchan sports a festive look in a dark blue printed kurta, white churidar and a red bandana tied around his head. He rushes towards the glittering set, which bears a rustic setting replete with reticent cows mooing about.

Ready, steady, go? Not really!

The Chopra and the rest of the crew are patiently waiting for their 'Veer' to arrive on the scene.

But SRK, who makes a smashing entry in a swanky silver BMW, more than makes up for his lack of punctuality. He gets ready in a matter of minutes and is all set to boogie in a somewhat transparent blue and white shimmering kurta and churidar.

Composed by the late Madan Mohan, the song Lori is essentially a playful exchange of words in staunch Punjabi, penned by Javed Akhtar.

Once the camera rolls, the actors put on their best faces and dance like there is no tomorrow. The scene is swiftly canned and is followed by a much needed 'pack up.'

Dramatically titled, Veer-Zaara, this cross-border romance, written by Aditya Chopra has Shah Rukh and Preity in title roles. Their being of Indian and Pakistani origin respectively plays the biggest obstacle in their coming together. The film also features Rani Mukerji, as SRK's lawyer, and Manoj Bajpai playing Preity's fiancé.

The Baghban pair of AB and Hema Malini makes a special appearance in the film.

Romance has been the highlight of Yash Chopra's movies as evident in Kabhi Kabhie, Silsila, Chandni, Lamhe, Darr and Dil To Pagal Hai. Thus the expectations from Veer-Zaara are bound to run high.

Veer-Zaara is scheduled for a November 12 release.