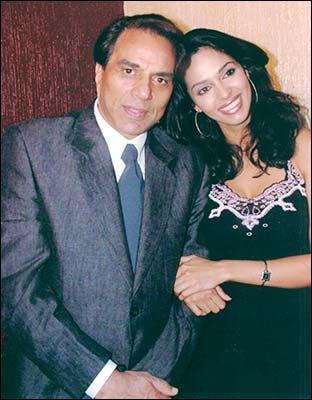 T
he music promotion party for the new romantic comedy
Kiss Kiski Kismat
, starring Dharmendra, Mallika Sherawat, Rati Agnihotri and debutant Siddharth Makkar, was an unusual but interesting affair.
Director Govind Menon was the first to arrive, but the normally exuberant and over-the-top Mallika, who walked in hand-in-hand with the still-fit and handsome Dharmendra, preferred to paint a quiet picture. Dharmendra, smashing in a grey suit, was also short on words. However, Menon compensated well for his actors' restrained attitude.
The film marks Dharmendra's comeback. He plays a rich stockbroker. Mallika is now looking forward to her first international release with Jackie Chan, called The Myth.
Satish Shah, Tinnu Anand, Jagdeep, Viju Khote, Dinesh Hingoo and Shivaji Satam are the supporting players in Kiss Kiski Kismat.
The plot: A leading stockbroker, Hasmukh Mehta (Dharmendra), throws his wife's (Rati Agnihotri) Rs 900,000 diamond necklace out of a window during an argument, aghast at the cost of the purchase. The necklace lands on a working girl, Meena Madhok (Mallika Sherawat). While Mehta gives her the necklace and new ear-rings in order to apologise, people assume that she is his mistress.
Meanwhile, Mehta's son, Harish (Siddharth Makkar) falls in love with her.
Apparently, Dharmendra's character resembles the late stockbroker Harshad Mehta.
A relaxed Dharmendra says, "I have enjoyed this film as much as any film in my heyday. I am fit as a fiddle, and looking forward to many more films. I am grateful to God for giving me strength and spirit even at this age. I can't believe that I still have so many fans around."
According to the director, "Mallika plays a sexy brainless bimbo. She is shown so dumb that she doesn't even know that she is sexy. The combo of Dharmendra and Mallika will raise immense laughs. It is equivalent to putting Charlie Chaplain and Marilyn Monroe together."
Mallika chips in, "We Jats, Dharamji and I, will set the screens on fire!"
"I am particularly excited about having Dharamji in my film," gushed Menon, adding, "I personally never liked his action films. I always thought his forte was comedy. Even in Sholay, I felt there was more comedy in his portrayal. I have seen his films like Chupke Chupke and Naukar Biwi Ka. He has a superb sense of comic timing."
Explaining the music of the film, Menon said it has a Western touch. "One song is a combo of Helen's cabaret and a 1950s Broadway musical, sung by Asha Bhosle. Then, we have a reggae number by Sonu Nigam, a hip-hop one that resembles a JLo and Britney style pop, a trance number, and a bhangra by Kunal Ganjawala. Above all, I have a personal tribute to David Dhawan in a song accompanied by the jhatak-mataks, that are typical of his films."
Mallika's co-actors Ashmit Patel (Murder) and Himanshu Malik (Khwahish) have lambasted her in print, calling her very difficult to work with. Brushing this aside, Menon said it was a case of sour grapes. "They are saying this because Mallika overpowered them in acting as well as screen presence."
But where there is Mallika, there has to be some controversy. This time, the censor board has objected to Mallika's dress flying in the wind (Mallika wears a short, red frilly dress that flies in the air to recreate Marilyn Monroe's classic The Seven Year Itch pose) and have refused to allow the scene in television promos.
The board is giving the film an 'A' certificate and has appointed a three-member committee to further look into the matter.
Menon informed, "I wish to keep the scene intact. There is nothing distasteful about it."
Said Mallika, "I am amused. Censors should also ban lawn tennis and beach volleyball on television where girls are dressed in short skirts."
Kiss Kiski Kismat, shot in Mumbai and completed in 42 days, is expected to hit the theatres on October 22.
Photograph: Pradeep Bandekar