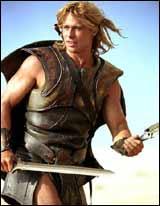 Once upon a time, Wolfgang Petersen was known for his tightly scripted films such as Das Boot, an international hit hailed also for its anti-war sentiments. The film brought the German Oscar nominations for best director and best scriptwriter. In all, the 1981 underwater thriller received six nominations. It also beckoned Petersen to Hollywood.
Today, Petersen, 64, is director of one of the costliest films made in Hollywood.
The $180 million war saga Troy is an adaptation of Homer's Iliad and boasts of a colourful cast, including Brat Pitt, Eric Bana, Orlando Bloom, and Peter O'Toole.
The film, which is expected to be one of the biggest hits of the year, has to gross at least $360 million in theatres and through DVD and video sales to break even.
| | |
| --- | --- |
| | Don't Miss! |
| | |
While many old-time admirers of Petersen believe he has steadily sold to Hollywood's glitz, the director insists his latest film is as much anti-war as Das Boot. Except that the new film is one of the most lavish and technically stunning films made recently, he suggests.
Set in Greece some 3,000 years ago, the film deals with the devastation caused by a war that was triggered by the seduction and abduction of the Spartan queen Helen by Paris, a charmingly reckless prince from Troy.
Much of Troy focuses on Achilles, a freewheeling warrior, often arrogant and at times inhuman, who joins the Spartans despite his dislike for their king, hoping to achieve immortality for his bravery.
The movie, which has received mixed to negative reviews from major American critics, could become another hit for Petersen whose Hollywood input includes the tightly woven Clint Eastwood-John Malkovich-starrer In The Line Of Fire and the overblown A Perfect Storm. Both films were big international hits. The latter, released in 2000, made George Clooney a big name and grossed an impressive $600 million worldwide.
Many critics believe that Petersen's Troy is closer to A Perfect Storm in the sense that it is a gigantic and opulent film that is short on serious emoting. But for the filmmaker, Troy is an important landmark in his four-decade-long movie career, and in more than one way, it is closer to Das Boot than any other film he has made. "I don't think that any writer in the last 3,000 years has more graphically and accurately described the horrors of war than Homer," Petersen says in the press notes.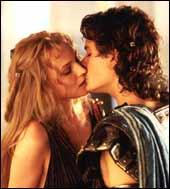 Despite the awesome naval battle scenes and the spectacular Trojan horse episode that leads to the climactic combat inside the Trojan fortress, Petersen believes the film never loses sight of its central theme. "While our film shows the spectacle of battle between tens of thousands of soldiers in a way that audiences have never seen before," he says, "the focus of the story is the timeless human aspect of the victories and defeat that Homer recorded.
"There is an old saying that war brings out the worst and the best in human beings," continues Petersen, many of whose other films also dealt with the complexities of human behaviour. Contrary to the old saying, he believes the war between Sparta and Troy was a disaster for everyone involved.
Some movie fans might watch Troy thinking that while it is an example of Hollywood's hi-tech achievement, it is still an old-fashioned historical film with plenty of myths.
Not so, asserts Petersen.
"Our story deals with what mankind is all about," he says. "It's not black and white. It is not 'here are the good guys, and there are the bad guys'. That's old-fashioned story-telling.
"This story is modern in a sense that it deals with the reality of human drama," he notes. "Life is much more complex and interesting and because of that it is also more tragic."
Literary-minded movie fans may wonder how the Trojan horse came to be included in a film inspired by Homer's The Iliad. The use of the wooden horse in a scheme of huge deception is taken from Virgil's Aeneid by scriptwriter David Benioff, Petersen reveals.
The director says his biggest challenge on the new film was that of staging an intimate human drama on a sweeping scale. "Our story is a tightly interwoven character piece," he explains, "with fascinating individuals and emotions, which is a challenge to capture by itself. On top of that, we are telling their story against a spectacularly large canvas."
Click here for More Features