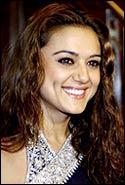 Lakshya made Preity Zinta sit up and think about issues concerning India.
It made her vote.
It made her realise the power the youth possesses to change the course of future.
In the second part of her interview with Deputy Managing Editor Vaihayasi P Daniel and Senior Correspondent Sukanya Verma, the actress talks about how shooting for Lakshya led her to the path of self-discovery.
Part I: 'Lakshya is the toughest film of my career'
How was it being away from the hubbub of Mumbai?
There is a paradox. It is the most beautiful place in the world. If a cameraman goes to Ladakh and does not shoot it well, you can kill him, because anywhere you put the camera it is a frame. It is a perfect frame. Truly. It is stunning but treacherous. It will just kill you.
For me it was fabulous because it was calm and peaceful. Most of the time, we were just tired because we had such early mornings. 3.30 am-4.30 am is not cool to wake up. I can shoot all night, I have no stress, but I am not a morning person.
What did you do in your free time in Leh?
Tourism. I went and saw these old monasteries and went to some shrines, walked about. It was beautiful. It was stunning. As a place, it was breathtaking. Food wasn't a problem. Food is never a problem.

We were recognised in the main cities in Leh. I used to get heart attacks because I used to see these really five-year-old posters of mine, where I looked horrible. I used to go, "Oh, my God!"

Army movies do well in these places.
[I guess that is] because of the army there. It's also nice for the army guys to get a boost, for them to feel proud. They are the people who never ask any questions. They just die for us. They die for people they don't know. That's a great thing anywhere in the world. People in anywhere in the world should have sympathy for their armies. They just listen to orders. It's so sad.
I question 20 things. I have to have my own conviction before I do something. But if you are in the army, you just have to say, "Yes sir." That's very tough: to give your life and have that conviction. You feel so strongly for them because they believe in the goodness of the country.

Lakshya was an emotional film for you.
For sure! It was a crazy film [smiles].

Lakshya is your second film with Farhan Akhtar after Dil Chahta Hai. Did you notice any difference in his confidence levels?

I don't think even he knew what he was looking at when he started this film. I don't think any of us realised what this film would be. It has its own personality, its own identity. And we all got sucked in it. I don't think we were ready for the things that happened. And it was a tough film, truly. It's a very tough film to make.

When I went to Ladakh that night, when I came out of my room after three days, I saw this guy in a monkey cap, with a beard, fully sun burnt face, lots of sweaters, with two other people standing next to him. And he saluted me.
I looked at him and gave him a dirty look. I was like who's this trying to be extra-friendly with me.
And then he goes, "PREITY." I am like, "FARHAN?" [laughs]. That was my introduction to the crew. The whole crew looked like pigs. Their beards had grown. Their faces were burnt. That's when I realised, "Oh my God, where have I come?" When you come from outside you see the difference. They were living there.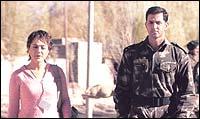 You came at the tail end of the shooting.

Yeah. When I came, everybody was like, "We love you! We are so happy to see you!" [smiles].

This was also the one film where I didn't know half of my co-stars. There were so many guys playing army characters, I didn't know them. Then I was meeting the real army [officers] also.

At one stage, when somebody would say, "Hi, I am Captain so and so," I would ask, "Real or fake?" Everything was so real, I couldn't figure out. When I think about it [in retrospect], we have come out so tougher from this film.
You have two looks in Lakshya. How important is a look in conveying the change/progression in a character?

A look is primarily important in a film because it takes you away from Preity Zinta, the film star. The more I look like another character, I look different [from Preity Zinta, the film star]. There is a consistency in my character. Then that character works. That's why a look is important.
This film has two looks because it spans two-and-half years. Most of the women that went to [to cover] the war, 90 percent of them had shorter hair, because it is easier to maintain. We went with the idea of cropping my hair. Also, for a character like Romilla Dutta, or any character, when you are there and war is happening, to have any sense of vanity is terrible. Then you have no integrity as a person.

A huge attempt was made to make Romilla even more rugged and normal than Preity. I didn't want her to look like me from any film. She should look totally different. We carried a small bag and stuffed clothes in it. Those were all the clothes I wore in the whole of Kargil -- that section -- one pair of shoes and jeans. I wore it over in layers, mismatched it. At no point in my research as an actor did I want any vanity to come across.
If 'I-am-a-heroine' came in, it would kill the film altogether. I could single-handedly destroy the whole authenticity of this film by pouting.
So no shapely, painted nails?
No, no, my nails were all bitten off. I like to bite them [laughs]. I was happily biting my nails off because more than the cold, there were blasts happening around. I knew they monitored and filmed. But still, your heart shakes when a gun goes off behind you. It's deafening. The whole earth shakes. These blasts happened and I had to run through them. Whew! I have never run so fast [laughs].

Before you shot for Lakshya, have you lived in any of these places as a child, since your dad was in the army?
Yeah, I went all over. I don't even remember. When I was born, my parents had just come from Leh or were going to Leh or something. I have been almost everywhere [smiles].

Do you remember the first and last shot you did of Lakshya?
Yeah. My first shot was: I am interviewing the actor Tanvi Azmi. And we are talking about [enacting the scene] the fifth annual theatre festival in India, and what it brings and dadadah. And the last shot was the last shot of the film. I don't want to tell you that [smiles].

Post-Lakshya, are you more interested in the news and events?
No, I have always been interested in the news. Because I am also a person who is interviewed very often. It's very stupid to go there and say, "Uh, I don't know what you're talking about," or, "Really, this one became the prime minister? I didn't know? When?" I can't do that. It's ridiculous.
I have been a newsperson even when I was a kid. My dad would always give me the paper. At that time, I was more interested in the puzzle section or the cartoon strip. But he made it a practice to give me the cartoon bit. I would read it. Then he would pass on the paper and say, "Okay, let's exchange now. You read this and I'll read this."
It became part of my routine to read the paper. Though I wish that news would be 100 percent authentic. There is a lot of censorship that happens. Things get distorted here and there.

Didn't you play a news reporter in Mission Kashmir as well?

Yeah, but that was a very different touch. That [Mission Kashmir] was completely fictitious. Even this is fictitious, but this is set in a real backdrop. She [Sufi, Preity's name in Mission Kashmir] was more modern in that setup, within Kashmir. She still wore salwar kameezes. She was on Kashmir television. Her openings were more towards the terrorism in Kashmir.  This on the whole is a different character.

Was this also a more enjoyable character?

It's very me. I could identify with it a lot. Except that I am quite a mad girl. And Romi [Romilla Dutta] is mad, but you don't really get to see it.

What are the issues that bother you?

This whole war thing is totally wrong, honestly, if you ask me. That is why Lakshya also moves me as a film. What is war; you go and kill each other but for what? There is a beautiful line in the film where this one character tells the other: "Why does war happen? God made us all and we were so greedy as humans and we said this is yours and this is mine and you should thank god that the moon was not down here because if it was by now we would have been fighting over the moon also."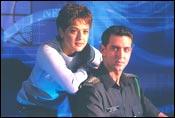 People blend better than governments. There is a whole big story behind war -- there are arms, there is this, there is that, there is financial dealings, there is recessions, there is development of countries, countries coming up and countries going down. But by the end of it, there are a few people who get stuck in it who are dying. It is wrong and it should stop I don't think countries, as general should support war.
What's happening with America and Iraq? All the Muslims are getting singled out. Today, [when] a Muslim enters America, there are problems. Today, if a white person, not even American, enters Iraq or those parts of the country, there is a problem. It's so sad. Innocent people are dying in the crossfire. Everyone has a different point of view for it. War should stop.