Ruddy-cheeked and light-eyed, Raj Kapoor was unmistakably Destiny's blue-eyed boy.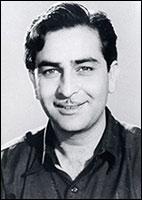 It got him many film roles and the talented Kapoor made sure he left a mark in each of them.

This boy wonder started multi-tasking from the age of 24 when he produced, directed and acted in Aag (1948).

He had the unique ability to marshal talents like writer K A Abbas, lyricists Shailendra and Hasrat Jaipuri, music maestros Shanker-Jaikishan, singer Mukesh and numerous actors and make them work at their optimum.

He gifted names like Nimmi, Dimple Kapadia, Rishi Kapoor, Padmini Kolhapure and Mandakini to the film industry.

As a romantic actor, his onscreen romance with Nargis, fuelled by larger-than-life stories of their off-screen relationship, was a glorious chapter in the cinematic history of Hindi cinema.
Raj Kapoor's landmark films as actor

 Year

 Film

Costars

 1949

 Andaz

 Nargis, Dilip Kumar

 1949

 Barsaat 

 Nargis, Nimmi

 1951

 Awaara

 Nargis

 1955

 Shri 420

 Nargis, Nadira

 1956

 Chori Chori

 Nargis

 1959

 Anadi

 Nutan, Motilal

 1960

 Jis Desh Mein Ganga Behti Hai

 Padmini Kolhapure, Pran

 1964

 Sangam

 Vyjayanthimala, Rajendra Kumar

 1966

 Teesri Kasam

 Waheeda Rahman

 1970

 Mera Naam Joker

 Rishi Kapoor, Simi Garewal, Dharmendra, Dara Singh, Manoj Kumar
But the roles Kapoor played best were those of a messiah of social change and of the impassioned advocate of universal love.

Born Ranbir Raj Kapoor on December 14, 1924, in Peshawar to thespian Prithviraj Kapoor and his wife Rama, Kapoor failed his matriculation examination. Drawn towards cinema, he started working as an assistant on the sets of Dilip Kumar's first film, Bombay Talkies' Jwar Bhatta.

After a few inconsequential roles, Kapoor got his break as hero in 1947, in Kidar Sharma's Neel Kamal opposite Madhubala. The next year, he was already married and had plunged into directing his debut, Aag (1948), the dark, brooding meditation on love.


Raj Kapoor first showed his scene-stealing abilities in Mehboob Khan's Andaz (1949), where he costarred with Nargis and Dilip Kumar. Kapoor played Nargis's flamboyant but suspicious husband with aplomb. Flamboyance was his forte in other early successes like Dastaan and Sargam as well.
Kapoor was only 25 when his directorial venture Barsaat won him recognition as one who enjoyed a direct connection with the masses. Moreover, the self-obsessive pain of Aag paved the way for a more universal empathy evidenced in the way he captured mountain maid Nimmi's anguish in Barsaat.

The actor-director enjoyed rare creative control of his image and his work. His next venture Awaara (1951) was a fascinating and psychologically adept look at a man caught in the centre of a nature-versus-nurture debate. 
His knack for romance is revealed in the famous sequence where an angry Kapoor slaps Nargis after she calls him awaara. He is angry at her for being so attractive and assured, at himself for not quite being able to come to terms with his feelings of inadequacy prompted by his dubious background, at his libido for wanting her and at his ego for living in constant dread of a probable rejection.

Awaara, when released in Russia as Brodigaya, achieved unprecedented success and the song Awaara hoon became a Russian favourite.
Raj Kapoor's landmark films as director

 Year

 Film

Costars

 1949

 Barsaat

 Raj Kapoor, Nargis, Nimmi

 1951

 Awaara 

 Raj Kapoor, Nargis

 1955

 Shri 420

 Raj Kapoor, Nargis, Nadira

 1964

 Sangam

 Raj Kapoor, Vyjayanthimala, Rajendra Kumar

 1973

 Bobby

 Rishi Kapoor, Dimple Kapadia

 1982

 Prem Rog

 Rishi Kapoor, Shammi Kapoor, Padmini Kolhapure, Pran, Nanda

 1985

 Ram Teri Ganga Maili

 Rajiv Kapoor, Mandakini
Kapoor's RK banner flew high with Shri 420 (1955), the story of a hobo (Kapoor) caught between material aspirations (as represented by the sharp Nadira) and the higher self (as represented by schoolteacher Nargis). The tramp of Shri 420, who doffed his battered bowler hat to Chaplin, touched a universal nerve.

The popularity of this tramp with a golden heart grew to gargantuan dimensions after Kapoor portrayed almost saintly extensions in Anadi (1959) and Jis Desh Mein Ganga Behti Hai (1960); and, later, in Deewana (1967), Sapnon Ka Saudagar (1968) and Mera Naam Joker (1970).

Kapoor's Sangam (1964) saw a love triangle centering around a man (Kapoor), his wife (Vyjayanthimala) and their best friend (Rajendra Kumar). His ability to see and empathise with each character's emotional viewpoint spoke volumes about his sensitivity as a director. Sangam's thunderous success triggered off a vogue for foreign locales (Love In Tokyo, An Evening In Paris) in Hindi films.

After Sangam, a now-rotund and 40-plus Kapoor looked lacklustre in films like Around The World opposite much younger heroines like Rajshri and Hema Malini. But the actor was too obsessed with his pet project, Mera Naam Joker to realise he should be eating and drinking less.

In the ambitious Mera Naam Joker, Kapoor seemed undecided about the film's scope -- should the tale about a clown's tragic love story strive for intimacy or restrict itself to spectacle or, maybe, strive for a bit of both? The film failed to live up to the high expectations of the audience.
Raj Kapoor's famous songs

 Song

 Film

Singer

 Chhod gaye balam

 Barsaat

 Mukesh, Lata Mangeshkar

 Tarari tarari

 Dastaan

 Mohammed Rafi, Suraiya

 Awaara hoon

 Awaara

 Mukesh

 Pyar hua iqrar hua

 Shri 420

 Manna Dey, Lata Mangeshkar

 Mera joota hai Japani

 Shri 420

 Mukesh

 Yeh raat bheegi bheegi

 Chori Chori

 Lata Mangeshkar, Manna Dey

 Woh subah kabhi

 Phir Subah Hogi

 Mukesh, Asha Bhosle

 Sab kuch seekha

 Anari

 Mukesh

 Dum dum diga diga

 Chhalia

 Mukesh

 Bol radha bol

 Sangam

 Mukesh

 Sajjan re jhooth mat bolo

 Teesri Kasam

 Mukesh

 Jeena yahan marna yahan

 Mera Naam Joker

 Mukesh
Any other man would have lost heart after such a debacle, but not Kapoor. Despite creditors beating at his door, he refused to keep the lid on production expenses and defiantly made Bobby (1973) with two newcomers, Rishi Kapoor and Dimple Kapadia.

Even if one is not predisposed towards young love stories, one enjoys Bobby for the sheer beauty of its visuals, the exuberance of youth and Kapoor's ability to transcend the generation gap when communicating to his audience.

Bobby's stellar success was not duplicated by Kapoor's next, Satyam Shivam Sundaram (1978). Kapoor valiantly attempted to recycle Aag and convince us that, in love, a beautiful soul is of paramount importance. But his camera's predilection for heroine Zeenat Aman's curves told another story.

Raj Kapoor's sensitivity towards his female protagonists found more favour in Prem Rog (1982), a film about widow remarriage, and Ram Teri Ganga Maili (1985), where he employed a woman as a metaphor for a once pure, but now defiled, country.

At 60, he had lost none of his ability to push the audience's emotional throttle. On June 3, 1988, Raj Kapoor, who had been suffering from asthma, finally succumbed.

The script of Henna was ready but Kapoor was not there to direct it. In keeping with the theme of his life (as articulated emphatically in Mera Naam Joker) -- the show must go on -- his eldest son Randhir directed Heena for the RK banner.
The film was a spectacular success.
The showman could not have asked for a better tribute.