Remembrances of tunes past
Basharat Peer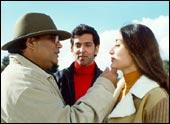 Union Information Technology Minister Pramod Mahajan released the music of Subhash Ghai's Yaadein on Wednesday in New Delhi.
Current heart-throb Hrithik Roshan was present at the release with Kareena Kapoor and Jackie Shroff. Director Subhash Ghai, music director Anu Malik, and the Taurani brothers of Tips Music Company were also present.
The air turned nostalgic when the tunes of Ghai's earlier hits like Karz, Hero, Karma and Pardes were played before the function began. The mood later changed to one of humour, thanks to Pramod Mahajan.
Mahajan insisted on speaking in Hindi, as his English is "pretty bad". He had the audience in splits with his anecdotes. "When I was in school, a teacher who got angry at my pranks asked me to get out of the class. She spoke the words 'get out' in English, so I left the classroom. Later, she stepped out of the class and said, 'Get out!' while pointing into the class! She did not seem to know much of the English language."
As the show went on, Ghai showered praises on his Yaadein team. "I was apprehensive about Hrithik as his performance had to be outstanding due to everyone's high expectations. And he has done such a great job! As far as Kareena is concerned, I didn't think she was very serious in the beginning. But the moment the shot started I realised she is a great actress."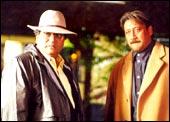 Ghai also sang the praises about his all-time favourite Jackie Shroff as well as director Anu Malik ,who has worked with him for the first time.
Malik was equally thrilled. "The music of Yaadein is not typically Anu Malik," he said. "I learned a lot about music while working with Subhashji. It took us one and a half years to compose the music. In fact, even the recording of the seven songs took us 70 days."
Ghai believes that Yaadein's music has all the three constituents of a good score: lyrics, tunes and picturisation. And it does stand out.
The seven songs penned by Anand Bakshi comprise soft ones as well as fast tracks. But the title song, Yaadein Yaad Aatee Hain, Baatein Bhool Jaatee Hain, sung by Hariharan, definitely steals the show.
Chanda Tare sung by Sukhwinder Singh and Kavita K Subramanyam is another good track.
Sunidhi Chauhan, Alka Yagnik, Hema Sardesai and Asha Bhosle have also lent their voices to Yaadein.
The videos have been shot by Kabir Lal while the art direction is by Sharmistha Roy.
Yaadein is slated for a July release.