Wedding bells for Renuka, Ashutosh
Ronjita Das in Bombay
Renuka Shahane's smile is wider than usual these days. The reason: Ashutosh Rana.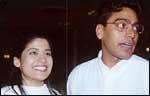 The small screen star and the big screen baddie will end their two-and-a-half year romance in marriage. The wedding will be held on May 25 in Bandakpur, Madhya Pradesh, where Rana's guru, Duttaji (Deo Prabhakar Shastri), resides.
"I feel wonderful, very excited!" reveals an excited Shahane to rediff.com. "I'll be leaving for Bandakpur Thursday morning. Ashotosh is leaving Wednesday night."
"We expect approximately 10,000 people for the wedding," says Kamini Gupta, Rana's sister. "A number of film personalities like director Mahesh Bhatt, producer Kewal Krishna, actors Sameer and Rajpal Yadav, and music director Sujit have been invited. Many politicians have also been invited."
"The ceremony will be very simple," she adds.
What will the bride and groom wear on the wedding day? Renuka says, "I will be wearing a red and gold lehenga-choli and dupatta. He's wearing a gold sherwani and saafa."
The ceremony will be held at the Shankarji Mandir, Bandakpur, followed by lunch.
The couple will leave for Jabalpur the following day and then proceed to Gadarwara (Rana's hometown), 300 km from Bandakpur. The mooh dikhai rasam will take place there.
The couple will return to Bombay on May 28, and "there will be no honeymoon," says Renuka.