No stay order for Daler's album
A local court refused to grant a stay order on the search and seizure of pop singer Daler Mehndi's controversial music album, Nabi Buba Nabi.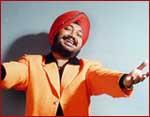 Universal Cassettes had moved an application before additional chief metropolitan magistrate Yusuf Zai, urging the court to grant a stay on an earlier order passed by the court for the seizure of the cassette.
Farooq Azam, president, Bombay Regional Muslim League had earlier lodged a complaint, saying that the singer had hurt communal feelings by projecting scantily clothed women cavorting around him during the song.
So far, the police have seized 97 cassettes.
Advocate Fazil Hussein Sheikh, who argued the case on behalf of the complainant, told the court that the police hadn't taken any action in the matter. And that the song is still being aired on many television channels. He urged the police to stop the telecast.
The court has adjourned the hearing till May 19.
UNI