The Mother of all roles for Kate?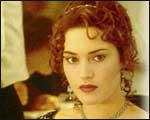 Kate Winslet, the British actress (of the mega blockbuster Titanic), has been shortlisted to play Mother Teresa in National Award winning director Rajiv Nath's latest film.
"I'm planning a full-length feature film focusing on the life of the Mother since she came to Calcutta as a Catholic nun dedicated her life to charity work," says Nath.
"I am trying to get Kate Winslet to act as the Mother. Some of my friends in Europe are in touch with her," he discloses.
The film, which will be shot in Calcutta, targets the international audience as did Richard Attenborough's Gandhi.
"There will be some real life characters -- former West Bengal Chief Minister Jyoti Basu being one of them. Basu was the Councillor of Calcutta when the Mother started her work. So high was Basu's regard for the Mother that she was perhaps the only person who could call on him without prior appointment. I am looking for somebody who could play Basu in his young days," says Nath.
The director also plans to enlist the help of leading writers and filmmakers like M T Vasudevan Nair, John Paul and Paul Zacharia. And some international bodies like the Catholic Youth Movement have shown interest in funding the venture.
PTI