Sania Mirza's mix of on-field performance and off-field persona has put her in the league of male cricketers like Rohit Sharma and Shikhar Dhawan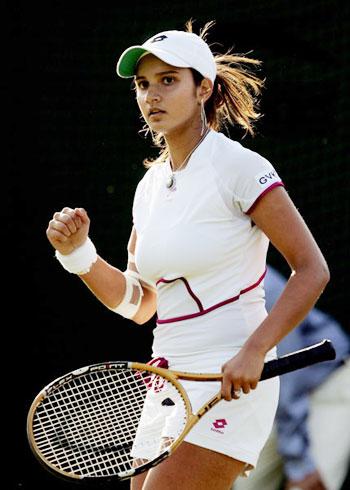 Sania Mirza's ascent to the world number one spot in women's doubles tennis has put her in the same endorsement bracket as cricketers Rohit Sharma and Shikhar Dhawan.
The doubles win along with match partner Martina Hingis in the Family Circle Cup on April 12 has helped her brand fee leap by 20-25 per cent.
While the two cricketers charge between Rs 1 and 1.5 crore (Rs 10-15 million) a year, Mirza can now eye Rs 20 to 25 lakh (Rs 2-2.5 million) a day or Rs 1 to 1.25 crore (Rs 10-12.5 million) a year (considering most contracts are for a five-day commitment a year, including ads and events) now.
However, the boys have more brands under their belt, given the universal appeal of cricket in India. Dhawan and Mirza had signed an endorsement deal for the same brand (Rodeo Drive luxury products) in 2013.
Mirza has been a celebrity sportsperson for almost 10 years, shooting to fame when she was named the WTA Newcomer of the Year after putting up a good performance throughout the year.
She has in the past endorsed products brands like Sprite (Coca-Cola's fizzy beverage) besides Rodeo Drive (luxury fashion accessories) and is currently the brand ambassador for the state of Telangana.
She also endorses Adidas, Wilson (tennis goods manufacturer), Vencobb Chicken and the South India-based furniture retail chain, FabB.
The number one doubles spot will add to her appeal as a brand ambassador, says Indranil Das Blah, COO, CAA KWAN, a sports marketing and celebrity management firm.
The firm handles Mirza's brand endorsements as well.
"For sportspersons, it is the on-field performance and off-field personality that work in tandem to decide the brand value.
"Even in cricket, you see (players like) Virat Kohli and Yuvraj Singh demand more attention because even off the field, they have flamboyant personalities.
"With Mirza too, her off-field persona as a person who speaks out on issues she believes in and her forthrightness make her a desirable choice as an endorser," he says.
Bunty Sajdeh, CEO, Cornerstone Sport and Entertainment, also a sports marketing and celebrity management company, agrees.
"Mirza has been working had for over a decade now and this is the time for her and her team to capitalise on her achievements.
"She will lend herself well to brands that look for a youth connect and may be targeting more urban audiences," he says.
Blah adds that her experience makes her attractive to brands working on women empowerment projects on one hand, and in beauty and fashion, on the other.
He also says that global brands looking at India as a market would find her an interesting choice since tennis is a more global sport than cricket, and yet has a following in India.
Mirza's achievement, coupled with shuttler Sania Nehwal's ascendance to number one in women's badminton recently, has brought into focus women sportspersons in the country.
Perhaps for the first time in the history of brand endorsements, brands have a choice of not one or two, but four female athletes to choose from -- Mirza, Nehwal, Dipika Pallikal (squash player) and pugilist Mary Kom.
"It is very important that these new celebrities in sports are not males and are not from cricket.
"I would not say it is a turning point in the sports endorsements but it's definitely a step towards strengthening the endorsement prospects for female athletes," says Sajdeh.
While Nehwal is in the same bracket as Mirza, Mary Kom's fee range from Rs 700,000 to 10 lakh (Rs 1 million) a day and Pallikal commands a fee of Rs 500,000 to 700,000 a day.
Mirza's experience and gutsy off-court image have helped her equal Nehwal's endorsement fee, despite the latter holding a singles number one title, as opposed to Mirza's doubles number one title.
"Between the four of them, they appeal to a large population of India.
"While Nehwal and Mirza are popular in urban and semi-urban areas, Pallikal is a known face down south.
"Mary Kom has a strong presence not only in the Northeast, thanks to the movie last year, has become a household name across India," says Blah.
Image: Sania Mirza; Photograph: Rediff Archives