Media planners and executives of TV rating agencies say general entertainment channels have started feeling the heat, as the Indian Premier League is receiving not only an avalanche of advertisements but also taking away their viewers.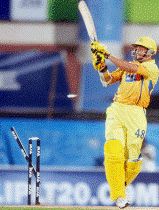 Responding to a report by STAR India and Zee TV, they said though there is no denying the fact that soaps on GECs are staple for audiences throughout the year, the report is not a valid comparison between soaps and IPL matches.

Rival channels Star Plus and Zee TV have joined hands to take the IPL head on, saying their top soaps, as brand properties, are as big as the cricket tournament. In a report, STAR and Zee have claimed that over a one-year period the top shows of STAR Plus (Yeh Rishta Kya Kehlata Hai), Colors (Balika Vadhu) and Zee TV (Pavitra Rishta) had a cumulative reach almost equal to that of the IPL matches.

The report says that while IPL reached 89.5 million people in the 2009 season by having 190 hours of content on air, the shows on Star Plus, Colors and Zee TV had a cumulative reach of 86.6 million, 88.3 million and 80.1 million, respectively, by having 130 hours of content on air.

"We want to dispel the myth that IPL gets higher viewership than soaps. The top soaps are as big brands as IPL. In fact, top Hindi shows, on an average, delivered 30 per cent higher TV ratings than the IPL matches in the last one year," said Anupam Vasudev, executive vice president, STAR India.

Media buyers contacted by Business Standard say the report needs to be read with a pinch of salt. "It is not a fair comparison. If GECs want to compare the TVRs of their soaps with IPL, they should do it when the matches are on. From the point of return on investment, IPL works better as it reaches higher number of viewers in a smaller time span," said Kunal Jamuar, GM, Madison Media.
Data from TV audience monitoring agency TAM shows that in 2009, while the matches were on, the GRPs of the three channels and the TVRs of the top shows fell substantially (see table)
IPL VERSUS SOAP OPERAS

 

IPL 2009

Star Plus
(YRKKK)

Colors
(Balika Vadhu)

Zee TV
(Pavitra Rishta)

Period

6 weeks

52 weeks

52 weeks

52 weeks

No. of hours of content

190

130

130

100

No. of minutes spent per 30 minutes

14.6

16.9

16.4

15.6

Cumulative reach among males (in million)

38.4

34.9

35

31.7

Half hour TV ratings

4.3

6.1

5.3

4.6

Cumulative reach (in million)

89.5

86.6

88.3

80.1

Source: Star India and Zee TV
SHARE OF GEC CHANNELS DURING IPL

Channel

AVG GRPs
6 weeks
before IPL*

6 weeks
during
IPL**

Colors

276

255

Star Plus

301

262

Zee TV

222

224

Programme

AVG TVR
Before IPL*

AVG TVR 
During IPL**

Balika Vadhu

5.92

4.53

Yeh Rishta Kya
Kehlata Hai

6.61

5.25

Bidayi

6.7

5.48

* Before IPL: Mar 1 to April 18, 2010 Market: Hindi Speaking Market
** During IPL: April 18 to May 24, 2010 Source: TAM Peoplemeter System
The report by STAR and Zee also says that the average time spent by viewers per half hour of IPL is less than that of the soaps. "The returns on investment for advertisers for IPL matches are susceptible because one-sided matches see a substantial drop in viewership. IPL matches typically charge five to six time premium than soaps, which is not justified," said Akash Chawla, head, marketing, Zee TV. Rohit Gupta, president, network sales, Multi Screen Media (owners of SET Max), the official broadcaster for IPL, said, "They are talking about their reach in Hindi-speaking markets, however, cricket is seen across India. Also in soaps there is a drop in spot ratings as viewers flip the channels during the 3-minute-long ad breaks, but that doesn't happen in IPL matches that have 30-second ad breaks. Since people do not change channels while watching a match, we are able to command a premium."
CEO of TV audience monitoring agency aMap, Joseph Eapen, said, "A four-hour programme cannot be compared with a half-hour TV show. Higher audience decay happens if the programme is longer, so if the time spent on viewing an IPL match is similar to that of a TV show despite them being on air for a longer period then they are definitely doing better."
A top executive of a media buying agency said IPL is an excellent platform for 'burst' advertising. "For a new product launch, IPL gets a lot of eyeballs in a very short span of time. It is an excellent advertising platform for a company starting a business. Soaps have a longer duration and are good platforms for sustained advertising for products," he said, requesting not to be quoted as he had not seen the report.