The company plans to do double sourcing from India by 2020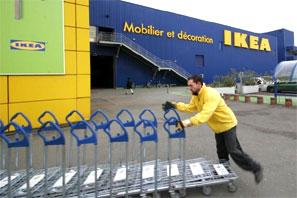 The euro 30-billion Swedish furnishing major Ikea, scouting for real estate in India to set up stores, has decided to double its sourcing from the country.
Calling it a 'Make More In India' initiative, the company has announced it will raise its current sourcing of euro 315 million (Rs 2,425 crore) to at least euro 630 million (Rs 4,850 crore) by 2020.
Recently, Prime Minister Narendra Modi had given a call to industry to 'Make in India' in a move to step up the country's manufacturing strength.
Sandeep Sanan, head of sourcing at Ikea South Asia, said: "We believe there is tremendous potential in India.
"We are looking for new suppliers who share our vision and values, are willing to grow with us and become world class suppliers.
Ikea, which has proposed to invest euro 1.5 billion (Rs 11,550 crore) in India over a few years, has 48 suppliers in the country with 45,000 direct employees and 400,000 in its extended supply chain.
"Ikea is well positioned, not just to 'Make in India' for India, but to 'Make More in India' for Ikea worldwide," said Sanan.
The company's sourcing plans 'resonate with the Indian Prime Minister's Make in India agenda," he added.
Inviting suppliers to its upcoming seminars in January on the issue, Ikea has also opened a new website around 'make more in India'.
Although Ikea is still trying to find ideal locations for its stores, some 19 months after it got the government approval for its India investments, the company has been present in the country for 27 years to source for its worldwide stores.
It wants to open stores in Delhi national capital region, Andhra Pradesh, Karnataka and Maharashtra.
Around the world, it has 361 stores across 45 countries.
Ikea was the first major international single-brand retailer to propose investment in India after the government eased the foreign direct investment rules in the space.
Currently, 100 per cent FDI is permitted in single-brand retail.