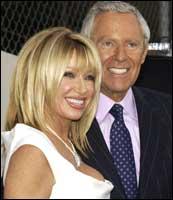 Millions of women love and trust Suzanne Somers. That, as Somers and her husband, Alan Hamel, realized long ago, is the definition of a market niche, one they now have 500 (and counting) ways to exploit.
Chrissy Snow, we hardly knew ye. Suzanne Somers's turn as the dumbest dumb blonde on TV ended in 1981, but the connection it established between her and a core of American women is stronger now than it was 25 years ago.
It is, in fact, the basis for a remarkable business, one that licenses and sells more than 500 Suzanne Somers products, from the second-career-making ThighMaster to jewelry, cosmetics, prepared foods, cruises, and best-selling books.
And next? Suzanne's Kitchen, an entry in the red-hot meal prep category, in which customers move from station to station inside retail stores, assembling family-size dishes from chopped meats, vegetables, and sauces.
The first two outposts of Suzanne's Kitchen, which Somers and her husband and business partner, Alan Hamel, expect to franchise, will open later this year. And, of course, Somers still takes acting work, though by this point it would be preposterous to cast her as the dumb anything.
Alan: When Suzanne was doing Three's Company, I was doing a television series in Canada. I noticed her manager was making a lot of short-term deals for her, not career-oriented, long-term deals. I wanted to stop doing the TV show in Canada. So we decided to terminate the manager and I'd take over. We've been doing it that way ever since.
Suzanne: When I was fired from Three's Company, I learned packaging is important. Chrissy was packaged as a sexy, dumb blonde. I didn't look right standing in front of these corporate men at the network saying, "I would like you to pay me equal to what you're paying the men."
If you're playing the dumbest blonde on the planet, and you're standing there talking like some sort of feminist, it just doesn't work. The response was, "Who do you think you are?" In retrospect, even though I was devastated at the time, it forced me to reinvent myself.
I'd always wanted to do a Las Vegas show, so after Three's Company we did. I opened at the MGM Grand in March of 1980. We built a ranch 25 miles out of town. After three years, I was doing two shows, seven nights a week, and weighed 98 pounds. We were driving home from the theater at 3 o'clock in the morning. I said, "We have to find a way to make a living where I don't have to show up."
And Alan said, "Oh, you mean passive income." He went out and started looking for a way to do it.
Alan: I met a gentleman pitching an exercise device called the V-Toner. It was meant to work your upper body. It was gray and not very attractive. They'd tried everything to sell it to the public, but no one was interested.
Suzanne: The guy was demonstrating it on his upper body. At the time I'd just noticed my inner thighs had begun to jiggle a little bit. As the guy was demonstrating it, I said, "Wouldn't this be great for the inner thighs?" The man said, "Oh, yeah, it'd be great for that, but we think most people are more interested in their upper bodies." I said, "Not women."
Alan: We gave it a new name, the ThighMaster -- we argue over who came up with it. We gave it a new red-and-blue color combination, and we created a new marketing campaign for it.
Suzanne: I'd just bought a pair of Manolo Blahnik shoes for $560. Like any wife, I'm thinking "How am I going to tell my husband I spent almost $600 on a pair of shoes?" I was in my dressing room in my underwear, and I thought, this is the perfect time to show him. So I walked out in a bra and panties and my new high heels, and I watched my husband's eyes go up from the shoes to my legs. And he said, "Great legs!"
And I thought--that's the commercial. We'll pan up, showing my legs, using my husband's voice to narrate "Great legs!" We ended up selling over 10 million ThighMasters.
Alan: We'd marketed the Thighmaster via infomercials, but in 1992 I suggested to Suzanne that she go on the Home Shopping Network with her jewelry line. In those days home shopping was pretty primitive -- it was run by merchants, not television people. She said, "Is this going to ruin my career?" I said, "At this point you don't have a career, so if you succeed you'll be a big hero, and if you don't succeed it will be a Secret Service gig and no one will know about it."
Suzanne: I think what appeals to my customers is I am one of them. I grew up in a blue-collar family. I know who these women are. They're not getting a lot of attention in their lives. I give them a lot of attention. I have a sense that we're all the same, I just have a different job.
In our database, we have the names of almost a million people who've purchased at least one thing directly through our Web site. Add in the people who've bought something from me on HSN and the 10 million people who have bought the books, and you're talking millions of women. They all want to start a fan club, but I don't want to start a fan club.
What's the end point of a fan club? But next fall we're going to launch a direct marketing company--think of Mary Kay cosmetics or Avon as the template. With over 500 products and new ones coming out every month, we're perfectly poised to have these die-hard Suzanne fans be our sales force. It's finally a great use for their affection and enthusiasm for me and my products.
My husband is the visionary. His great strength is business and numbers--understanding what people will want and creating the architecture of a new business to meet that need. I'm out front, and I know the customers--I know what they want. I talk to them for 15 to 25 hours a month on the Home Shopping Network, which is truly interactive television. They know I get them.
Alan: My parents were both Eastern European immigrants, and I grew up in a Toronto neighborhood filled with immigrants. A lot of them owned little corner stores where they sold a little bit of everything, and they lived in the back of the store. Conceptually, we kind of look at what we do as being not terribly different from that. We have a corner store, we decide what we're going to sell, how we're going to sell it, how we're going to price it. The concept works.
Suzanne: Our product line has evolved pretty naturally. When my first diet book came out, we didn't plan to go into the food business. But customers kept asking when we'd start selling the no-sugar foods I described in the book. We looked at each other and said, okay, let's start selling food.
Alan: There's no sort of organizational chart that says who makes the final call. The reality is that Suzanne will not sell anything unless she loves it.
Suzanne: It helps to have a smart partner. Sometimes people come to us for ideas on how to make a husband-and-wife business work. I kind of look at them and say, "I wouldn't want to be in business with your spouse."
Alan: We have a very sick personal relationship. It's something of an anomaly in Hollywood, or anywhere. We've been together for 37 years, we're together 24 hours a day by choice, and we love it. If you're married to someone you really dig, what could be better than working with them and being with them all the time?
(Above) Actress Suzanne Somers and husband Alan Hamel.
Photograph: Vince Bucci/Getty Images
Do you want to discuss stock tips? Do you know a hot one? Join the Stock Market Discussion Group.
Powered by