Ajay Piramal's favourite story is "Foootprints on the sands of time".
The story goes like this: One night the author dreamt that he was walking along the beach with the Lord. Across the dark sky flashed the scenes from his life. For each scene, he noticed two sets of footprints in the sand, one belonging to him and the other to the Lord. But when he looked back at the footprints, he noticed only one set of footprints at the lowest and saddest times of his life. Disappointed, he asked the Lord as to why He left him when he needed Him the most. He whispered: "My child, when you saw only one set of footprints, it was then that I carried you".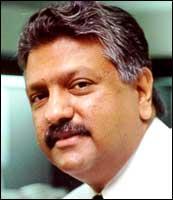 The story, Piramal says, has acted as a guiding spirit for him. He was 29 when his father died suddenly in New York. His brother Ashok took over, but five years later, he too died of cancer, leaving behind his young widow, Urvi, with three children aged less than 10 years.
Just before that, his other brother Dilip had decided to separate his business. Meanwhile, a year-long textile strike led by Datta Samant dealt a crippling blow to the textile industry and Morarjee Mills, the group's main business venture then, was deep in the red. "Life looked bleak when I became chairman of the group at the age of 29. But I survived as the Lord must have carried me when I needed Him the most," Piramal says.
Going by his track record, there is hardly any doubt about that. From owning what was then an almost defunct textile company, Piramal today is the chairman of a Rs 4,000-crore (Rs 40 billion) group, comprising Nicholas Piramal, the fourth-largest pharmaceutical company in India, Morarajee Weaving and Spinning and Gujarat Glass. Piramal is also the chairman of the group's retail operations, which are now looked after by his nephew.
Each of his three nephews (Urvi Piramal's sons) is now in independent charge of separate businesses. He felt deeply hurt by what he calls sensational reports in sections of the media about differences between him and his sister-in-law Urvi and his nephews over control of businesses.
"As their uncle, I did my duty by holding their hands in the formative stages of their life. Now they are independent. But we are all part a big family. The story 'Footprints…' applies to me as much as it does to my nephews and my own children -- Nandini and Anand," Piramal says.
I am at his 10th floor office at Nicholas Piramal Towers in Mumbai's Peninsula Corporate Park. The influence of the Lord is omnipresent: the walls have inscriptions from the Bhagavad Gita. Pride of place has also been given to Zen-style sculptures of the 18 verses in pure black granite rock -- billions of years old -- from near the ancient city of Hampi. Bhagavad Gita is one of the greatest management books as it prescribes optimism and freedom from stress, he says, while ushering me to the lunchroom, which would easily give any five-star hotel in the country a run for its money. The food is strictly vegetarian, Piramal informs me in a slightly apologetic tone.
He needn't have as Piramal plays the role of a host almost to perfection. He is in a nostalgic mood and talks passionately about how he diversified from textiles to a totally unrelated area like pharmaceuticals.
"Manufacturing is finite but human intellect is infinite. Textile is all about manufacturing and industries like pharmaceuticals are all about human intellect," Piramal says.
In 1988, he heard from a friend that Nicholas Laboratories, an Australian MNC that was exiting India, is up for sale. There were many large suitors but Piramal decided to meet Mike Barker, the man in charge of selling the company, and told him that he had no track record, was only 33 but was confident of achieving his dream of putting Nicholas among the top five pharma companies in India (from 48th at that time). Barker laughed with disbelief but decided to sell the company to him after hearing out the "young and untried entrepreneur's" turnaround plan.
Piramal says proudly that a decade later he went to see Barker in retirement in Kenya armed with Nicholas' annual report which showed that the company was among the top five pharma companies in India through a string of overseas acquisitions like the Indian subsidiaries of Roche, Boehringer Mannheim, Rhone Poulenc, ICI and Hoechst Research Centre. The tradition continues till date as Nicholas sealed two acquisitions over the last two months and is looking out for more.
He is also immensely proud of Crossroads, India's first shopping mall. The company had a large factory in the centre of Mumbai and if he wanted to expand, civic permission was impossible to get. Moreover, the cost of manufacturing was one of the highest in India. The three factory buildings of the pharmaceutical company were converted into retail space with the help of architects from Singapore. On the opening day, cars lined up for miles and the McDonald's ice-cream shop in the mall sold more cones in a day at the Crossroads than in any other store in Asia.
We are through with the rather sumptuous lunch, and Piramal says his father had taught him an important lesson -- being with animals teaches you to have respect for all living things. His love for horses (Daffodil, a pure white filly, is his favourite) is hereditary and Piramal remembers his father's haveli in Bager, Rajasthan.
There were two ways to enter the house, one a staircase and the other a ramp, which was made so that a horse could go with its master to his bedroom. As we walk down the corridor to the lift, he also remembers a blind cheetah on the South African savannah. She was blinded in one eye by a snake but could still hunt and protect her cubs and didn't let her disability turn her into a useless creature. "Disabilities and misfortune can make you stronger," Piramal says. The Lord must be pleased, indeed.