Roopam Asthana, CEO and whole-time director, Liberty General Insurance Ltd, will answer your queries on HEALTH insurance and AUTO insurance.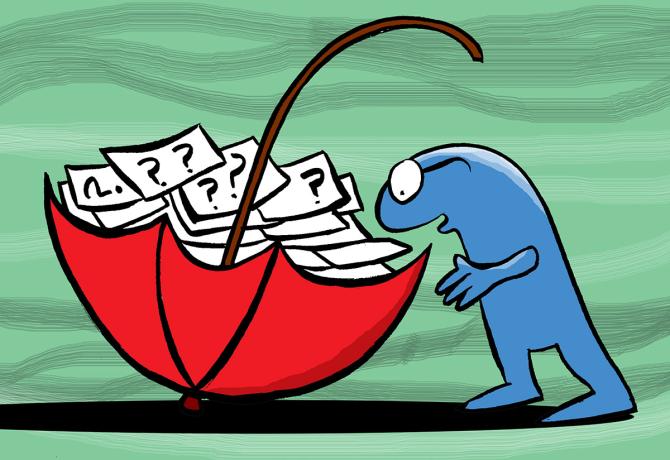 Do you have health or auto insurance queries? Please mail your quesries to getahead@rediff.co.in with the subject line Ask Roopam and he will answer all your health insurance and auto insurance queries.
---
Anirban Sen: I have a medical insurance with National Insurance in the name of my father & mother (77 years) of Rs. 1,50,000/- each. The said Mediclaim policy was renewed on 10th April 2021 for a year (Mediclaim policy due from 17th April 2021). But on 15th April 2021, my father expired after I renewed the policy on 10th April 2021.
What is the procedure to delete the name of my father from the said policy due to his death and convert the entire sum of Rs. 3,00,000/- in the name of my mother since I already paid the premium for 2021-21?
Will the policy to be treated as new? If new, what would happen for the cumulative bonus for the existing policy? Will the CB be lost?
Roopam Asthana: I am very sorry for your loss Anirban. The procedure to undertake is simple: you need to visit the nearest branch with a request letter, death certificate and original policy documents. Once one of the members is deleted, the insurance company will recalculate the premium and renew the family floater policy with your mother becoming the sole policy holder. Also, the cumulative bonus benefits should normally be retained by the insurer.
You may also choose to call your insurer to check if they have a specific format for making the change. This will help you avoid multiple visits to the insurance company's office. Increase in sum insured for your mother to a larger amount is at the discretion of the insurance company and you may request for the same.
DIPAK JAMBUSARIA: My wife who is a senior citizen has a Mediclaim policy. I am the proposer. This time my daughter made the payment by credit card for premium to avail 80D benefit. However, the premium receipt is in the name of my wife only. Insurance company is refusing to issue a premium receipt in my daughter's name. Please let me know what should be done to get a premium receipt in my daughter's name at least next time. Can she claim 80D benefit as her credit card statement shows debit?
Roopam Asthana: Under section 80D of the Income Tax Act, 1961, the premium paid is eligible for tax deduction up to an amount of Rs 50,000 for senior citizens. The policy can be in the name of oneself, one's spouse, or one's parents who are not dependent and also dependent children.
To get the receipt in the name of your daughter she should be the proposer for the policy that covers your wife.
ISHWAR KAVADE: I want to buy hospital cash benefit policy. Which company is best to buy hospital cash benefit policy with high cover? Please send me list of best companies which provide hospital cash policy.
Roopam Asthana: Hospital cash is a daily benefit policy which provides the insured person with a lump sum amount in case of hospitalisation. You can use the money for meeting additional expenses or for compensating the loss of income during the period of hospitalisation.
In case you also have a comprehensive health insurance policy, the amount paid is on top of any of the insured's existing medical benefits. Do remember that the hospital cash policy should be considered as a supplement to your existing comprehensive health insurance policy and not as a substitute.
There are several insurance companies that provide such policy, so it is advisable to go through their website and give them a call or get in touch with your trusted insurance agent.
Dakshay S: My father is 51 (has diabetes and hypertension) and my mother is 42 (she has her thyroid glands removed; she has to take pills daily). Can they get health insurance at this age and with these preconditions? If yes, do they have to undergo medical tests before they are offered insurance?
Roopam Asthana: Yes, they can get insurance at this age. They will need to undergo a pre-policy medical test as these are mandatory for most insurance companies and help the insurance company to make decisions on appropriate cover for the insured or denial of the same. These tests play a pivotal role during the claims process.
A claim can get rejected if the insurance company discovers that the illness was caused due to a pre-existing medical condition that was not disclosed by the policyholder. So, it is advisable to disclose all pre-existing illnesses and to go for such pre-medical test as it makes it easier for both the insurance company and policyholder at the time of the claim.
ANUJ KUMAR JAIN: If a person has a family floater policy and 4 members are covered like his wife, daughter, & son. After some time, daughter gets married.
If any health problem occurs:
a)Would claim be admissible under the father's policy & would be rejected due to status change?
b)Would claim be admissible under the husband's policy or both?
c)If she is not covered under the husband's policy and under continuation with father's policy then what would be the scene of claim?
Roopam Asthana: In a family floater policy, the daughter will normally be covered till the age of 21 or 25 years old irrespective of her marital status, of course, depending on the terms & conditions of the specific policy purchased by you. All the benefits remain as it is till the permissible age.
Post the age limit the daughter can be part of a new individual plan and can avail all continuity benefits or part of her husband's floater plan with terms and conditions applicable to that policy.
Balakrishnan K: I have 2 health insurance policies of 5 lakhs each. If my claim, let us say, is 4 lakhs and one company settles at 2 lakhs, can I claim with the second company for balance amount? One insurance company rejected my policy for some reason. Later, another company approached me, and I took a policy. I had only signed the document and I do not know the details. To this company, I have paid premiums for 10 years without break. Can this company reject my claim in the future?
Roopam Asthana: You can have 2 health insurance policies but cannot claim reimbursement for the same expense from multiple insurance companies. Also, if the sum insured of one policy is not adequate then the other insurance policy can be used to cover the balance expenses with proper disclosures to the second insurance company.
The rejection of any claim is basis incomplete or incorrect disclosure at the time of policy issuance or on account of applicable terms and conditions. I would advise you to go through the terms & conditions of the policy/ies purchased by you.