Nikita Puri visits an artisan coffee label's first café and understands why nothing beats the punch of freshly-roasted beans.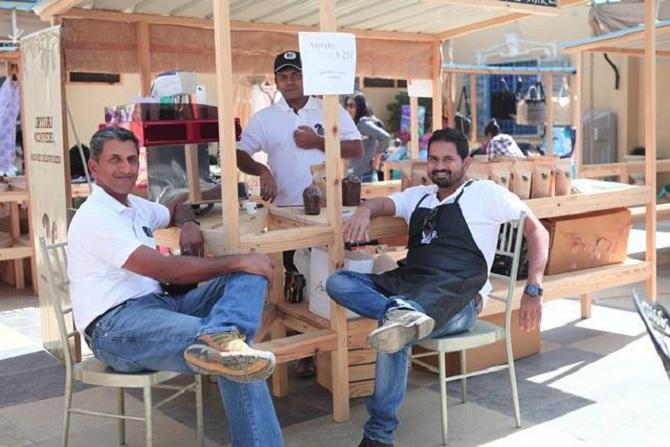 IMAGE: Once college friends, Ashish D'Abreo, right, and Tej Thammaiah, left, are now co-founders of The Flying Squirrel. Photograph: @fscoffee/Facebook.com.
In a café where orange and brown-hued interiors infuse a warm earthiness to the ambience, sun light streams in from a clear glass facade all day long.
A signboard behind the counter says, "Don't use bad words," and lists two expletives. The third "bad word" here is in bold, capital letters and reads: "instant coffee".
On one end of the counter are muffins.
On the other are coffee beans with tiny placards that read: Parama, Aromatique, Sattva, Sun Kissed, and so on.
Come evening, before the sun prepares to begin its descent, Ashish D'Abreo, who for the past 10 minutes has been patiently talking to a customer about all-things-coffee, makes his way to a machine that has the shiniest (brass-coloured) bits in this newly-opened micro-roastery, The Flying Squirrel.
D'Abreo then proceeds to take a few kilograms of coffee beans and pours it into the machine. All around us, behind the counter, are sacks neatly stocked: these hold a variety of coffee beans, most of which come from Tej Thammaiah's coffee estate in Coorg.
Once college friends, D'Abreo and Thammaiah are now co-founders of The Flying Squirrel.
A frequent visitor at Thammaiah's coffee plantations is a kind of a long-tailed squirrel that can glide from one tree to another. Called the flying squirrel, this visitor is the inspiration behind the brand's name.
It'd be easy to dismiss D'Abreo's words when he says that freshly-roasted beans pack such a flavourful punch that most packaged coffee, which stay on the counter for months, can't compete with. But that's only till you sample some of their coffee: it's easy to detect the natural tangy fruitiness in Sun Kissed, a coffee at The Flying Squirrel, for instance.
Since 2013, The Flying Squirrel has been selling freshly-ground beans online to cafés and private customers alike; it also ships it overseas.
"Once coffee is roasted, it gradually begins to lose its flavour, that's why we roast our coffee just a day before shipping it out," says D'Abreo. (The one-day levy is to allow for degassing the roasted beans before it is ground and packed.)
The repeat orders they see are not only a testament to the freshness of their product, they are also an indication of the growing coffee culture in the country.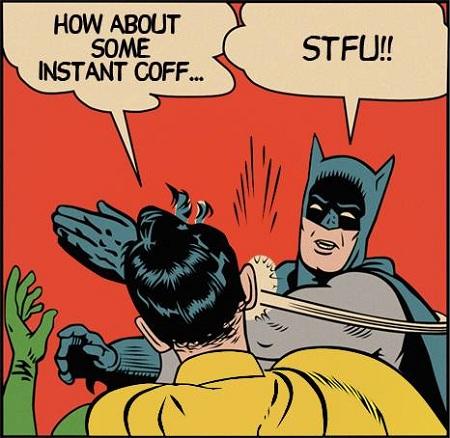 IMAGE:A signboard at the Flying Squirrel micro-roastery says, "Don't use bad words," and lists two expletives. The third "bad word" here is in bold, capital letters and reads: "instant coffee". Their social media posts -- like this one -- drive the point in. Photograph: @fscoffee/Facebook.com.
The opening of The Flying Squirrel's micro-roastery in Bengaluru, where the process of coffee-roasting is open for all to see, is only a brick in the wall of "coffee-knowledge" the brand is building. A sprinkling of such micro-roasteries is on the cards for them.
These outlets, say the founders, are directed towards helping build a coffee-loving community: discussions on Arabica versus Robusta beans or single-estate beans versus a blended variety will always be welcomed here.
Standing by the roasting machine, D'Abreo is all ears for the sound of the 'first crack' of the beans.
"It'll sound like popcorn popping when it's done," he says, and 10 to 12 minutes later, one does hear 'popocorn' that's ready to be served.
D'Abreo scoops out a few and proceeds to checks their colour in the sunlight; they've turned darker.
Over 250 km away in Coorg, where much of this brand's coffee is grown, Thammaiah personally oversees the growing and drying process of coffee beans.
"Much like wine, coffee too is a sensorial beverage. We watch every bean that's grown on every patch. You don't have variants mixed on the farm here. Much like human siblings, each coffee bean has a different taste profile and we process it keeping in mind what the end result is going to be," says Thammaiah, a third-generation coffee planter.
Coffee, says D'Abreo, has moved beyond being a commodity; it's a niche product.
In the variety Sun Kissed, which works both as black and milk coffee, a bit of the pulp is left behind on the seeds to dry before they are brought down to the café and roasted.
Another all-time favourite here is the slightly-creamy, chocolatey and caramel-tasting Parama, specially designed by coffee-pundit Sunalini Menon.
If you stop by the café, besides light reading material on their coffee, you'll also have bubble wrap to pop. Find them online at Flyingsquirrel.in.