Sreemoyee Piu Kundu's latest book, Cut, has an unusual launch.
Video: Afsar Dayatar/Rediff.com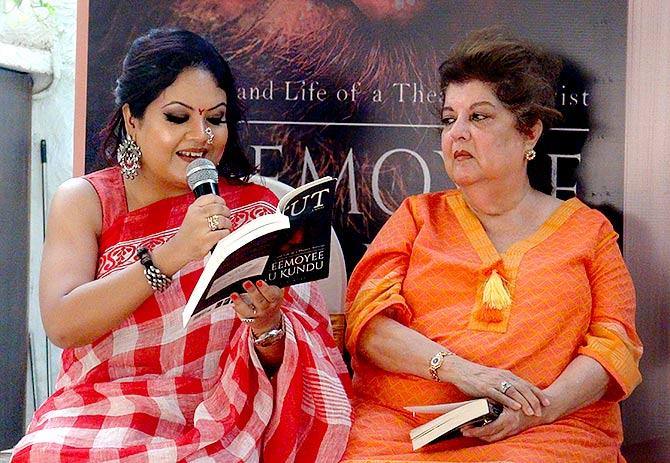 Her tone is sharp, her language unapologetic.
Sreemoyee Piu Kundu means to get into your head and bust stereotypes.
Both her books, and her voice on social media, have not shied away from controversy -- many times because Sreemoyee tends to call things as she sees it.
Take, for example, Sita's Curse, considered India's first modern feminist erotica.
Or Status Single, a no-holds-barred look at the challenging lives led by single women in India.
And there's You've Got the Wrong Girl, which shared the tale of a man's journey in love.
Sreemoyee's latest book, Cut: The Life And Death Of A Theatre Activist, is a taut, multi-voiced narrative, a posthumous look at the personal and professional life of a visionary theatre artist set in a world of government censure and the ruthless stifling of anyone who questions their ways.
Written in the form of a play, his family and friends look back on his life with varying degrees of hate, rancour, envy, hurt, and eventually, regret …
'Cut is a very important book for the times we are living in,' says the former journalist-turned-author. 'It is my reaction to this constant atmosphere of fear.'
WATCH: When Sreemoyee was threatened because of something she said.
The book launch took the form of readings, beginning with actor Mona Ambegaonkar. WATCH!
Then, it was Joy Sengupta's turn. Take a LOOK!
Watch! Theatre veteran Mahabanoo Mody Kotwal shows just how a book should be read.
The final reading was by Sreemoyee herself.