Somebody should ask Hillary Clinton and Donald Trump their views on tipping, says Kishore Singh.
Illustration: Uttam Ghosh/Rediff.com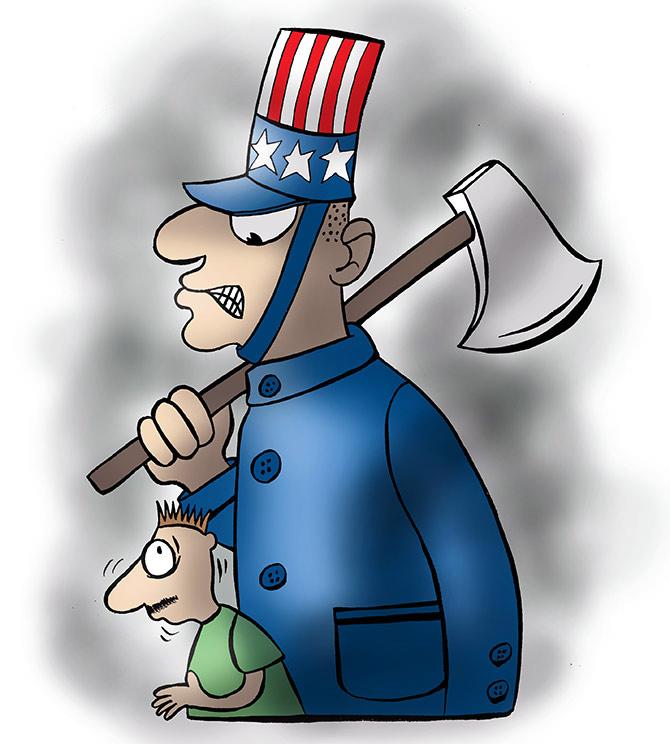 When they aren't debating gender or religious discrimination, or discussing global geopolitics and climate change, somebody should ask presidential contenders Hillary Clinton and Donald Trump their views on gratuity.
How excessive is still too little, for instance?
Why should something for which you're paying require a sizeable commission too?
Even if it irks them, will they risk saying so on a public platform for fear of a whiplash from the millions of service providers who have turned it into a form of extortion?
The American way of life is based on instant gratification that seeks immediate rewards.
Consider the staff at your hotel, none of whom you're likely to see more than once or twice during the week of your stay, possibly because they are on a weekly contract with the hotel for 18 hours of work, do a shift at some Madison Avenue store, manage the reception at a hospital (15 hours) and probably moonlight at another hotel.
Basically, they're similar to interns, or on some kind of hourly contract, which is the reason the front office executive is entirely dependent on technology when dealing with you.
The Indian concept of leaving a collective tip at the end of a five-day stay simply does not work for the bellhop who'd like his extra something now, no matter that reservations messed up the booking and is holding the wrong category of room. That's not his fault, and if it's all right, he'd like his tip now.
Of course, he'll take care to have someone else come in to remove the bags from the wrong room to the right one -- for a little consideration, naturally.
Time was when 10 per cent was good enough to show some appreciation for services rendered -- now it simply won't do.
Bills come with a recommendation of tips calculated at 18, 20 and 25 per cent, and you're being niggardly if you opt for the lowest denominator. So, you're likely to pay a quarter over your bill even if the server got your order wrong.
If you've had the misfortune of taking a bunch of youngsters for a night out in Manhattan, that substantial heft to the bill will bleed you, especially if the management will have added on extras you'd never ordered to your bill -- for which too, of course, you pay gratuity.
And if you thought taxi drivers might prefer receiving payment in cash, you couldn't be more wrong, because 'keep the change' merely rounds off the fare.
The more desirable option is payment by card -- credit or debit -- since the advisory lets you calculate the tip to be paid before swiping it.
Why you should have to tip the driver for taking you from the Lower East to the Upper West when you're already paying him for the journey is an existential question on a par with why you should have to grease the palm of the concierge to give you information he's been employed to provide you anyway.
Everyone wants some graft, whether the doorman who flags down a cab or the store assistant who helps you locate your shirt size among the racks. You tip at the takeaway counter, at the coat check and to the usher in a theatre.
And if you're unhappy with the service and hold back on the monies, you're likely to be assaulted by a string of colourful expletives -- I know, because they're still ringing in my ear -- of the kind that are generally reserved for the presidential choices in poll-bound America.