From a small team of five weavers, Karagiri now works with 1,800 weavers from across India.
Pallavi Mohadikar, co-founder of Karagiri, shares her incredible success journey.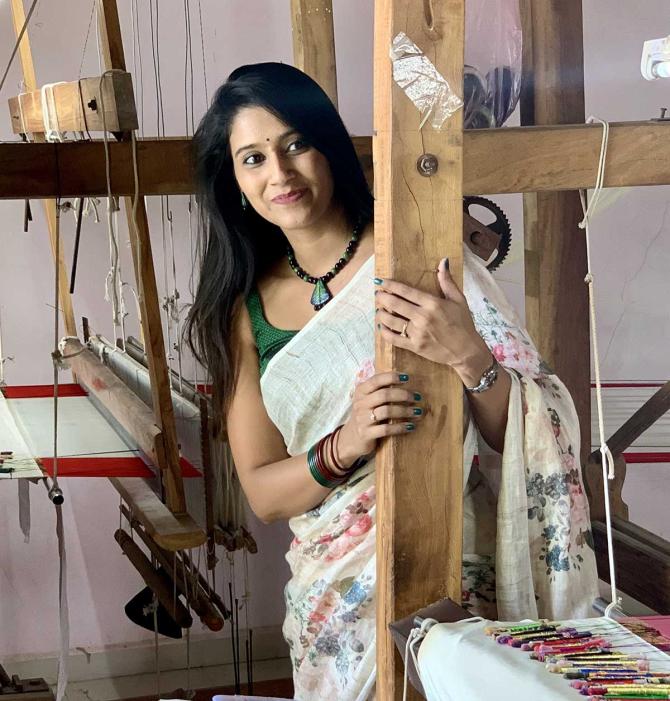 Growing up in a small village in Nagpur, surrounded by the weaving community, Pallavi Mohadikar was always fascinated by the beauty of handloom.
She could never convince her conservative middle class Maharashtrian family to invest in a business.
When she was doing an MBA at IIM-Lucknow, while sourcing and selling chikankari sarees to make money, Pallavi dreamed of starting her own business.
After working for corporates like Tata and Goldman Sachs, Pallavi quit her career as an investment banker in 2017.
She started Karagiri in Pune with an investment of Rs 300,000 after taking a loan from her friend.
With a team of five weavers and a little help from her husband Dr Amol Patwari, an orthopedic surgeon (also the co-founder of Karagiri), and some friends, Pallavi turned Karagiri into a community of women who love Indian culture and fashion.
"I took a leap of faith," Pallavi tells Divya Nair/Rediff.com.
After serving 20,000 orders in 2019, Karagiri was able to generate a revenue of Rs 22 crore (Rs 220 million) for the financial year 2020 and aims to earn Rs 40 crore (Rs 400 million) in 2021.
Today Karagiri works with 1,800 weavers from across India and caters to thousands of 'repeat customers' including Indian celebrities.
The label has delivered as many as 50,000 orders during the lockdown in the past year.
The 31 year old shares her incredible success story and explains how she aims to revive the professional lives of artisans and their families through her start-up.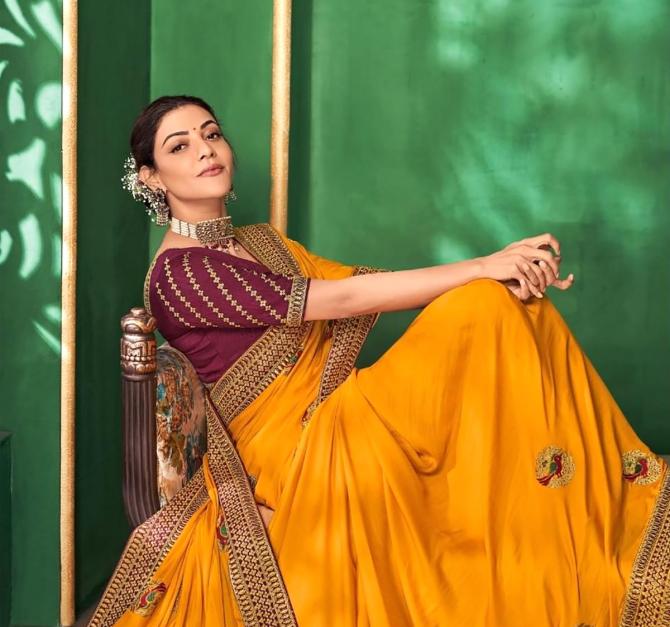 Were you always inspired by handloom and fashion?
I grew up in a small village named Pauni near Nagpur.
Back in those days, electricity was a huge issue so my grandfather used to weave Kosa silk sarees under the coil of a dim lamp. So I have seen his struggle and hard work throughout my childhood.
As I belong to a conservative middle-class Maharashtrian family, my family was totally unaware of the start-up world so it was difficult to convince them.
My grandfather used to tell me about the thread work, weaves, and all technical things about weaving a saree. That was my inspiration to start Karagiri.
What kind of challenges do weavers in India face? And how are you helping them?
The biggest challenge is there is not enough revenue ratio for their art form.
Nowadays weavers make Rs 500 a month which very little to fulfill their basic needs. So we are trying to solve this issue by adopting and promising them to work throughout the year with us and paying them more than the average market wages.
We travel across the rural regions in our country and identify these uncommercialized art forms and give them a platform like Karagiri.
We also train them on commercial aspects. We are currently working with 25 different types of weaver communities across India.
How has it benefitted them financially?
We start by adopting the loans of the weavers and try to pay them more than the average salary in the market.
The idea behind this is to revive the dying arts of handloom.
Most of the weavers are moving towards small petty jobs like a security guard and preferring them over weaving because there is not enough monitoring revenue ratio in weaving currently.
So we are trying to solve their problems by generating revenue and sharing profits.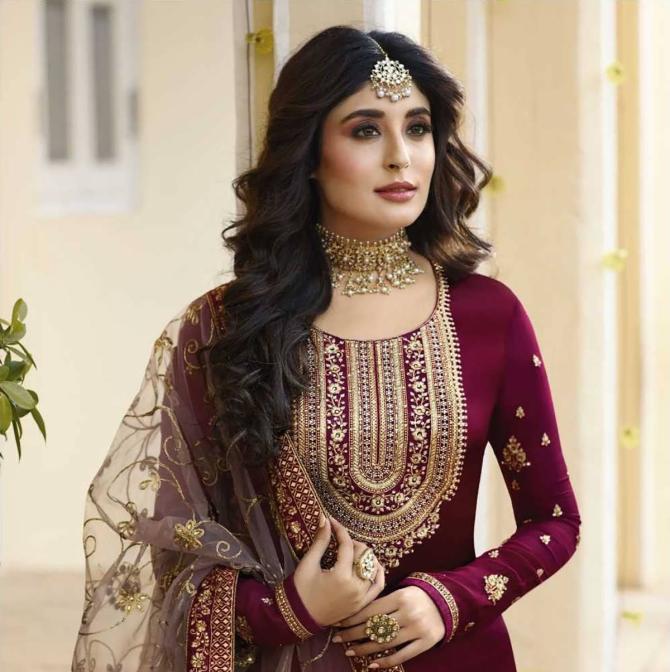 You quit a corporate job to start this business. What was the motivation?
When I was studying at IIM-Lucknow, I worked on a live project on chikankari artisans to study the supply chain of chikankari.
Working on my project made me realise that the struggle is the same for weavers and artisans all over India.
So, I wanted to create a platform where I can showcase their work and give them the right remuneration they deserve.
What kind of challenges did you face initially?
The initial few months were quite stressful as we did not have enough funds for marketing, and we were literally left with just Rs 28,000 in our account.
It was a do-or-die situation for us. Then we decided to invest all the remaining money in marketing and it really picked up from there.
We started getting more orders, our customers loved the sarees, and we have always outdone our sales targets since then.
You completed 50,000 orders last year. How did you promote your business during the lockdown?
All credit goes to my hard-working team of weavers, artisans, and my core team who were working very hard to make this possible.
Word of mouth has helped a lot to grow organically very fast.
We also use our social media platforms to connect and engage with our customers and reach out to more new customers day by day.
As an entrepreneur, what kind of learnings did you have during the lockdown?
During the lockdown, we have been working on our social media platforms.
Our team spent most of the time on Instagram and Facebook, so we tried to reach as many eyeballs as possible by creating engaging content and getting more loyal customers for our brand.
We also got a verified account in January 2021.
How do you motivate yourself every day? Is there a success mantra you believe in?
Just do it! You will not succeed unless you get your hands dirty!
Any tips for aspiring entrepreneurs who may want to start their own business?
1. Never think that a business does not have the capacity. Even if there are other people pursuing it, every business has potential.
2. Always add your own element for growth of a business.
I started pursuing my home business of sarees but then started selling it online. Any business can grow by adding more of your personal touch to it.
3. Use challenges as opportunities.
This Covid situation came with huge uncertainty but we used it to scale our business multifold and took advantage of people's psychology to buy online.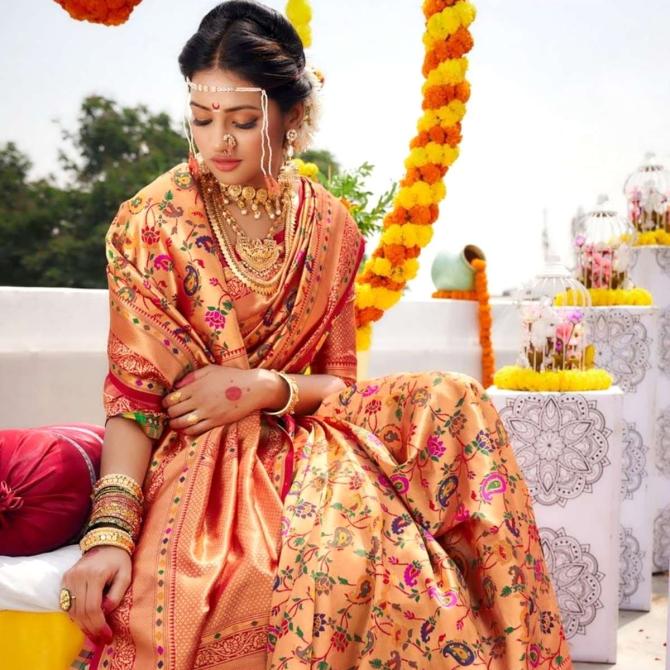 A celebrity you'd like to see in one of your collections?
Our collection has been featured by Aditi Malik, Sai Lokur, Mugdha Godse, Sonu Kakkar and many Instagram influencers.
But we would love Rekhaji to wear one of our Kanjivaram sarees as she is the Goddess of Grace.
For someone looking to shop, what might be the latest saree trends?
Saree trends change almost every month so we also try to launch our own couture with beautiful collections.
Currently, Banarasi sarees, Khaddi Banarasi sarees and Kanjivarams are trending.
Any fashion/styling tips you'd like to share with our readers?
Plain blouses with zari work are very in right now. You can accessorise it with jhumkas, make a bun with your hair and adorn it with gajra.