We asked you, dear readers to share your best tips on saving money. Irish Verma shares his tips.
Illustration by Uttam Ghosh/Rediff.com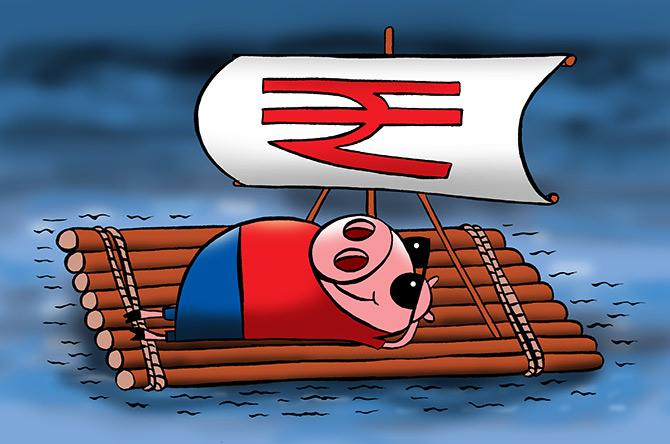 "I use a motorcycle for daily commute to office and back. My total commute distance is 40 km, which means if I use a car my fuel expenses would go up significantly," says Irish Verma.
"As for now, I spend ₹2000 monthly on fuel. If I start to use a car, I will need to spend around ₹5000. That gives me a saving of ₹3000 a month.
"I do not buy electronic gadgets for the sake of it. Why buy a new phone, LCD or any other device when your current ones are running perfectly fine?
"This way, I am living an EMI-free life. I am not paying any installment which means that is my saving.
"Why change your car or motorcycle when there is no problem with it?
"Buying a new car or bike is an additional burden on your pocket, so maintain your current vehicles well so they run hassle free for years to come.
"My Alto is 12 years old and I cleared bank dues in 2012. It runs fine, so why should I buy a new one and pay another EMI?
"Try to eat less at fast food joints and restaurants.
"Don't be tempted by shopping apps because they lure you into buying more than you actually need! Just ask yourself: 'Do I really need to buy new shoes, mobile phone, apparel?'
"Invest in mutual funds, LIC policies, recurring deposits.
"Finally, don't be influenced by what others are buying. Why do you have to be bothered if you are using an iPhone 5s and your colleague is using iPhone 11 pro?
"When we start to compare, we usually tend to feel inferior and that's when the problem begins."
He adds, "Remember, just be cause you drive an old car doesn't make you broke. You have a family to feed, not a community of idiots to impress!"
---
We ask you, dear readers do you have any smart, effective and useful tips on saving money?
Have you applied these tips? Did it work? Share your tips and we'll publish the best ones on Rediff.com.
Write in to getahead@rediff.co.in with 'My tips to save money' in the subject line, along with your NAME, AGE and the place where you LIVE. Don't forget to send us your photograph.