Christmas is almost here. New Year's Eve too.
How about sampling indulgent, sinful but not so unhealthy sweet pani puris dunked in chocolate and topped with nuts, seeds and rainbow sprinkles?
Game?
Here's a recipe for Chocolate Granola Golgappa from Puru Gupta.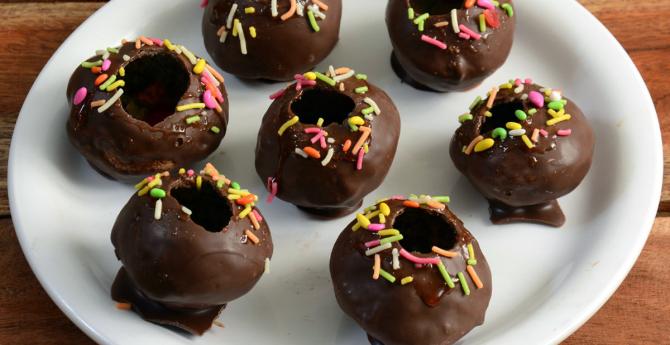 Chocolate Granola Golgappa
Serves: 3-4
Ingredients
6 puffed golgappa or puchka pooris or pani puris
6 tsp chocolate granola, available in gourmet grocery stores and online
1 cup milk
2 tbsp condensed milk
Few strands saffron
Pinch green elaichi or cardamom powder
Pinch nutmeg powder

2 tsp bread crumbs (from grinding one slice of bread approximately)
1 cup dark or 85 per cent chocolate, broken in pieces
Chopped nuts of choice, like walnuts, pistachios, cashews
Seeds of choice, like pumpkin, flax, chia, watermelon
Rainbow sprinkles, for garnish
Method
Line a plate or a baking tray with parchment paper.
Create a water bath for the dark chocolate by filling a larger saucepan halfway with boiling water.
Add the dark chocolate pieces in a smaller, preferably handle-less saucepan and place it inside the larger one.
Ensure water doesn't enter the smaller saucepan and ideally the smaller saucepan should sit in a few inches of water only.
Stir the chocolate gradually as it begins to melt.
Once melted, place in a deep bowl.
Mix until smooth.
Keep aside./li>
Break a small hole in the top of each puri.
Dip the puri into the melted chocolate and let the chocolate cover the puri completely.
Place it on the plate or tray and repeat for the rest of the puris.
Refrigerate the plate/tray of pooris until the chocolate sets and keep cool till assembly time.
Meanwhile, heat the milk in a heavy-bottomed saucepan and let it come to a boil.
Add the condensed milk and mix well.
Add the cardamom powder, nutmeg powder and the saffron strands in it.
Add the bread crumbs and mix well.
The milk should thicken mildly and not be very runny.
Take off heat, transfer to a container and cool to room temperature and then refrigerate.
To serve, fill each of the chocolate-covered puris with a teaspoon of chocolate granola.
Pour a generous amount of chilled milk into it.
Top with the chopped nuts and seeds of your choice.
Garnish with rainbow sprinkles and serve cold.
Puru Gupta is the co-founder and CEO of True Elements.