We'd asked you, dear readers, to share photographs of your mother and you and tell us what she means to you.
Priya Pradeep, a Bengaluru-based freelance business writer, shares the lessons she learnt from her mother, Preetha Pradeep, a former teacher.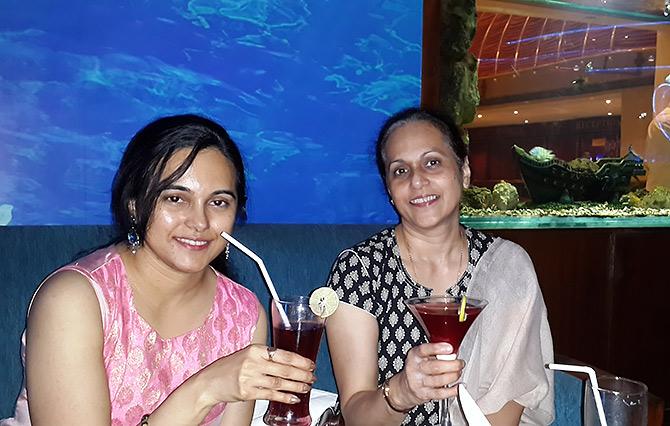 Mom has inculcated many positive patterns of thinking in me; one of which, is to avoid knee-jerk reactions to Indian traditions followed.
She has trained me to calmly reflect why the tradition happened in the first place. For example, rationalists term the belief that we have to remain indoors and not eat anything while there is a solar eclipse and to take bath immediately after the eclipse is over as a superstition.
Well, the scientific fact is one must not look at the sun directly while there is a solar eclipse lest the eyes get damaged.
Mom reasoned with me that, over the centuries, traditions could have been formed to avoid the event without giving proper explanation so that the masses follow the rules in a simplistic format.
However, present day rationalists term ancient traditions as superstitions without understanding why they were formed in the first place.
India of yore had a magnificent scientific temper.
Another ancient tradition is that women should avoid going to temples during their monthly cycles.
Understandably, in the modern age, any girl who believes in gender equality would be infuriated by hearing this statement.
My mom said we should dig deeper as to why this tradition came into being rather than dismiss it outright.
She explained that temples (at least, the ancient temples still standing) are spots of high magnetic field which can be dangerous for a menstruating girl or woman.
So, it is in the interest of the ladies that this tradition came into being. It is unfortunate that the real reason was not explained properly, leading to great debate in present day society.
Right now, the above conversations with my mom are at the top of my head.