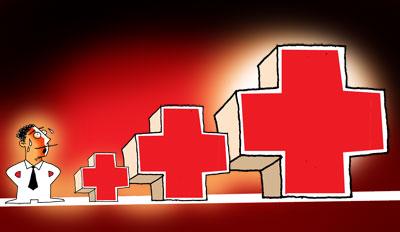 It is important to know the right details about your insurance policies while avoiding these mistakes, says Harjot Singh Narula.
Illustration: Dominic Xavier/Rediff.com
Delaying your decision
Deferring your insurance buying decision is the biggest mistake. The life insurance premium is directly proportional to the age of the applicant.
As your age advances, the premium you pay also increases because the risk in the life aggravates with the increase in age. Many of us think at the younger age, we don't need a life insurance policy; it is for people who are older.
Life insurance policy bought at younger age offers you a financial protection along with lowest premium price. Also, the policy bought at an early stage provides you enhanced coverage for a longer duration at the same cost.
Therefore, it is prudent to buy a policy once you start earning and take a wise step towards financial planning. Delaying the decision will keep your loved ones exposed to the financial loss in the event of your untimely demise.
Starting early will also help you achieve your future financial goals with systematic payouts in terms of premium towards the life insurance policy.
Delaying your decision may prove to be an expensive gesture for you and your family members.
Assuming insurance is an expensive proposition
It is a mistake to assume that buying life insurance is not an affordable financial safety net. There are multiple categories of life insurance plans to meet specific needs and budgets, like term plans, child plans, unit linked insurance plans, retirement plans, etc.
The premium varies as per the benefits offered under each of these plans. If we talk about the pure form of life insurance product which is a term plan, it is the best cost effective plan which costs you premium equal to a cup of tea on a per day basis.
Term plan premiums are the cheapest as it offers death benefit only during the policy term and there is no maturity benefit if the policyholder survives the policy term.
You may take an initial step of buying a life insurance as per your budget and later increase your life cover with increase in income and considering your financial needs.
Focusing on price alone
Price or premium for buying a life insurance company certainly impacts your buying decision the most. But focusing on the price alone is another big mistake done by many.
There are other aspects like key features, key benefits, inbuilt benefits, terms & conditions, exclusions, brand value of the company, claim settlement ratio, additional benefits (riders), etc. which should also be considered before making a final decision.
Ignoring other parameters may give you inadequate coverage, which may not be sufficient to financially cover the loss in the event of a claim.
You may also compare the selected plans to find the best suited life insurance product for your family.
Relying solely on thumb rules
You must have heard about various thumb rules to determine your ideal sum assured which you should buy under the life insurance policy. It is usually said that one should buy sum assured equal to 10 to 12 times of your annual income. But different individuals having same annual income might have different sum assured requirement on the basis of following factors:
Household expenses
Number of dependants
Future financial goals like accumulating funds for kids' higher education or marriage, buying a house, retirement planning, etc.
Assets which can be liquidated easily like gold, fixed deposits, cash reserves, etc.
Existing loans and debts
Existing life insurance coverage, if any, etc
Buying an inappropriate cover is also a big mistake: either it is being categorised as under-insured (buying a policy that pays less sum assured than required) or being over-insured (buying a policy that pays more sum assured than required).
You may also take help of various online calculators to reach the appropriate sum assured figure.
Not reading the fine print
Not reading the fine print of the policy before buying is another blunder people usually commit. Simply relying on what your agent told you about the policy is not correct.
It is important to read the terms and conditions of the policy before you make a final payment. Life insurance policy is a legal contract and is a long term financial instrument. The insurance company gives you free look period to assess your policy and if you are not satisfied with the policy, then you may get it cancelled during the free look period.
But cancelling a policy beyond the free look period is not possible.
So it is imperative to study the details of the policy through policy wordings or plan brochure. You may take help of financial experts to understand the nitty-gritty about the policy.
Conclusion
Buying a life insurance policy is an important financial decision. It is important to avoid the mistakes mentioned and buy the most suitable life insurance plan for your loved ones.
Buying a life insurance policy merely to save income tax will only serve your short run goal but in long run unsuitable policy will not serve any purpose. So don't delay the important decision of buying a life insurance policy and secure your family for a bright financial tomorrow.
Harjot Singh Narula is founder and CEO, ComparePolicy.com