'Due to lack of physical activity and proper care, senior citizens are falling at home or complaining of orthopaedic injuries,' cautions Dr Rajeev Verma.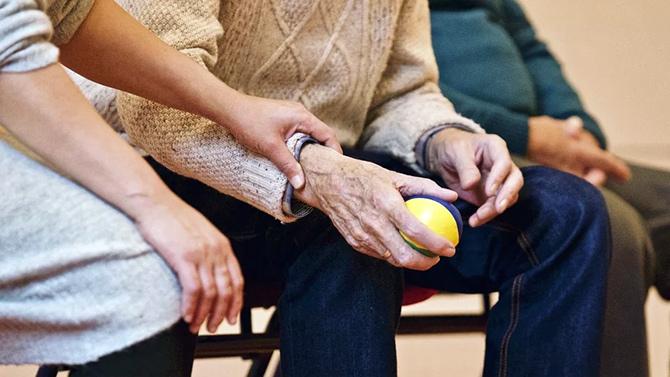 In the current COVID-19 scenario, most of us are bound to our homes to protect ourselves against the virus.
Many, especially the elderly, are paying heed to the advice of not venturing outside unless there is a dire emergency.
This is the need of the hour and is utmost respected.
At the same time, we have also noticing a new set of problems being faced by the elderly population.
Due to lack of physical activity and proper care, senior citizens are falling at home or complaining of orthopaedic injuries.
Of the 52 odd cases we saw at the Department of Orthopaedics, Manipal Hospitals, almost all senior citizens had domestic falls.
Needless to say, this has become a public health problem and needs special attention.
If you are living with elders or senior citizens, here are some tips to help you keep them safe:
Identify the problems
The COVID-19 pandemic has brought to sharp focus some of the vulnerabilities of the elderly. Frailty, related to movement restriction, malnutrition and poor immunity, has surfaced as a major concern.
The problem is compounded with sensory problems that can prevent them from taking adequate precautions.
With advancing age, chronic illness and use of multiple medicines are common among them and that calls for increased health-care need and physical support.
Impaired cognitive abilities that worsen with age pose an extra challenge.
All these vulnerabilities are associated with a high risk of falls and associated fractures.
The common causes for falls that we came across include wet floor, dim lighting, rugs or carpets are not properly secured, rushing to toilet or storage areas, use of stairs among others.
Seniors mainly fall due to weak leg muscles, poor physical balance, dizziness or light-headedness, blackout or loss of consciousness, memory loss, vision and hearing problems and anxiety or fear of falling.
How to prevent accidents
All seniors need to do a safety check of their homes.
It is better to clear the clutter from your floors or stairs including small furniture, pet bowls, trailing cables, or other things that can cause you to trip.
Try and avoid walking on slippery or wet floors.
Securing carpets and loose flooring, as uneven surfaces can cause a trip hazard particularly on stairs.
Replace your carpet with a bright-coloured one particularly if you have problems with your vision.
Lighting is important. Adequate lighting on stairways, corridors and hallways is necessary.
Darkness (in case of power cut) put you at a higher risk. Always have a lamp or light within easy reach of your bed and keep a torch by your bed.
Putting night lights in the bathroom, hallways and bedroom are equally important.
It is also important to have stable furniture.
If you know someone who struggles to balance while walking or sitting or complains of dizziness, it always better to store frequently used items such as food containers, dishes and clothing within easy reach.
Train your elders to move around safely with proper support. A stick or frame that's the wrong height can make your walking, balance and posture worse.
Bone health is important
Seniors need to pay more attention to their bone health.
Eat a healthy balanced diet rich in calcium. Dairy foods such as milk, yoghurt and cheese are good sources of calcium.
Small amounts of calcium can also be found in green leafy vegetables, soya beans and tofu, nuts (particularly almonds), bread and anything made with fortified flour.
It is advisable to avoid excessive amounts of caffeinated drinks such as tea, coffee and fizzy drinks as they can prevent the body from absorbing calcium.
Stop smoking and limit alcohol intake.
Low impact weight-bearing and muscles-strengthening exercises help a lot.
Vision, hearing, and feet need extra care.
Manage your medication well and take your medication as prescribed by your doctor as certain medications have side effects that may put you at risk of falling.
What to do in case of a fall or injury
It is important to stay calm and not panic.
Even if there is no visible injury and you feel strong enough to get up, do not do that.
Don't get up quickly.
You will need proper support, so look for something sturdy like a furniture that you can hold on to.
Get up slowly with support.
Rest for a few minutes before you go back to what you were doing.
In case of a serious injury where you are unable to get up, call out for help.
See if you can have someone access your phone and dial emergency services for an ambulance.
Always keep the numbers handy, pasted against a board or wall where you can access them in an emergency.
Cover your legs and feet with a blanket.
While waiting for medical help and intervention try to change your position at least once every half an hour.
In a nutshell, seniors need to be more careful in COVID-19 times.
For good bone health, you must pay attention to your diet -- include more calcium in your meals.
Find time to do simple exercises and meditation even when you are sitting or doing nothing.
Dr Rajeev Verma is the head of department, Department of Joint Replacement and Orthopaedics, Manipal Hospitals.
*Kindly note that the image has only been published for representational purposes.