Kickstart your mornings with these hassle-free recipes.
For many of us, mornings can be hectic. Just getting yourself together and logging in timely for work leaves little time to prepare a well-balanced breakfast.
On the other hand, working on an empty stomach may reduce your ability to concentrate and leave you with lower energy in the morning.
You can soak oats overnight and and start your day off with the right kind of fuel for whatever lies ahead.
Try out these overnight oats recipes that are indulgent yet healthy, curated by chef Sabyasachi Gorai.
Banana Bread Overnight Oats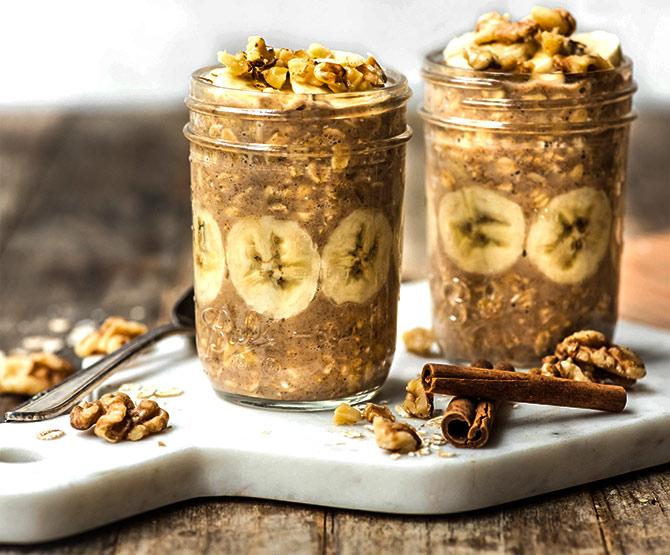 Ingredients
3 ripe bananas, sliced
2 cups old-fashioned oats
1 tbsp ground cinnamon
1/2 tsp salt
1 tsp vanilla
3/4 cup chopped walnuts, divided
1 tbsp maple syrup
3 cups skimmed milk
Method
In a large container with a lid, add sliced bananas. Use a potato masher or a fork to mash the bananas until smooth.
Add oats, cinnamon, salt, vanilla, half of the chopped walnuts, maple syrup and milk to the bananas. Combine thoroughly and refrigerate overnight.
To serve, divide the oats into four serving dishes, such as mason jars or glass containers with lids. Top each serving with remaining chopped walnuts before serving.
Overnight oats will last up to 5 days in the fridge. Oats will soften more the longer they sit.
---
Walnut Chia Overnight Oats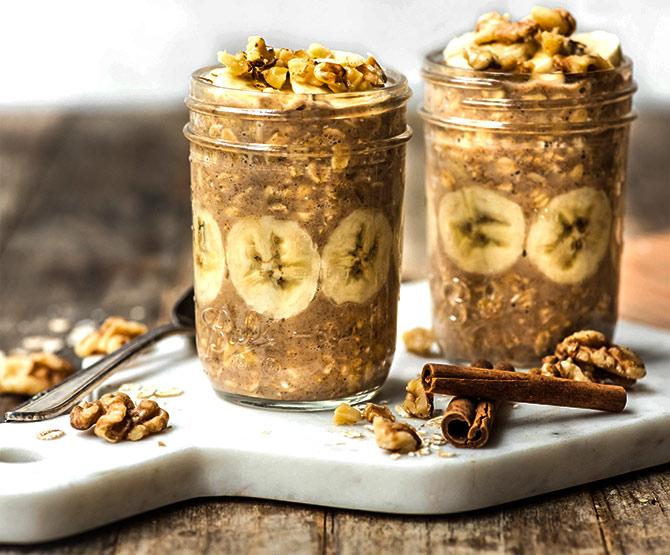 Ingredients
2 ½ cups milk
1/2 cup chopped walnuts
1/3 cup chia seeds
1/3 cup rolled oats
1/3 cup pure maple syrup
1 ½ tsps vanilla extract
Assorted fresh berries (optional toppings)
Method
Stir together all ingredients except toppings in a medium bowl. Cover and refrigerate overnight.
Spoon into small bowls and top with additional walnuts and berries.