An oven, yogurt and condensed milk is all you will need to make this simple dessert.
Mishti Doi is, of course, a Bengali classic.
Less known, but equally delightful is Bhapa Doi, a steamed concoction of yogurt and reduced milk.
Smart cooks have been finding shortcuts and in its easiest form, the Bhapa doi recipe has just two ingredients.
I bake mine in a water bath and it's done in minutes.
Here's the recipe for Bhapa Doi:
Bhapa Doi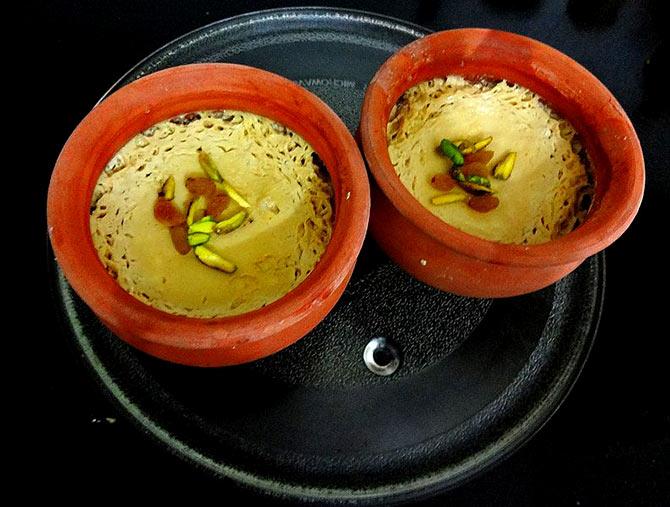 Ingredients
1 cup hung curd
1 cup condensed milk
Method
To make hung curd, line a sieve or colander with a clean, soft cloth.
Put 2 cups of fresh curd into the sieve, place over a bowl and leave in the fridge for 3 to 4 hours. All the water will drain away and you'll be left with a mass of thick curd.
Beat the curd well with a hand whisk. Mix in the condensed milk.
Pour into an oven-proof dish and place the dish in a tray with some water in it.
Bake at 150 degree C for about 10-12 minutes, by which time the mixture will be set.
Serve chilled and topped with almond slivers or pistachios.
You can also bake these in individual ramekins or dessert cups.
Photograph: Kajori.p/Creative Commons
Want to share your favourite recipe? Simply e-mail your recipes to getahead@rediff.co.in (subject line: My Fav Recipe) with your name, hometown and any interesting details about the origin of the recipe, along with a photograph of the recipe, if possible. We'll publish the best preparations right here on Rediff.com.