It's time to bring out your earthenware and clay pots, don the apron and get cooking!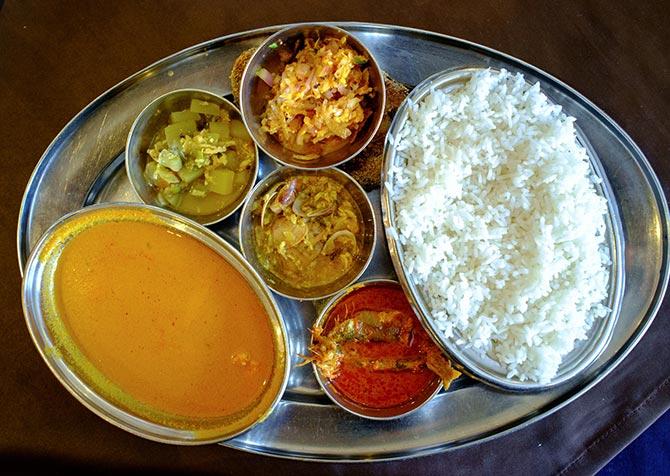 Photograph: Premshree Pillai/Creative Commons
Food aromas can be extraordinarily evocative and bring back memories.
As I stirred the Pork Vindaloo over the fire, some days ago, I reminisced about my first Christmas lunch after marriage.
Carne de Vinha d' Alhos -- I remember hearing my mother-in-law utter this name, as I was seated at the Christmas lunch table at her home. It sounded like Latin to me.
I waited eagerly, only to realise it was Pork Vindaloo that she was talking about!
I was relieved as I was more familiar with this name. A combination of garlic and wine used in the dish is where it got its Portuguese name from, I was informed.
Over the years, I too have been acquainted with several Portuguese names for Goan dishes. After all, Goan cuisine was heavily influenced by the Portuguese, my mother-in-law often reminded me.
The Portuguese who ruled over Goa for over 400 years, introduced numerous ingredients to Goan cuisine, one of the most significant being the Piri Piri Chili.
Authentic Goan cuisine is not about fancy equipment and utensils, but basic stuff like earthenware, clay pots, slow cooking and home-ground fresh masalas with the right ingredients.
It is those dishes which are redolent with the flavours of the real food of Goa, not the heavily spiced ones, we often eat in restaurants.
Over the years, I have savoured these dishes at home and begun to love Goan cuisine. I have even learnt to cook many of these dishes myself.
One of my personal favourites is Feijoada, a stew brought by the Portuguese from Brazil. It is made with meat (beef and/or pork), beans and served at Goan weddings even today.
No Christmas or feast meal is complete without Sorpotel. Adapted from the Portuguese dish Sarabulho, this Goan favourite is a spicy pork dish with offals and meat, and is typically eaten with Sanna (steamed fluffy rice cakes) or Pao (bread).
The dessert Bebinca, a layered pudding eaten at Christmas, is again hugely popular. Chef Edridge Vaz, Chef de Cuisine, Park Hyatt Goa Resort and Spa, says there is more to traditional Goan desserts than Bebinca and goes on to name some, "Goddshem, a rice pudding made with coconut, jaggery and turmeric leaves, Donne or Pudde, a dish made from thick rice batter, coconut and jaggery shaped into cones using a jackfruit leaf, and Mutllim, a dish made from rice using a coconut and jaggery stuffing and steamed."
The efforts of GTDC in popularising and keeping the traditional Goan cuisine alive through the various food events they organise is commendable.
Chefs are doing their bit too.
Chef Vaz strives hard to revive these dishes and create awareness. "As a Goan speciality chef, I try to incorporate a lot of these dishes in our regular or promotional menus. We at Casa Sarita, the Goan signature restaurant of Park Hyatt Goa Resort and Spa are active members of the Goan Culinary Club whose primary objective is to promote, preserve and revive traditional Goan Cuisine."
Chicken Cafreal made from coriander leaves, green chillies and other spices which originates from Mozambique is another Goan staple now. Chef Vaz recounts, "I have fond memories of relishing Chicken Cafreal with Goan Poi (bread) on birthdays in the family, as a child."
Goan cuisine is diverse and offers myriad flavours. The Portuguese influenced Catholic cuisine is something I maybe personally used to, but that's not all there is to it.
Goan Saraswat cuisine too is equally flavourful and is not only popular for vegetarian cooking, but also for its non-vegetarian delicacies, mostly seafood and chicken.
"Bhaji (made from green leafy vegetables), shaak (made from different raw fruits and root vegetables), tondak (thick curries made from beans, coconut paste and garam masala powder) and usal (made of beans, sprouts, pulses, which is tempered and garnished with grated coconut) are some of the typical vegetarian dishes," elaborates chef Deepa Awchat of Goa Portuguesa.
She further explains, "You can use any number of vegetables in any combination for Khatkahtem. This is a traditional delicacy of Goa where teffal berries are essential to give it a distinctive flavour. It is a favourite of the Saraswat community of Goa. This mélange of vegetables is a festive dish, which is usually served on special occasions."
Executive Chef Ganapathy Mallya, Novotel Goa Resorts and Spa adds, "The Saraswats used to live and farm near River Saraswati. The river dried up and they had nothing to eat. So they started descending down south. When they had nothing to eat, then their religious guru gave them the permission to eat fish, but only from the fresh waters and not from the sea."
He adds, "Fish Hooman (fish curry) is thus one of the most popular non-vegetarian dishes."
Such is their love for seafood that the Saraswats add prawns to the beans and cook it with coconut and garam masala powder, thus calling it Prawns Tondak.
Being a Saraswat Brahmin, Chef Mallya has recipes from his grandmother and mother which he covets and has even used some of those in an award-winning Saraswat Thali that he introduced in his hotel.
Deepa Awchat too endeavours to reach out to many with the Goan Saraswat cuisine through her cookbooks and food festivals, thus creating an awareness of this cuisine.
Not many know that the Saraswat cuisine is replete with sweets like Manane, Tausoli, Payas, Madganya Kheer, where generous amounts of coconut, cashew nuts and jaggery are generally used.
Here are some hand-picked recipes from the Goan Catholic cuisine and Saraswat cuisine which chefs have shared.
Chicken Cafreal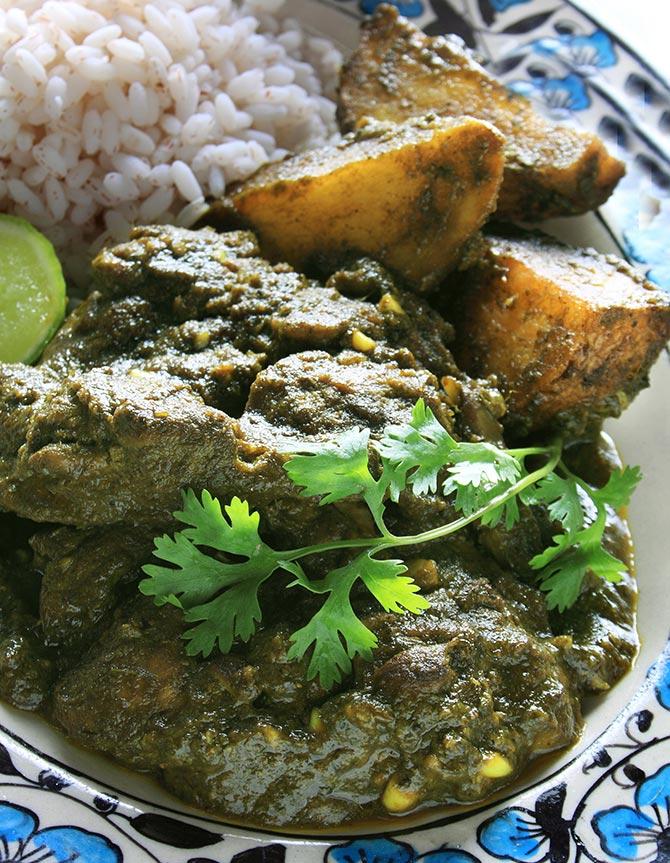 Recipe by Chef Edridge Vaz, Chef de Cuisine, Park Hyatt Goa Resort and Spa
Ingredients
350 gm boneless chicken leg
30 ml oil
100 gm potato wedges
50 ml chicken stock
1 tsp tomato ketchup
10 gm ginger and garlic paste
Salt to taste
Sugar to taste
For the masala:
50 gm mint leaves
150 gm coriander seeds
15 gm cumin seeds
10 cloves
1 inch cinnamon stick
10 black peppercorns
3 tbsp toddy vinegar
2 capsicum
6 green chillies
Method
For the Cafreal masala

Mix all the ingredients together and gradually add 2 tbsp toddy vinegar to the mixture.
Grind till the mixture is smooth.
Keep the mixture aside in a bowl.
Marinate the chicken with ginger and garlic paste, remaining toddy vinegar and salt. Keep it aside for 15 minutes.
Apply half the Cafreal masala to the chicken and let it marinate for 3 to 4 hours.
Heat oil in a pan, add the marinated chicken and cook covered on a medium heat, stirring occasionally.
Add the chicken stock, remaining Cafreal masala, potato wedges, salt, sugar, tomato ketchup and cook over 75 degrees for 10 minutes.
Serve hot, garnished with mint leaves.
*Note: Toddy vinegar can be substituted with lemon juice. For the ginger garlic paste, mix 60 per cent garlic and 40 per cent ginger, then blend to a fine paste in blender.
Pork Vindaloo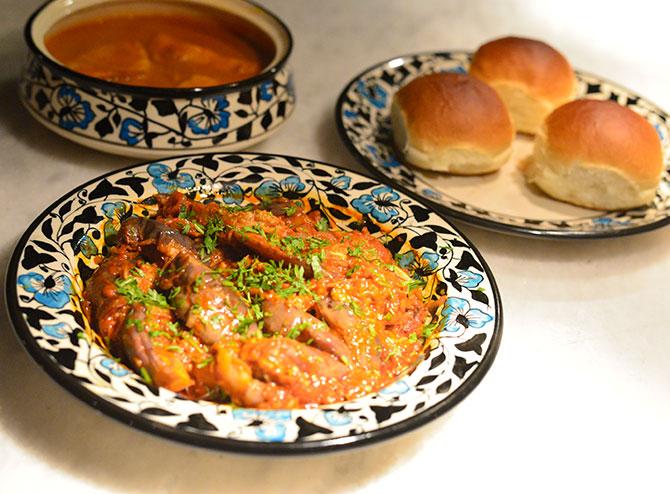 Recipe by Chef Edridge Vaz, Chef de Cuisine, Park Hyatt Goa Resort and Spa
Ingredients
30 ml vinegar toddy
10 gm salt
5 gm sugar
100 gm onion (thinly sliced)
300 gm pork belly with fat (without skin)
10 gm garlic (chopped)
25 gm vinegar masala
15 gm ginger and garlic paste
30 ml oil
Method
Marinate pork cubes with salt, ginger, garlic paste and half of the vinegar masala.
Heat oil in a pan and add thinly sliced onions till light brown.
Add finely chopped garlic and sauté.
Add pork and sauté till meat is seared.
Add remaining vinegar masala and sauté some more.
Add enough water to cover the meat and cook till the meat is tender.
Adjust salt, sugar and vinegar to taste.
Alle Belle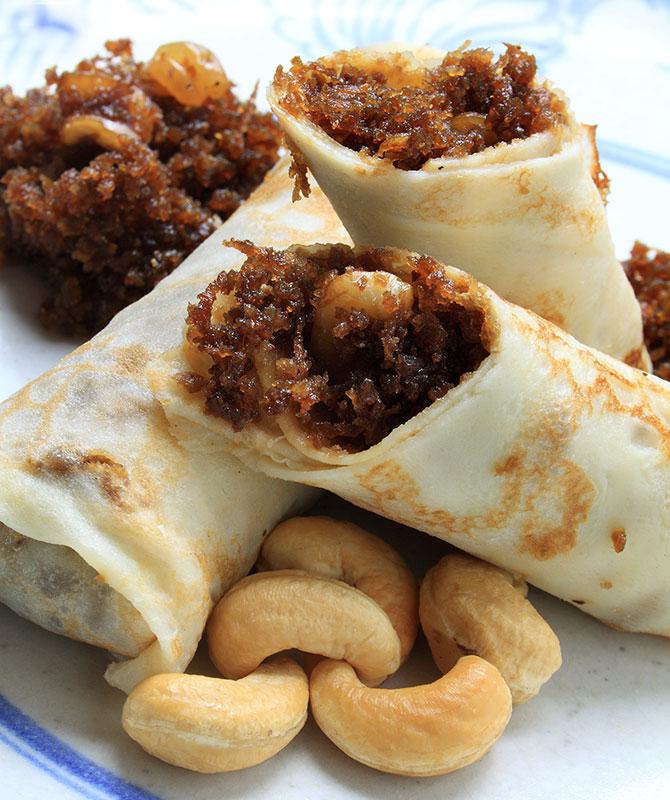 Recipe by Chef Edridge Vaz, Chef de Cuisine, Park Hyatt Goa Resort and Spa
Ingredients
175 gm flour (maida)
5 eggs
25 gm castor sugar
40 ml sunflower oil
15 gm cashew nuts (broken)
500 ml milk
250 gm fresh coconut (grated)
100 gm black jaggery
15 gm raisins
Salt to taste
Method
For the filling
Heat jaggery with a little water, add grated fresh coconut, raisins and cashew nuts to make a firm mixture.
Cook for 3 to 4 minutes.
Remove from the pan and allow cooling.
For the batter
In a deep bowl, mix flour, eggs, castor sugar, milk and half the oil together and pass through a strainer.
Keep this batter aside.
Brush a non-stick pan with oil and heat over moderate heat.
Pour a small ladle of the batter into the pan and move the pan so that the batter spreads over the whole surface as thinly as possible.
Cook until firm. With the help of a wooden toothpick, flip the crape and cook for another minute.
Remove from the pan and allow cooling.
To finish the dish
Place a spoon of filling on one edge and roll it tight.
Cut each roll in two equal pieces.
Serve warm.
*Note: Jaggery can be substituted with dark palm sugar.
Bebinca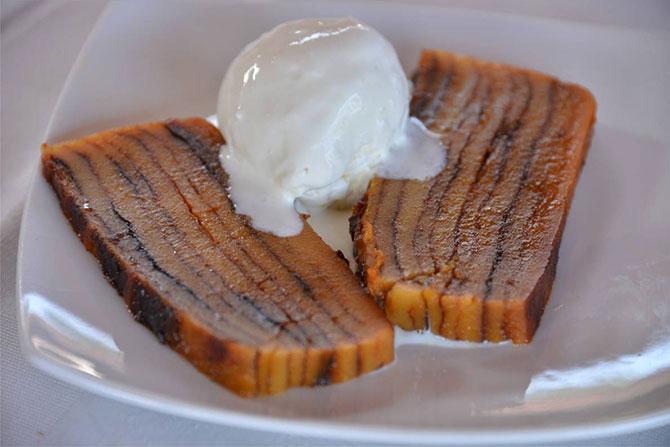 Recipe courtesy: Destination One, Calangute
Ingredients
250 ml thick coconut milk (the first extract of coconut milk)
6 egg yolks (keep the whites for making a cake or marzipan)
175 gm refined flour
1/2 cup ghee at room temperature (clarified butter) + 1 tbsp ghee for Bebinca batter
200 gm sugar or as required
1 tsp nutmeg powder
1 tsp cardamom powder
1 tbsp vanilla essence (optional)
A pinch of salt
Method
Preheat oven to 180°C exactly 15 before baking. Grease a round tin or loaf pan with 2 tbsp ghee.
Take a mixing vessel, combine coconut milk and sugar. With the help of an electric beater beat until sugar dissolves.
Add one egg yolk at a time and beat until they all mix nicely.
Now add flour, 1 tbsp ghee and salt. Beat all nicely.
Pour 1/2 cup of batter and bake for 25 minutes.
Now spread some ghee over it with the help of brush. Sprinkle little cardamom powder and vanilla essence.
Bake again for 15 minutes. Again spread ghee, cardamom powder and vanilla essence.
Continue greasing and baking with 1/2 cup batter until all batter is over. Bake each layer for 15 minutes.
For the last batter, spread ghee, sprinkle cardamom, nutmeg and vanilla essence. Bake the last layer for 20 - 22 minutes.
Allow to cool completely. Unmould the pan by gently taping from behind.
Slice Bebinca and serve warm or cold with a dollop of ice cream.
Khatkhatem (mixed vegetable curry)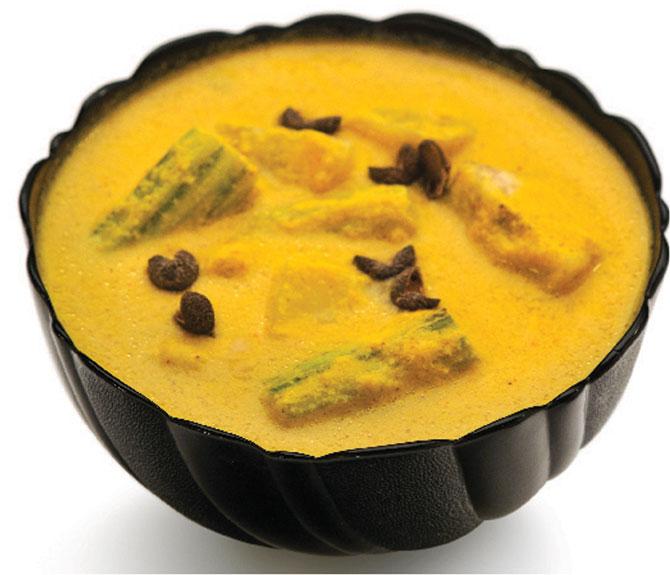 Recipe by Master Chef Deepa Awchat, Goa Portuguesa
Ingredients
1/4 cup peeled, chopped yam
1/4 cup peeled, chopped sweet potatoes
1/4 cup peeled, chopped potatoes
1/4 cup peeled, chopped yellow pumpkin
1/4 cup peeled, chopped green plantain
1/4 cup peeled, chopped white radish
1/4 cup peeled, chopped unripe green papaya
1 drumstick, chopped
1/4 cup white dry peas, soaked
10 dried teffal berries (optional)
1 cup grated coconut
12 black peppercorns
4 green chillies
1/4 tsp turmeric powder
1 tsp chilli powder
2 tbsp grated jaggery
3 tbsp tamarind pulp
1 tsp rice flour
Salt to taste
Method
Lightly crush the teffal and set aside.
Grind together the grated coconut, peppercorns and green chillies with half a cup of water to a smooth paste.
Boil the vegetables and dried peas in a deep pan.
Add turmeric and chilli powder, jaggery, tamarind pulp, rice flour and salt and mix well.
Add coconut paste, teffal and one cup of water and bring to a boil.
Remove from heat immediately and serve hot with any Indian bread.
Moongacho Gathi (curried green gram)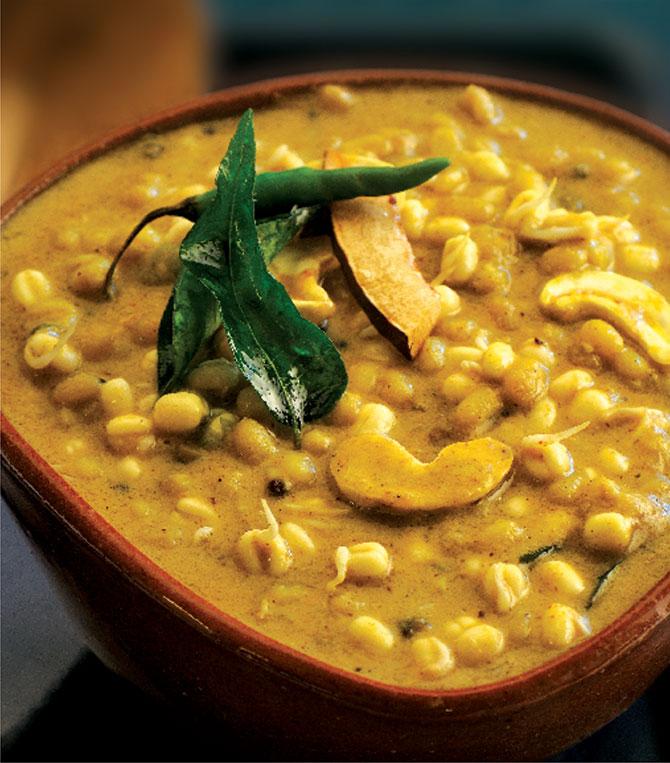 Recipe by Master Chef Deepa Awchat, Goa Portuguesa
Ingredients
2 cups (300 gm) sprouted green gram
4 tbsp oil
15 cloves
1 two inch stick cinnamon
15 black peppercorns
1 tbsp coriander seeds
1 cup grated coconut
2 tbsp melted ghee
2 pinch asafoetida
1/2 tsp mustard seeds
8 curry leaves
4 green chillies (slit)
1/2 tsp turmeric powder
1 tbsp grated jaggery
2 tbsp tamarind pulp
1 cup coconut milk
20 cashew nuts (soaked)
Salt to taste
Method
Heat the oil in a pan and stir-fry the cloves, cinnamon, peppercorns, coriander seeds and coconut, one by one, till fragrant.
Grind the spices and coconut with one cup of water to a fine paste.
Heat the ghee in a pan; add the asafoetida, mustard seeds, curry leaves and green chillies.
When the seeds begin to splutter, add the sprouted gram, turmeric powder and three cups of water and cook till the gram is soft and tender.
Add ground paste, jaggery, tamarind pulp and salt and cook for 5 minutes.
Add coconut milk and cashew nuts.
Cook for two minutes and serve hot with any Indian bread.
Note: Instead of grinding the spices, use one tsp of garam masala powder.
Veg Shagoti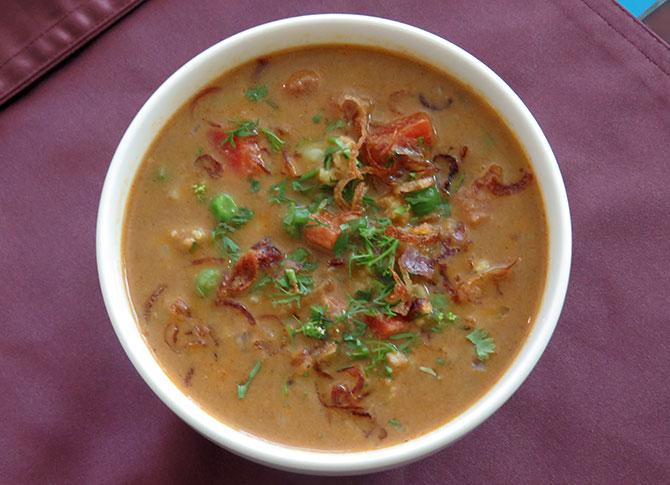 Recipe by Executive Chef Ganapathy Mallya, Novotel Goa Resorts and Spa
Ingredients
2 onion (chopped)
250 gm beans, carrot, cauliflower, green peas
1 and 1/2 cup vegetable broth
1 tsp salt
1 coconut
For the masala paste
1 cup shredded dried coconut, toasted in a dry skillet until lightly browned
4 dried red chilies, seeds removed and broken into pieces
1 tsp cumin seeds
1and 1/2 tbsp coriander seeds
10 black peppercorns
1 tsp fennel seeds
1 tbsp poppy seeds
6 whole cloves
2 inch piece cinnamon stick
4 whole star anise
1/2 tsp ground turmeric
1/4 tsp ground mace
1/4 tsp ground nutmeg
4 cloves garlic (minced)
2 tsp minced fresh ginger
Method
To make the masala paste
Place all the spices in a small, dry skillet over medium heat and toast until fragrant for 4 to 5 minutes. Do not burn them or they will become bitter.
Let them cool completely and then grind them to a powder in a spice grinder.
Place the ground spices in a small food processor along with the roasted coconut, garlic, ginger and some oil and process to a smooth paste. Set aside until ready to use.
In a large skillet, heat the coconut oil over medium flame and add the onions. Cook until caramelised and nicely brown for 15 to 20 minutes.
Add vegetables and cook until they are no longer pink.
Add masala paste and tamarind and cook for a few minutes.
Add veg broth and salt and bring to a boil.
Reduce the heat to medium/low, cover and simmer for 30 minutes, stirring occasionally.
Add cilantro and salt to taste.
Serve with Goan rice.
Fish Hooman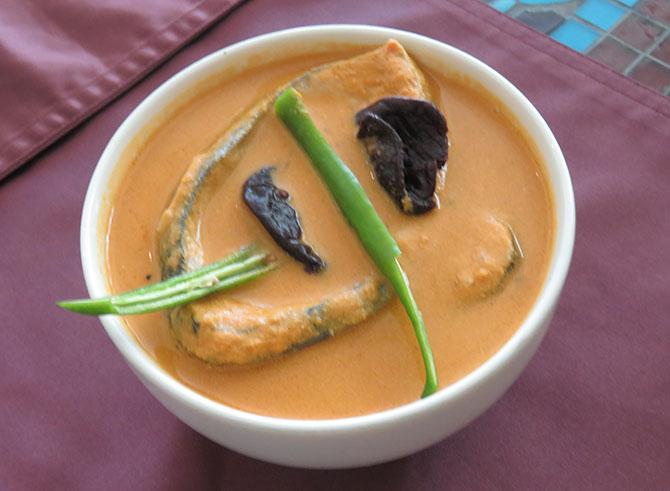 Recipe by Executive Chef Ganapathy Mallya, Novotel Goa Resorts and Spa
1 medium sized Kingfish
10 gm garlic
10 gm ginger
1 cup coconut
10 gm chilli powder
1/2 tbsp coriander seed
2 cup onion chopped
7 red chillies
1 tbsp cumin seed
3 tsp turmeric powder
3 tbsp salt
2 big tomatoes chopped
5 kokum
10 ml oil
3 cup water
Method
Blend one cup onion, ginger, 2 bay leaves, red chilli, coconut and cumin seeds.
Make small pieces of fish fillets, about 3 inches in length.
Clean them properly if you are using the whole fish and cut into small pieces.
Take a big plate, put the fish in it and sprinkle 2 tsp of salt, two tsp of turmeric powder and garlic paste.
Mix well and marinate for 30 minutes.
Heat a pan or a wok (preferable), add oil to deep fry the fish.
When hot, fry the fish, 3 to 4 pieces at a time, 3 to 4 minutes on each side.
Keep all of them in a separate plate.
When all the pieces are fried, clean all the black residue from the oil in the wok with the spatula and put 2 tbsp of fresh oil.
Add onion and allow it to turn a little brown.
Add the ground paste, tomatoes, leftover turmeric powder and salt to taste.
Keep stirring until the paste becomes a little brown (it takes around 10 minutes).
Add kokum.
Once the gravy comes to boil, start dropping the fried fish pieces into it and allow it to boil for 15 minutes.
Serve hot.
ALSO SEE
Where to find the best local food in Goa
Food confessions from a fashion designer