Is your school among the best in the country? Read on and find out!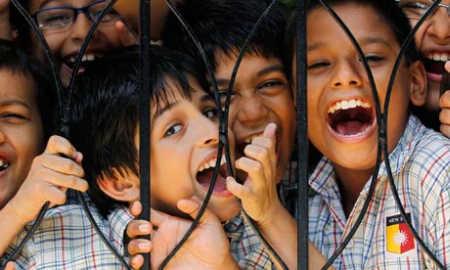 Leading career magazine Education World has recently published its list of best Indian schools for the year 2014.
Titled 'EW India School Rankings 2014', the annual list comprises the country's best schools ranked under ten different categories -- day co-education, day-cum-boarding, day girls and day boys, boarding co-education, boys and girls, international day, day-cum-boarding and wholly residential.
For the survey, 913 schools were nominated from 25 different cities -- Delhi, Mumbai, Kolkata, Chennai, Bangalore, Hyderabad, Pune, Vadodara, Ahmedabad, Chandigarh, Lucknow, Indore, Jamshedpur, Darjeeling, Shillong, Kochi, Jammu, Kanpur, Bhopal, Bhubaneswar, Gurgaon, Noida, Faridabad, Ghaziabad and Dehradun.
To arrive at the final list of best Indian schools, the magazine took the help of 203 field researchers who interviewed 8,263 fees-paying parents, educationists, principals and teachers in these 25 cities.
The respondents were asked to rate the schools in ten discrete categories based on 14 parameters of education excellence and performance, namely teacher welfare and development, competence of faculty, sports education, special needs education, co-curricular education, infrastructure provision, academic reputation, value for money, individual attention to students, leadership/management quality, parental involvement, internationalism, community service and life skills education and conflict management.
Please see the list of day schools that made it to the Top 10: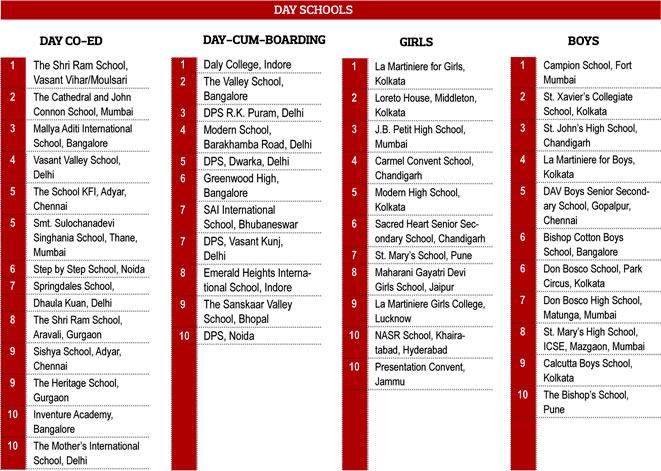 Meanwhile here's the list of best international and boarding schools for the year 2014.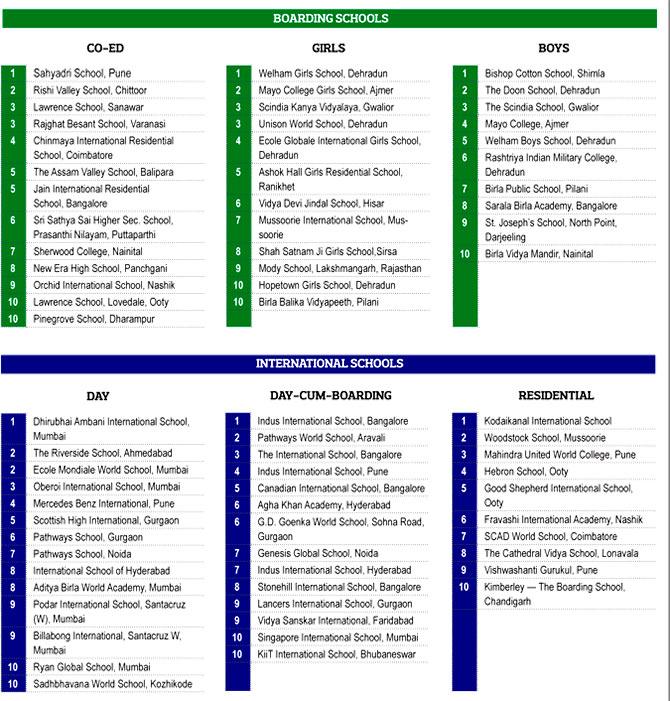 Photograph: Danish Siddiqui/Reuters
Table courtesy: Education World (educationworldonline.net)
ALSO SEE 'Private school education costlier than higher education'