'As parents can hear their child's responses, they get an idea of their strengths and weaknesses right away,' says Lynette Menezes.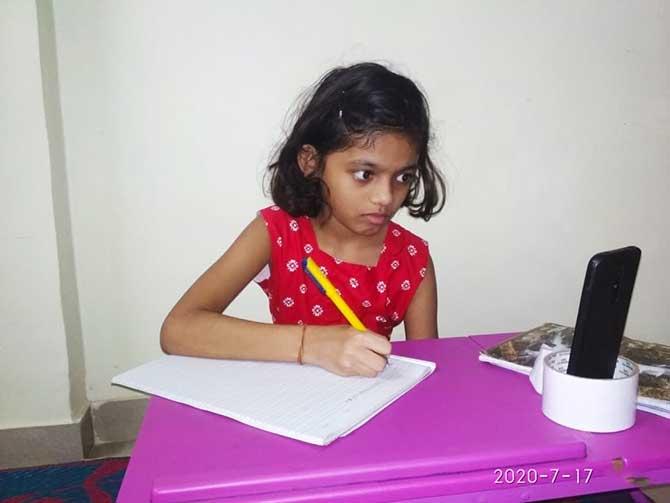 My daughter Maya just turned 6 and is in Grade 1.
For a child with perpetual respiratory issues during school, I am happy she hasn't been sick in four months. An all-time record!
But not being able to play outdoors or meet her friends made her sad and restless. So I was happy when online school started.
It keeps her occupied in the mornings and that frees up my time to focus on other things.
Does it work?
I believe every age group has its own challenges and there are different factors that make virtual school a success.
Having a good educator, interesting learning content and strong bandwidth/network makes a huge difference. Provided the teacher has a strong, clear voice, good communication and teaching skills.
Weekly online meetings with parents help teachers understand what is working or not working for students.
Schools use synchronous or asynchronous methods to teach online. Maya's school -- JBCN International -- uses both, to teach the syllabus as well as extra-curriculars such as meditation, dance, drama etc.
Quizzes, videos, story-telling, and other fun activities make it more exciting for her age group.
In her virtual class, there are 15 learners in a batch. They raise their hands to respond or to show the teachers what they have done.
But despite the small size, attending to all the kids at the same time via one screen is tough.
Sometimes teachers can't hear or misinterpret what the kids are saying. And it's impossible to know if all kids are learning.
For those who are easily distracted, one of the parents has to sit near them to ensure they are focused on what is being taught.
Maya has two 10-minute breaks, but sometimes she gets tired after the first hour itself. But if the subject is interesting enough like a learning video, she will sit through the entire session.
On the other hand, her online hobby class, which has just 2 kids, works extremely well for her.
She loves it because the pace is slower, more comfortable and she gets more attention from the teacher. So it's almost like a one on one, face to face communication.
I definitely prefer regular school. But with this endless lockdown, there doesn't seem to be much of a choice.
Some learning is better than none at all. At least with synchronous learning, seeing her teacher online, encourages her to learn and write.
Some pros and cons:
It may seem like the cons outweigh the pros in this list.
But what's more important is whether your child likes virtual school or not.
Maya misses her friends a lot but doesn't mind online school, at least most of the time. And that's what counts.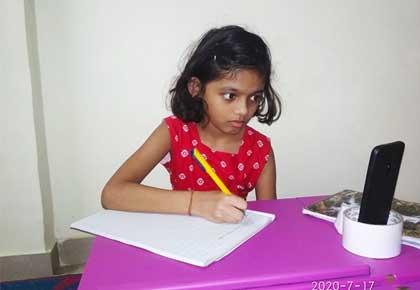 *Kindly note that the image has been posted only for representational purposes.