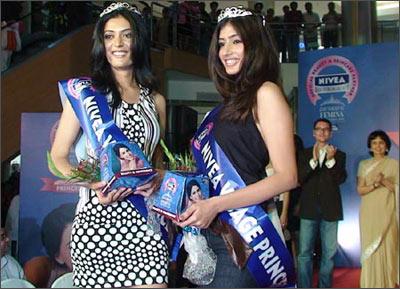 This was the first audition of its kind in 45 years.
The Femina Miss India beauty pageant held a wildcard entry special at Inorbit Mall in Malad, Mumbai on January 10 and 11. Young women from anywhere in India were invited to a walk-in audition at the venue and take their shot at making it to the finals -- no formalities of any kind!
Sixty ladies from Delhi, Mumbai, Pune and even as far away as Punjab and Orissa tried their luck at the auditions. There were quite a few lookers among the lot, but several of them lucked out, either because they were not tall enough or a tad overweight.
On the judging panel were Miss India winner 2006 Sonali Sehgal, dermatologist Dr Rekha Sheth and former Miss World (1997) Diana Hayden. After two rounds of auditions and several rounds of short-listing, two lucky winners were selected and crowned the 'Nivea Visage Princesses'.
Shriya Kishore, 22 and Nandini Vaid, 23 are now in the running to qualify as official contestants of Femina Miss India 2009. Both hail from Delhi and will compete with other wildcard contestants chosen in Delhi, Bangalore and Kolkata to make it to the Femina Miss India pageant finale on April 11, 2009.
Also see:
Femina Miss India entry Shriya Kishore
Femina Miss India entry Nandini Vaid