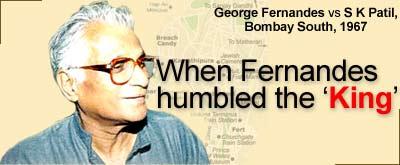 Everyone called Sadashiv Kanoji Patil the 'uncrowned king of Bombay.' Those were the days before Bal Thackeray made his foray into politics and Mumbai was Bombay.
The boss of Bombay's Congress party was not just a prominent fundraiser, he was also an important member of the so-called Syndicate, along with S Nijalingappa and Atulya Ghosh, that controlled the party in the days before its first split in 1969.
Sadoba Patil, as he was popularly known, represented Bombay South in the Lok Sabha for three terms from the first general election in 1952 and was considered invincible in the constituency, one of the more prestigious in India.
So the 'king' wasn't perturbed when the combined Opposition put up a then little-known Mangalore-born trade unionist George Fernandes of the Samyukta Socialist Party as its candidate in the 1967 general election.
But George was nothing if not hardworking. The firebrand, only 37 then, campaigned tirelessly, covering large swathes of the constituency with his workers. And when the results were declared, the unthinkable had happened.
George Fernandes (with 48.5% of the vote) had unseated the 'king.'
That was how Fernandes got his nickname, George the Giantkiller.
As for S K Patil, the shock defeat heralded the end of his political career. Two years later, in 1969, Indira Gandhi took on the Syndicate and split the party.