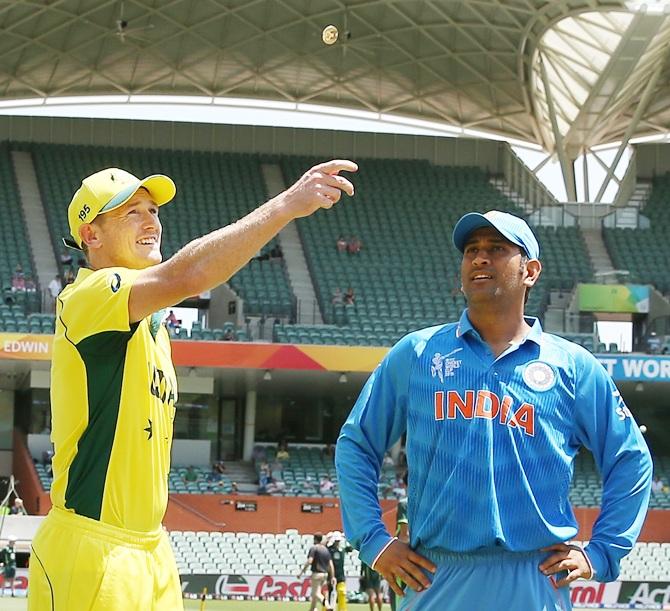 George Bailey of Australia and Mahendra Singh Dhoni of India compete the coin toss before the ICC Cricket World Cup warm up match between Australia and India at Adelaide Oval. Photograph: Morne de Klerk/Getty Images
The ICC is giving cricket fans across the world an opportunity to bid for an official piece of the 2015 World Cup history in the form of the toss coins from each of the 49 matches during the prestigious tournament which is being co-hosted by Australia and New Zealand.
Don't Miss! The Rediff Cricket Show
World Cup: Wear Blue for Team India!
'India have got many match winners and are at par with Australia'
'The bowling unit is combining well and has been very impressive'
SE Products, as the ICC's memorabilia and collectables licencee, released a similar programme for the World Cup 2011 with great success. Fans relished the chance to bid for the official coin used in the matchday coin toss and SE Products is looking forward to making more official memorabilia available for the upcoming event.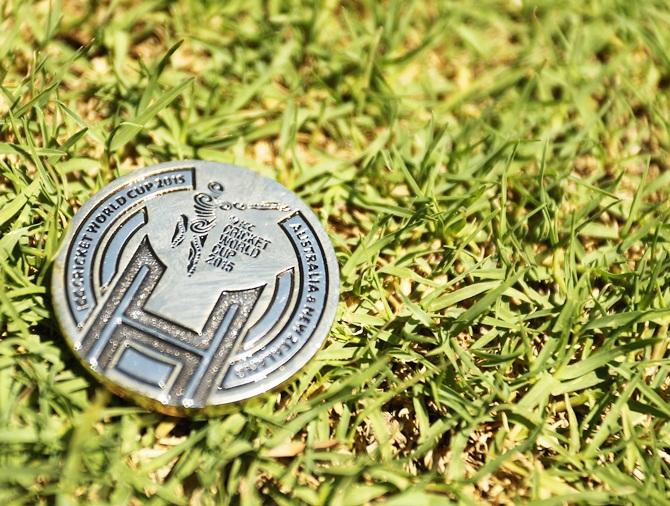 A commemorative coin used for the toss is seen prior to the start of play during the 2015 ICC Cricket World Cup match. Photograph: Daniel Kalisz/Getty Images
Limited edition coins have been specially produced for the 2015 tournament. Each and every coin includes the specific dates used from the official match.
Pakistan captain's money is on India against Australia
'India has got a good chance because they are playing in Sydney'
We'll have to bat a lot better against India in the semi-finals'
In a first for cricket fans worldwide, the official scorecard is also available for auction for each match of the World Cup. Furthermore, a match-used ball from each of the four quarter-finals, two semi-finals and the final are also up for auction.
Specialist collectors and astute fans alike will have the chance to bid at www.icc-shop.com for the following exclusive items: The official coin used at the coin toss from each and every of the 49 matches, the official score card from each match – signed by the match officials, an actual match-used ball from each of the seven finals (four quarter-finals, two semi-finals and the ICC Cricket World Cup final).