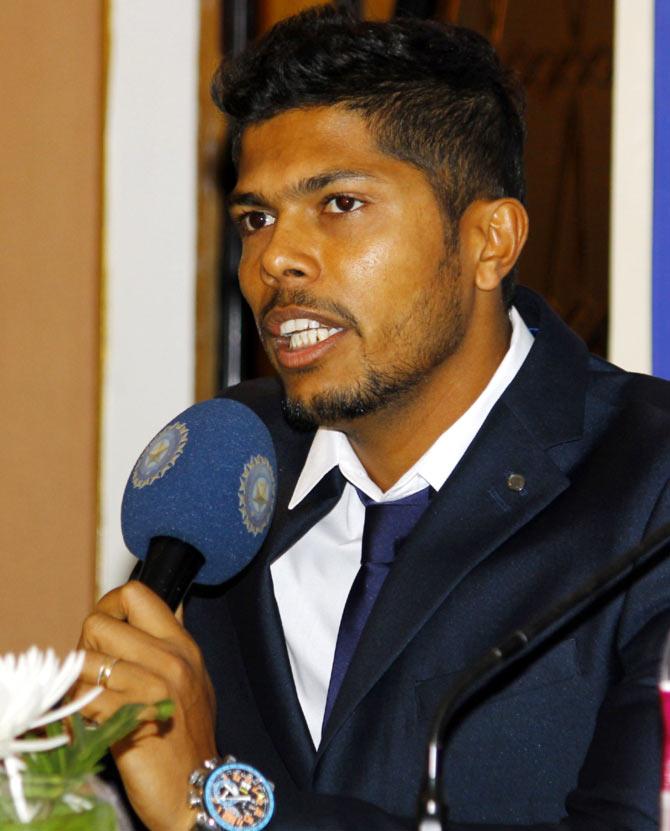 IMAGE: Umesh Yadav speaks during a media conference ahead of the Indian team's departure for Australia, in Mumbai, on Tuesday. Photograph: Hitesh Harisinghani/Rediff.com

Umesh Yadav belongs to a rare breed of Indian bowlers who can bowl consistently quick and the 28-year-old is not ready to sacrifice pace to gain more control on his line and length.
- Exclusive! I only look to bowl fast: Umesh Yadav
The right-arm fast bowler has failed to cement his place in the Indian bowling line-up since making his debut in a One-day international against Zimbabwe in May 2010.
Yadav, who has an economy of 5.84 in the 50-over format, has played 17 Tests and 52 ODIs but is often panned for being wayward while striving for extra pace.
"I am here because of my pace," Yadav told reporters, on the eve of the team's departure for a limited-overs series in Australia.
"Whenever I come on to the ground or the pitch (to bowl) I always think about my pace. I do not think about my line and length."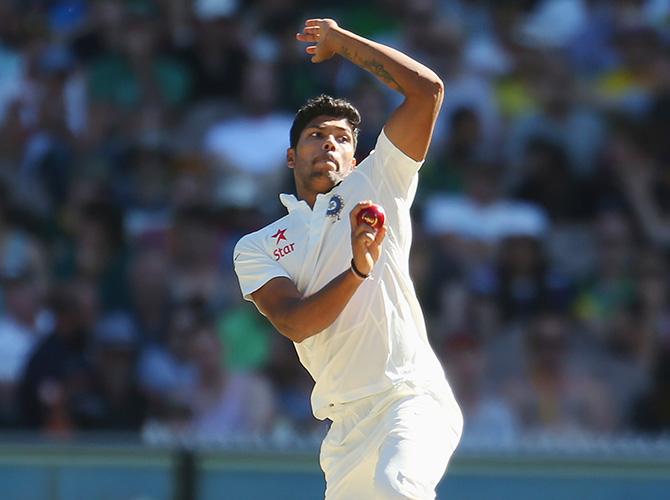 IMAGE: Umesh Yadav. Photograph: Scott Barbour/Getty Images
Yadav's words will certainly delight the country's cricket fans, who often bemoan the tendency among Indian pacemen to drop pace once they have made the team, apparently to prolong their career.
He has often lost his place in the team to fellow right-arm fast bowler Varun Aaron and with India slated to play a lot of cricket this year on spin-friendly tracks at home, the two pacers are likely to vie with each other for a spot.
The fast bowler accepts it is difficult to bowl fast while also sticking to the line and length to keep the runs down.
While Yadav is working with the support staff on identifying the best spot to land his deliveries, he is also keen to bowl even faster.
"I have just been focussing on keeping my line and length closer to the off-stump.
"I also try to swing the ball. I know if my wrist position is good, I can swing the ball easily.
"Sometimes you will have bad days and you miss your length and give away easy scoring opportunities. But I am trying to build more pace in my bowling."