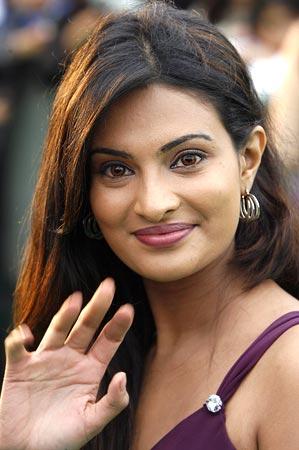 Pakistan skipper Shoaib Malik might well be seen romancing actress Sayali Bhagat (in the picture) on screen after the all-rounder revealed that he is seriously contemplating acting in a Bollywood film starring the former Miss India.
According to The Jang newspaper, Malik said he is thinking about accepting the offer since his role in the film is of a cricketer and not hero.
"It is a meaty role and the offer they have made is very handsome, so I am giving it a serious thought. But, obviously, lot of things remain to be sorted before I sign the contract," Malik said.
Malik, however, dispelled the impression that because of his friendship with Sayali he is concentrating more on a career in Bollywood than cricket.
"Cricket is my bread and butter and passion. I am totally focused on cricket and want to taste more success," he said.
The film, to be directed by Wilson Louis, is a love story between a cricketer and a model, and will have both Malik and Sayali playing themselves.
Media reports suggest that Malik and Sayali have been romantically linked for quite some time.
However, Malik made it clear that while he had been seeing Sayali for the last six months they are just good friends and not involved with each other romantically.
Malik recently also took part in a shoot for another Bollywood film, Victory, in South Africa, with some of his teammates.
Photograph: Leon Neal/AFP/Getty Images