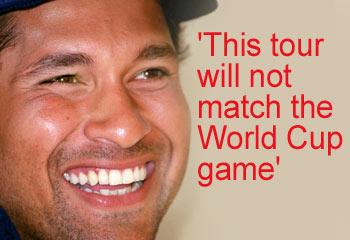 There was a time when watching Sachin Tendulkar was exciting. Today it is a joy.
The free spirit is now the senior statesman in the team with new priorities and greater goals to achieve.
But that has not taken anything away from his batting prowess and his insurmountable achievements. His 141 in the second one-day game at Rawalpindi was one of the better one-day knocks witnessed in Pakistan.     
After returning to Pakistan, the country where he made his Test debut 15 years ago, it has been a dream come true for Tendulkar to be part of the first Indian team ever to win a cricket series in Pakistan in more than 50 years.
Two days after the historic win, Tendulkar spoke to Assistant Editor Faisal Shariff about the one-day series and his goals.  
The Indian team has time and again repeated that this is just another game of cricket for them, but do you feel that extra edge when playing Pakistan?
Of course, it is a little more than playing anyone else. You realise that this is special when the calls from friends and well wishers increase. It is no doubt more challenging and more of a pressure game than playing any other country.
But eventually it is a game of cricket. My point of view is that when I am playing cricket I cannot think that this game is less or more important. I want to give my six hours of serious cricket on the ground and then take whatever the result. There will
always be expectations, but then you can't do much about it. 
You had sleepless nights before the game against Pakistan in the World Cup. How many sleepless nights have you had here playing back to back matches against Pakistan in Pakistan?
It has been very good here, but the World Cup game was different. It had a different significance to it. It was a crunch game for us because before that we hadn't done well in the World Cup.
This is obviously a big tour for us and I am happy we have been well prepared for it. The Australian tour was good for us; it was ideal preparation for us. We spent four months together and that really helped. As a team we figured out our strengths and weaknesses. It has been a very exciting tour, there is pressure and there is the joy of victory. But this tour will not match the World Cup game. 
How has the experience been so far with regard to the cricket?
It has been great. It has been a collective performance from the team. And that is the reason why this victory is great, because different players have made contributions to the win. Someone scored a quick 10 runs, someone got a run-out and the team clicked as a whole unit.
Peshawar was a different track and the toss was crucial, but other than that the whole team played well.
How would you describe the catch you took to dismiss Inzamam-ul-Haq in the final game?              
It was a crucial catch. I had it at the back of my mind that he had played that shot before in the first one-dayer in Karachi and in the fourth one-dayer in Lahore. I was ready for that catch, hoping that Inzy would go for the shot again. Inzy is a great player who can just take the game away from you. His wicket was very important.
How is the Pakistan bowling attack as compared to the bowling attack you played 15 years ago?
This is a good bowling side with a good blend of youth and experience. Shoaib Akhtar has been playing for 5, 6 years and is an experienced bowler. Along with Mohammad Sami and Shabbir Ahmed they form a formidable team. Saqlain Mushtaq has done well against us.
But the attack in 1989 had Imran Khan, Wasim Akram and Waqar Younis. That attack was more experienced. Imran Khan did not become Imran Khan overnight. He worked hard to become a legend. Wasim and Waqar were amazing bowlers. I would put them right up there with the best in the world.
Does the 136 you scored in Chennai play at the back of your mind on the eve of another Test series against Pakistan?
Before coming here I had a minor back problem and I thought whenever I play Pakistan I get a back problem. Why is that? But thankfully it has settled down now and I am fine. Even in South Africa during the World Cup when I played Pakistan I had a back problem and so also in Chennai.
But that defeat still is a huge disappointment for me. 
You have more runs than anyone else in international cricket. What is your ultimate goal?
There is no set goal. There is no target as such. I just keep it simple. Watch the ball and play it on merit.
I have played for 15 years and it has been a dream. I always had a dream to play for India but I never let it put pressure on me. I never let it affect me; instead I kept positive thoughts and made sure that I have something to show. I have never thought where I will go, or forced any targets on myself.
Photograph: Jack Atley/ALLSPORT/GETTY IMAGES
Image: Satish Bodas