People who have worked with Mukesh Bansal describe him as approachable, extremely polite and one who likes to maintain a strict work schedule.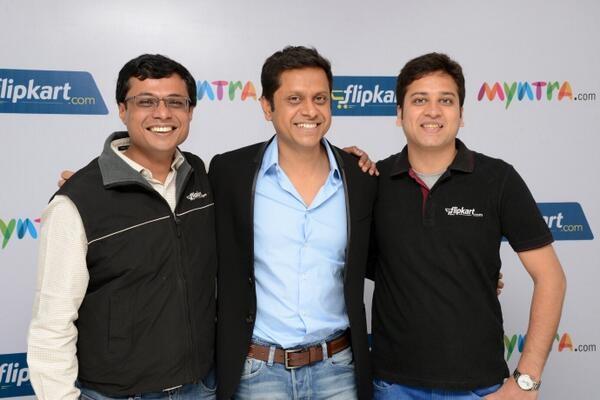 Image: Sachin Bansal with Mukesh Bansal and Binny Bansal. Photograph, courtesy: Flipkart
Unlike its then cross-town rival Flipkart, which eventually became its owner in 2014, online fashion retailer Myntra was focused on profitability from the start even as it never lost sight of growth.
Much of the credit for this middle path in an industry where startups often have to choose between growth and profitability goes to Mukesh Bansal who had spent several years in Silicon Valley working with startups before moving back to India in 2007 to start Myntra with two other IIT-Kanpur alumnus.

This was still the early days for e-commerce in India; Flipkart was only selling books and Snapdeal had a very different business model-it was a website selling discount coupons.

Bansal, who was born in Haridwar, saw business in providing customised fashion accessories, and eventually positioned his platform as a one-stop-shop for all things fashionable.

By 2011, with aggressive brand-building exercises, Bansal had established Myntra as a 'fashion destination'.
In order to ensure that profitability remained at the core, he started building a portfolio of private labels that included SherSingh, Dressberry and HRX, either organically or through acquisitions.

"Myntra was one of the first investments we made," says Karan Mohla, executive director and head of digital consumer investments at IDG Venture Capital.

"The choice before us was to either go after the large model or to look at certain verticals where there is a big market. Myntra perfectly fit this after it figured out the vertical it was going to go after around 2009-10," he adds.

As Bansal leaves Flipkart (Myntra is now part of it), where he was until recently heading the commerce and advertising platform, people close to him say he has already charted out his course of action.

After Myntra was acquired by Flipkart, Bansal stayed with the company to ensure a smooth transition.
However, his stay got extended as it is believed investors wanted to make use of his expertise for building Flipkart which was still in growth phase.

"When Ashutosh Lawania and I started Myntra, we never dreamt in our wildest imagination that we will come this far. What's even more amazing is that it seems we are just getting started and the journey ahead for Flipkart/Myntra is going to be even more fascinating," wrote Bansal in his goodbye letter to employees on Wednesday.

"I am confident that this team will make Myntra an iconic company which will change the face of the fashion industry in India," he added.

People who have worked with Bansal describe him as approachable and extremely polite but someone who likes to maintain a strict work schedule.
He was deeply involved in the well-being of Myntra employees even after the company was acquired by Flipkart.
After the acquisition, he went out of his way to make sure Myntra employees got their bonus for the year, say his colleagues.

"He was very concerned about the employees. He made sure that all employees were safe and the company's organisational culture was protected even under the new structure," says a former Myntra employee.