The draft policy, unveiled last week, has mooted various measures to boost regional connectivity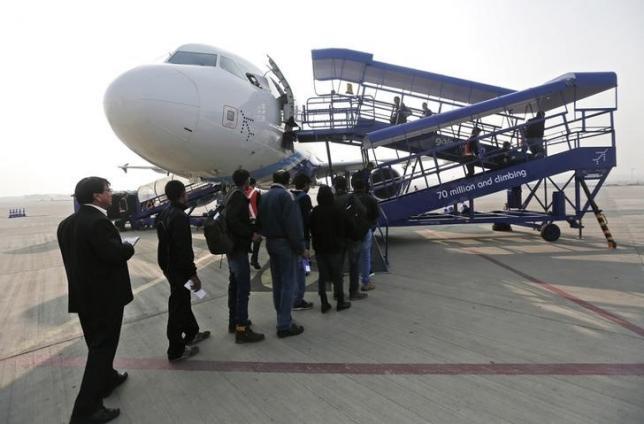 The proposed cap of Rs 2,500 per air ticket on regional routes will be applicable only for carriers availing viability gap funding from the Civil Aviation Ministry, which expects to put up the final aviation policy for Cabinet approval in December.
Providing more clarity on the contours of regional connectivity scheme under the revised draft aviation policy, Civil Aviation Secretary R N Choubey said on Friday there would be no compulsion on airlines to cap fares on regional routes.
As part of efforts to boost regional connectivity, the government has proposed a 2 per cent cess on all air tickets and the proceeds would be utilised towards Viability Gap Funding.
"Capping (of air fares in regional routes) comes, which is justified, only when a carrier avails VGF from the government," he told reporters.
The draft policy, unveiled last week, has mooted various measures to boost regional connectivity, including setting up of no-frills airports and providing VGF for airlines.
Another proposal is to cap fare at Rs 2,500 for one-hour flight under regional connectivity scheme.;
Through levying of two per cent cess starting from January 1, 2016, the government expects to raise about Rs 1,500 crore (Rs 15 billion) annually towards VGF.
"Our VGF commitment (to airlines) should not exceed the proceeds from the two per cent levy. . . Out of the total VGF, 80 per cent will be provided by Centre and the remaining amount by the concerned state," Choubey said.
Once the regional connectivity scheme is in place, it would help revive 50 airports that are currently unserved.
"In the first two years (of implementing the scheme), we expect 50 airports to be revived... subject to state government support," Choubey noted.
"We are proposing to take an integrated aviation policy to the Cabinet in December," Choubey said.
Stakeholders can give their comments and suggestions on the revised draft policy till November 21.
After going through the comments, the Ministry expects to finalise the policy in a couple of weeks and then take it to the Cabinet for approval in December.
Emphasising that the final policy would be 'clear and unambiguous', Choubey said a decision on 5/20 norm for domestic airlines would be taken on "merit".
Responding to a query on the draft policy giving three options on 5/20 rule, he said, "we have our internal processes. If there are divergent views, we will look into it and we can reach at an appropriate solution".
Under this norm, only local carriers that have been operations for five years and having a fleet of 20 planes are allowed to fly overseas.
In the draft policy, the government has sought suggestions from stakeholders on three options -- continuing with existing norm, scrapping it altogether or link it to domestic flying credits.
Start-up carriers Vistara and AirAsia India have been demanding the removal of 5/20 norm so that they can operate flights overseas.
However, established airlines under the banner of Federation of Indian Airlines are opposed to any change in the rule.
For deciding to whom VGF should be extended, the ministry would look at the options of reversing auction and normative pricing mechanism in case there is only one bidder for a particular regional route, Choubey said.
After finalising the policy, a detailed document on regional connectivity scheme would be put out by the Ministry.
About the proposals to boost regional connectivity, Choubey said it was a 'golden opportunity for states'.
In the draft policy, the ministry has pitched for over 50 per cent foreign direct investment in domestic carriers in case the open skies policy is implemented.
At present, FDI limit is 49 per cent.
Under open skies policy, overseas airlines can operate unlimited number of seats or flights into and out of India.
"Whenever a final decision is taken with regard to complete open skies, thereafter there is not much meaning in keeping the FDI limit below 50 per cent.
"If a foreign airline can fly in and out of the country under the open skies agreement at will, what is the great need to keep foreign investment in domestic airlines at 50 per cent.
"The two are inter linked," Choubey said.
Apart from the open skies policy, a foreign airline seeking to operate to a new destination, the issue would be discussed bilaterally, he said.
Image: Passengers stand in a queue to board an Indigo Airlines' flight bound for New Delhi at the Srinagar airport. Photograph: Adnan Abidi/Reuters
The image is used for representational purpose only