Kohli is setting up a company that will allow him to invest in business ventures around sports and fitness.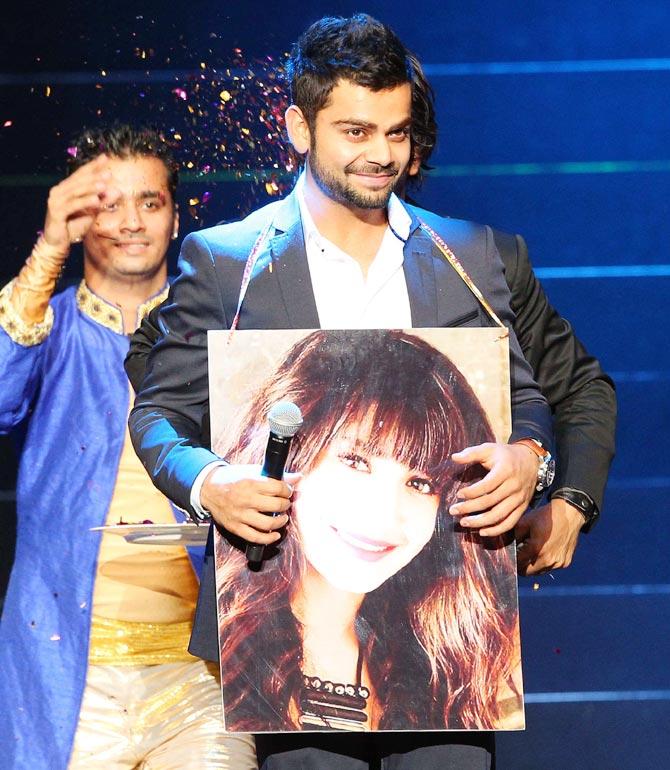 Ace cricketer Virat Kohli

with a poster of Anushka Sharma

. Photograph: Courtesy, BCCI
Virat Kohli, ace cricketer and vice-captain of Team India, is busy finalising business plans for life after retirement.
The 25-year-old, who shot to fame with his aggressive attitude with the bat and words on field, is mulling prospective business ventures with his friend and manager Bunty Sajdeh, founder and CEO, Cornerstone Sport and Entertainment.
Kohli is setting up a company that will allow him to invest in business ventures around sports and fitness.
Through this company, he will invest in the FC Goa franchise of the Hero Indian Super League (ISL).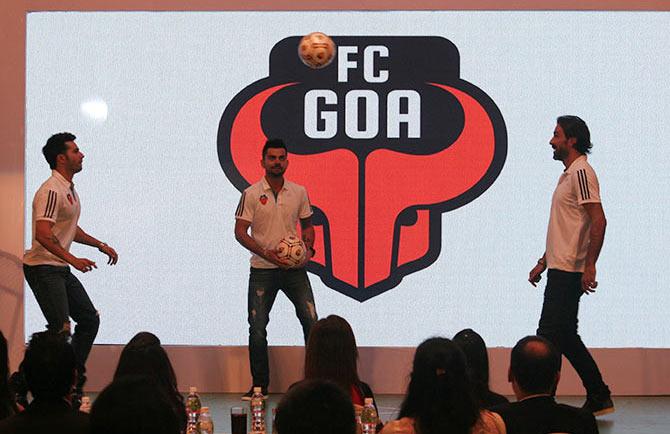 Image: Bollywood actor Varun Dhawan (left), Virat Kohli (centre) and Robert Pires during ISL franchise FC Goa's promotional event in Mumbai. Photograph: NV Reuben/Rediff
While announcing the investment in the ISL team, the all-rounder had said: "This association has two sides to it for me."
On the one hand, I am excited about football as a sport. It is my second favourite sport after cricket and when I realised there is an opportunity to be associated with the FC Goa team, I took it up.
"It is also a business venture of sorts for me. Let's face it, cricket will not last forever and I felt this was a good business opportunity." Industry sources peg Kohli's investment in the FC Goa franchise at under Rs 1 crore a year, considering the association is mid-way between sweat equity and outright investment.
His stake in the team is under 25 per cent. Other business plans also include equity partnership in a Karnataka-based gymnasium chain and a fragrance launch by the end of this year.
"Virat knows there is a limited window of opportunity for him while he is active. The idea is for him to have a plan of action post retirement, which would be when he hits (the age of) 35 or so.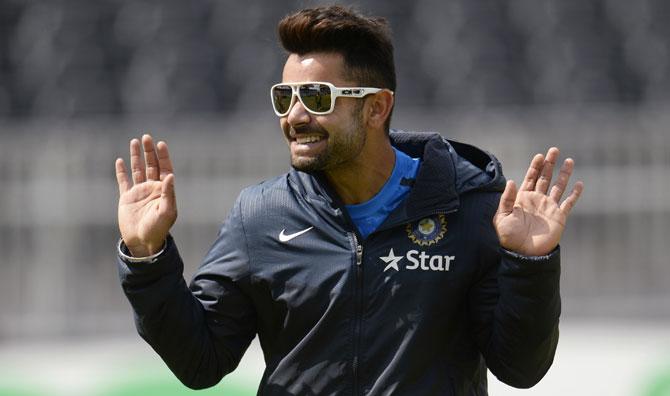 Photograph: Reuters
When Virat and I sat down to discuss business for him, he wanted to be involved in things he can personally take interest in.
Football, one of his favourite games, was an obvious option. He is also one of the fittest athletes we have in the country today; so a partnership in the gym chain made sense," says Sajdeh.
The Karnataka-based chain of gymnasiums currently operates seven branches in the state and through the partnership, aims to take the number to 23-26 franchises across the country over the next 12-18 months.
The gymnasiums will operate in the semi-premium range so that it is accessible to a wider range of customers.
Sajdeh's team and Kohli will explore 8-10 plausible business ideas. "We are realistic in that we know not everything we try will click.
Out of the 8-10 ventures we are looking at, we hope two-to-three will work out and then will focus our energies towards those," he says.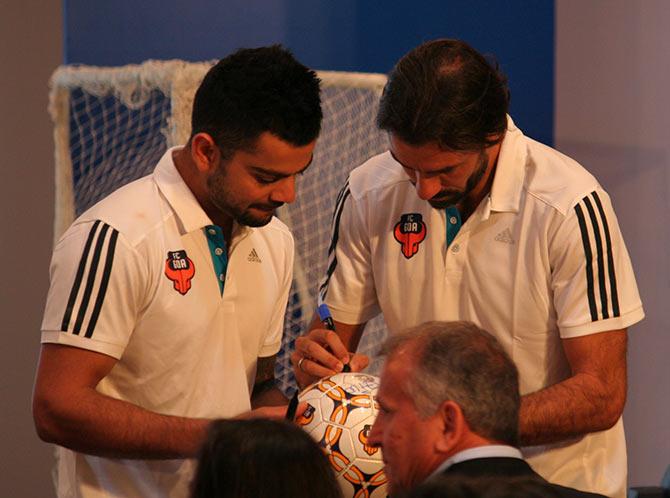 FC Goa co-owner Virat Kohli (left) gets an autograph from Robert Pires. Photograph: NV Reuben/Rediff
Apart from scouting for potential business ventures for Kohli's post-retirement plan, Cornerstone is also aggressively involved in developing the brand equity of the cricketer.
For this, the team is currently busy preparing to launch the cricketer's website next month. "Research showed us that being young and tech-savvy, Virat's digital presence can be utilised for greater fan engagement and interaction. So, the next step in cultivating brand Virat will be fostering his digital presence.
The website launch is the beginning of this exercise," says Sajdeh. The website will use technology to make Kohli accessible and interactive with his fans and followers.
Activities on the site would include video conferences or chat with the sportsman while he is touring, contests and trivia about him.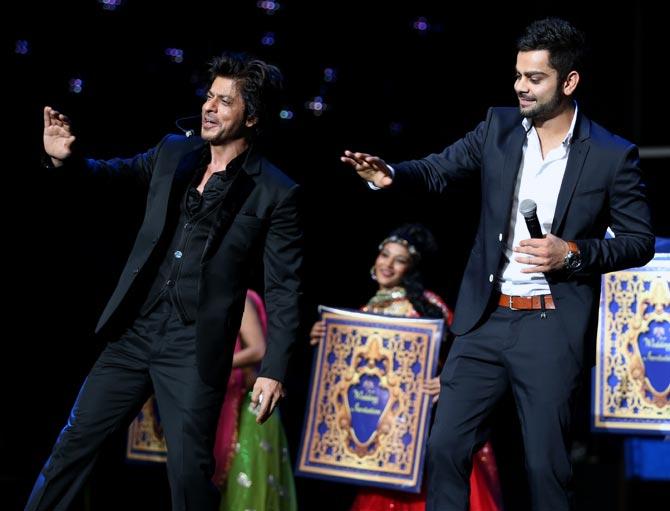 Image: Virat Kohli (right) shakes a leg with Shah Rukh Khan. Photograph: Courtesy, BCCI
Sajdeh says many other things in the digital domain are being considered - such as a digital avatar of Kohli and a mobile application, which gives a peek into his life and routine among other things. In terms of brand endorsements, people may actually see Kohli endorse fewer brands as time moves on. "Two years ago, Virat had 13 brands with him; and last year, he had 12.
This year, it is down to 10. It is simply because we do not want to risk over-exposure of brand Virat.
We are looking at more mature brands. Also under development is Virat's logo, much along the lines of sportsmen in the West like (Roger) Federer.
We will be licensing out the logo to brands that want to associate with him, but the IP (intellectual property) will remain with Virat," says Sajdeh.