N Sundaresha Subramanian digs deeper into what Catalyst, an Indo-US project, brings to the payments ecosystem.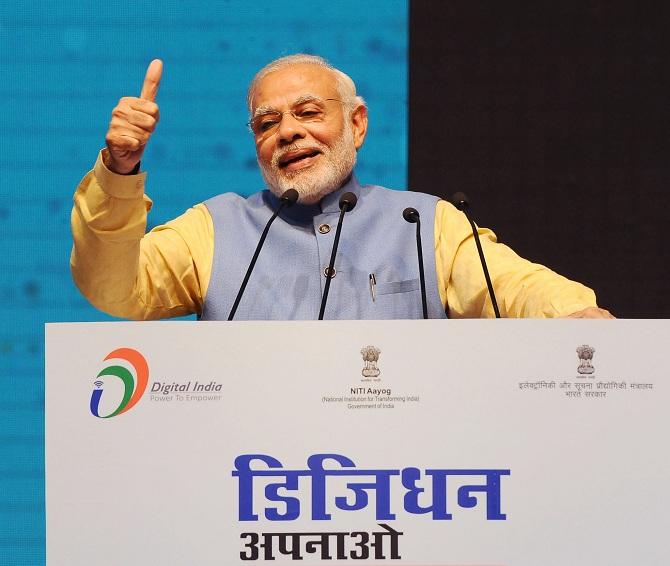 IMAGE: T

he fast changes in technology are making payments a confusing sector for merchants to navigate. I

n the past two weeks alone two new solutions have hit the market, including Bhim, which Prime Minister Narendra Modi launched at the Digi-Dhan Mela in New Delhi. Photograph: Press Information Bureau.

Soft launching the initiative at a conference organised by the Better Than Cash Alliance and Observer Research Foundation here in October, Catalyst Chief Executive Officer Badal Malick described the digital payments sector as a 'water balloon', in which "you apply pressure on one side, something else pops up on the other."
Therefore, the goal was to address the ecosystem as a whole and outlining his broad plan added, "Take an ecosystem and demonstrate something like 10x increase in digital payments and build a template that can be scaled across."
Over the past three months, Malick and his team of about dozen people have moved fast to forge some 150 partnerships across the different stakeholders that form the payments ecosystem. They have a busy 2017, too.
The water balloon analogy sat perfectly on one of the paradoxes of India's financial inclusion programme -- the sharp rise of debit cards following millions of bank accounts under the Jan-Dhan programme, against the near absence of acceptance infrastructure for these cards in the rural areas.
To study such anomalies more closely and address them, Catalyst is launching two digital payment labs that will focus on "testing and validating" interoperable solutions. Small merchants and low-income consumers will be priority.
The urban lab is being set up in Jaipur in partnership with the state government. It is in the process of finalising the location of the rural lab.
"We don't want to create walled gardens. We want an open roof," Malick told Business Standard over the phone.
Catalyst is a project seeded by US government agency United States Agency for International Development in collaboration with the finance ministry. Not incorporated yet, it is housed as a division of IFMR lead, a non-profit research organisation conducting high-quality scalable action research and outreach in development economics and finance.
However, it operates as an autonomous project, guided by a steering committee, which includes two representatives from USAID, one each from the finance ministry, IFMR and FHI 360, the grant administrator. It also has some outside experts.
Malick, a former Snapdeal executive, says the fast changes in technology are making the payments a confusing sector for merchants, especially the smaller ones, to navigate.
In the past two weeks alone two new solutions have hit the market. Bhim, the app released by Prime Minister Narendra Modi; and Aadhaar Pay, which was floated by Unique Identification Authority of India.
Even the group broadly known as "small merchants" is not homogenous. There are chains like dairies, street vendors, individual service professionals such as plumbers and carpenters and people with recurring payments and invoicing requirements such as a newspaper vendor. There is no one-size-fits-all.
"We don't want to prescribe. But, we want to bring transparency to help them make informed decisions," Malick said.
Praveen Khandelwal, secretary general, Confederation of All India Traders (CAIT), is confident that Catalyst has the potential to live up to its name: "Catalyst comes with a bigger landscape of knowledge on digital payments and financial literacy."
Combining these two, Khandelwal feels Catalyst can help take the digital payment solutions effectively to the parts of merchant community, where others have not reached.
IMAGE: Badal Malick of Catalyst makes a presentation. Catalyst is launching two digital payment labs that will focus on "testing and validating" interoperable solutions. Photograph: Cashless Catalyst/Facebook.com.

Malick says the labs will focus on three key areas: Building fintech solutions for low-income groups, digital wallets/digilocker and a regulatory sandbox that will enable interaction between regulators and innovators, helping them leverage user data from these labs for evidence-based regulation.
Catalyst's grant money would suffice incubation of a few entrepreneurs for the underfunded segments in the fintech space. "We want to focus on market failures."
Catalyst would be able to take these to the minimum viable product stage, from where the venture capitalists (VCs) would take over. "We are talking to VCs," Malick added.
On the second area, Catalyst plans to use India Stack, the open-access architecture, developed and evangelised by Indian Software Product Industry Round Table (iSPIRT), to generate and access user data on a continuous basis in these labs.
It has also tied up with independent research organisations that would analyse this data and produce actionable research.
Rajesh Shukla of ICE 360, a not-for-profit research centre and an implementing partner, said, "We will be creating appropriate data framework for the ecosystem. It fits our mandate."
Shukla added that besides sharing existing data, "We are going to set baseline data for about 10 focus groups and evaluate these."
Even as Catalyst was taking its baby steps, the payments industry went on full throttle with the sudden decision by the government to cancel legal tender of large denomination notes.
Khandelwal of CAIT, who had been hard selling the concept to the merchant community, summarises the impact, "Digital payments have become a fashion statement these days. But, when we were holding workshops between 2014 and November 8, 2016, hardly any one turned up."
For Malick and Catalyst, it was a double-edged sword. While the move made their task lighter in some ways, they got dragged into a controversy after Norbert Häring, a German journalist writing for a Montreal-based think tank, linked, among other things, Malick's "10x increase" remark in October to the demonetisation decision that came a month later.
In an article titled, 'A Well-Kept Open Secret: Washington Is Behind India's Brutal Demonetisation Project', Häring suggested that the seeds of India becoming a laboratory for the global digital push were sown in a meeting between US President Barack Obama and Prime Minister Modi two years ago.
While the article went viral on social media, not many in the sector buy this theory.
Sharad Sharma of iSPIRT said the movement of cashless India is several years old and predates Obama's visit to India. For example, the application programming interfaces for Unified Payments Interface were issued by National Payments Corporation of India in 2014.
Malick says the article was baseless. "I was grossly misquoted. Neither I nor USAID were reached out to."
He maintains, however, there would be stickiness in the huge demand for digital payments created by demonetisation. A good number of people, who have tried and understood the convenience of the non-cash methods, are unlikely to go back to cash, he feels. "Growth rate may subside. But, there will be stickiness."
That could come handy, while dealing with a slippery water balloon.