'Our technology is going to help Indian agriculture the way the White Revolution helped milk production.'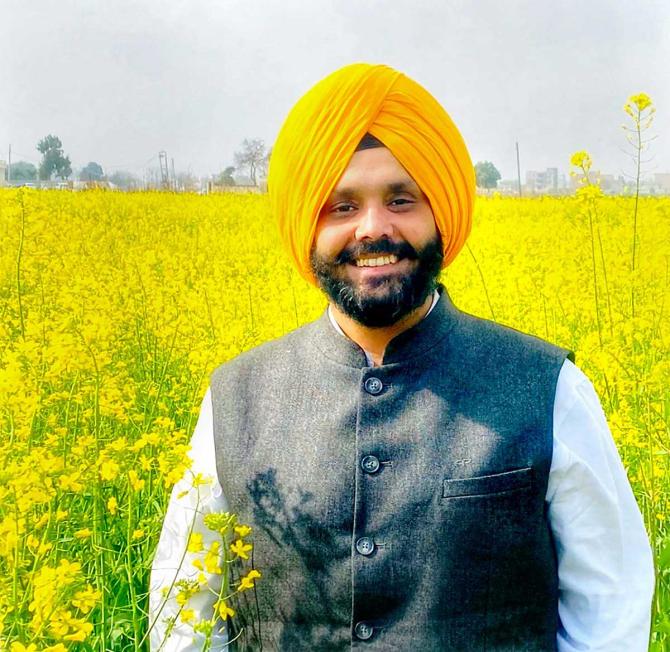 When farmers are agitating over the way they are unfairly treated by the buyers of their produce, an Indian agritech start up assumes significance.
The Artificial Intelligence-based technology developed by AgNext Technologies -- founded by Taranjeet Singh Bhamra, a graduate from IIT-Kharagpur and IIM-Calcutta -- analyses both the physical and chemical quality of food in just 30 seconds.
This can be a game changer when transactions take place between the grower and the buyer, as it removes any subjectivity in the analysis of the quality of produce the farmers are selling.
Incubated at IIT-Kharagpur in 2016, AgNext got its first seed funding from a-IDEA National Academy of Agriculture Research and Management, Hyderabad, in 2017. Its next series of funding came from agritech-focused fund Omnivore and Kalaari Capital in 2018 and 2019.
In 2019, AgNext was chosen as one of the best agritech companies in Asia by the Dutch-based Rabobank financial services provider at events held across Singapore and Shanghai.
This was followed by the Best Agritech Start-up of India award at the Outlook Agriculture Conclave and Swaraj Awards 2020. This week it won the 'Most Innovative Agri Startup Award' at the FICCI Summit & Awards for Innovations by Agri Startups.
Taranjeet Singh Bhamra, AgNext's CEO and founder, tells Shobha Warrier/Rediff.com about his journey as an entrepreneur, why the technology developed by his start-up can revolutionise Indian agriculture and why it is a world class product.
How did your interest in agriculture start? Are you from a family of agriculturists?
Actually, the last four generations in my family are engineers.
My family hails from a remote part of Punjab, Dera Baba Nanak, which means the village of Baba Nanak.
As a child, I was raised in a very humble environment in a small town and my dream was to go through the usual rigmarole of IITs.
I chose to study agriculture technology at IIT-Kharagpur.
I felt not many were interested in core engineering fields where I believed IIT engineers can contribute significantly.
It was just a hunch then that I had to build technology for agriculture, which manifested itself as AgNext years later!
Was what you learnt at IIT on the expected lines?
We learnt myriads of related topics like food technology, soil sciences, farm machinery, etc.
I could not understand why we were learning across the spectrum and not any area in particular so that we would be able to solve problems relating to that area.
It was one of my professors, Dr P B S Bhadoria, who made me realise that knowledge of all the areas is necessary to build any platform. That knowledge was extremely helpful in shaping my outlook.
When I passed out of IIT Kharagpur in 2002, it was not a great time in the job market.
Fortunately for me, I got a job in the area I had studied.
How much did the job help you learn about Indian agriculture?
A lot.
I was in charge of procurement and food quality systems.
It was a great experience as I could go to many remote locations to procure agricultural produce and, in turn, learn a lot about Indian agriculture and Indian farmers.
I still remember seeing a farmer with his small son, sitting in the sun for five days continuously to sell his produce. When he couldn't sell at the price he had expected, he had to sell it significantly lower.
This incident affected me in a big way and I decided to learn more so that I could bring technology to help Indian agricultural needs.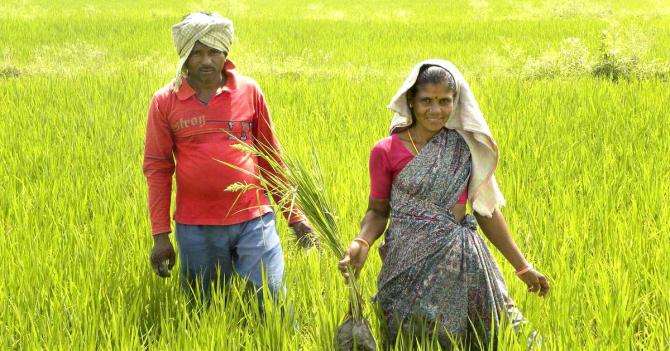 When did you feel the desire to become an entrepreneur?
Actually, 2004-2005 onwards, I wanted to become an entrepreneur. But there were no venture capitalists or support systems for an entrepreneur who wanted do something in the field of agriculture.
Without support, it is impossible for a person from a middle class background to become an entrepreneur.
So, after my MBA, I worked abroad. I focused on saving as much as much as possible so that I could come back and dive into entrepreneurship.
How did your journey as an entrepreneur begin?
After I came back to India with my wife and child, I decided to travel all around the country to get first-hand knowledge about agriculture.
I met many farmers and farmer leaders to understand the issues they were facing.
I realised that lack of technology is a big problem, as is the cost of the produce and marketing it to the right buyers.
I also visited scholars, professors and researchers at many state agricultural universities and understood the current state of agricultural research.
In the end, I realised that if you wanted to solve the problems Indian agriculture faces, you must focus on either increasing production or increasing market linkages. And, in both, technology plays a critical part.
However, technology that helped in decision-making was absent.
Initially, I thought of building technology using data sciences about weather, soil, etc.
I tried my hand in that area, but soon found that packaging solutions would require data sets that were larger than I could fathom.
As subjectivity played a major role in transactions that are worth billions of dollars, we focused on continuing our research to build solutions for this extremely large problem.
Six months of a farmer's effort is analysed subjectively in two minutes.
If the assessment of the produce has to be done in a lab, it takes at least 10 days.
If it is done by a person, it is subjective and it is difficult to find people who understand the nuances of commodity qualities. Because of this, a lot of loss and fraud take place based on quality.
Since quality analysis is subjective, many farmers chose to sell their produce well below the market price.
It is a fact that farmers will not get what they deserve unless the quality of their produce is analysed properly.
How can you analyse the quality of a farmer's produce using technology?
By digitising food.
Using technology, you will be able to analyse the quality of food on the spot, in 30 seconds.
This is where our technology comes in.
It is as simple as the White Revolution that happened in India.
If not for the lactometer, the White Revolution would not have happened. The lactometer showed us the fat content in the milk, which in turn helped the milk farmers and the buyers fix the price.
For example, milk would be priced at a certain amount if the fat content was eight per cent and at a different amount if the fat content was four per cent.
There was no space for subjectivity here. The lactometer gave the actual figure and incentivised farmers and businesses alike.
The focus shifted to consistent quality and increased production to enable better financial gains.
And that's how things are to be solved in agriculture, using first principles.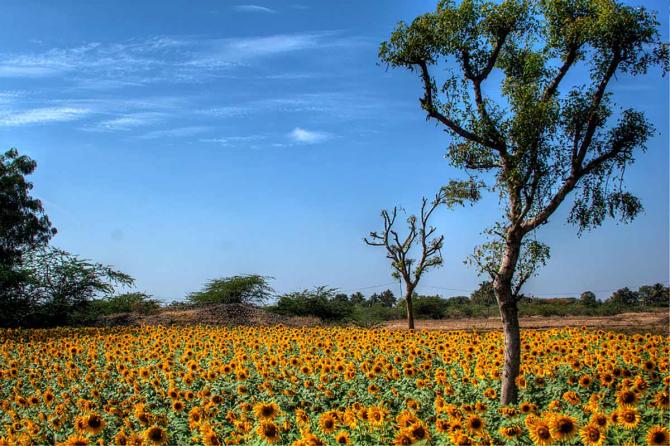 But it is not happening in the agricultural sector…
It is not happening anywhere else.
That's why AgNext's technology solution is revolutionary.
And that's why we are placed in the game changer category by prestigious national and international reviews.
You said your solution is like the lactometer used by milk farmers. How does AgNext solution analyse food products?
A lactometer analyses milk and, based on the analysis, the price of the milk is fixed.
Now, take tea leaves for example.
The quality of the tea leaves is judged by a person who spreads them on a table and makes a subjective assessment.
At AgNext, we do a computer-vision based analysis which replaces the human eye and the human way of separation and collection of samples. The software analyses the sample and, based on that, assesses the quality and price.
Similarly, we can analyse how much protein, moisture, starch, ash, etc, is there.
We know how much curcumin is there in turmeric, capsaicin in chilli, oil content in oilseeds.
The quality parameters, which one never thought of analysing at a farm gate, or at a warehouse or a factory gate, is analysed in less than two minutes.
So, what the lactometer is doing for milk, we are doing for leaves, oil seeds, pulses, grains, spices, cattle feed, poultry feed, aqua feed, etc.
We have packaged multi-commodity, multi-location solutions for agribusinesses, using computer vision and spectrometry.
This can transform any buying and selling intersection in agricultural value chains.
I am proud to say that we are the world leaders in spectroscopy. In fact, we are just recreating and repackaging the technology created by Sir C V Raman years ago, the technology for which he had won the Nobel Prize.
The spectrum of food analysed by spectroscopy is like an MRI.
Like an MRI scan can analyse the body, our spectroscope can analyse the content in the food in just 30 seconds.
By content, I mean analysing chemical molecules and analysing the percentage of carbohydrates, fat, protein, etc.
Similarly, it can detect adulteration. For example, if there is urea or detergent in milk, our technology can detect it in 30 seconds.
Our technology can revolutionise all the buying and selling that happens in agriculture.
This will act as an incentive for farmers to produce more, like it happened in the case of milk production. This will be a game changer.
It took us four years and several trips around the country, collecting samples of each food item, to build this technology.
The real effort is not only building this technology, but also perfecting the hardware, the AI in the algorithms and validating it with clients across the nation.
Is similar kind of technology used in the developed world because what we hear often is that the use of technology is what is lacking in Indian agriculture?
In fact, we are getting a lot of enquiries from all over the world.
A couple of weeks ago, we had enquiries from a large Russian wheat exporter. They want to instantly analyse the quality of wheat at the offshore ports within Russia.
Yes, buying and selling food items is more structured there.
While it is done on large scale there, here one warehouse may be used by 5,000 farmers. It is not easy to analyse all the 5,000 samples at one go.
But nowhere in the world is the integration of physical and chemical analysis of food done using one solution like we are doing here.
We do the physical analysis through AI-based computer vision and chemical analysis through spectroscopy.
The physical analysis of wheat, for example, includes finding out how many are broken, how many are infested, shrivelled, weevilled, etc.
Through chemical analysis, we find out the amount of gluten, protein, etc, in wheat in 30 seconds.
So, within a minute, the buyer will be able to assess the physical and chemical quality of food he is going to buy.
Normally, the entire process is manual and subjective and takes 10-15 days.
If the produce is good, the farmer gets a better price which is an incentive to produce more.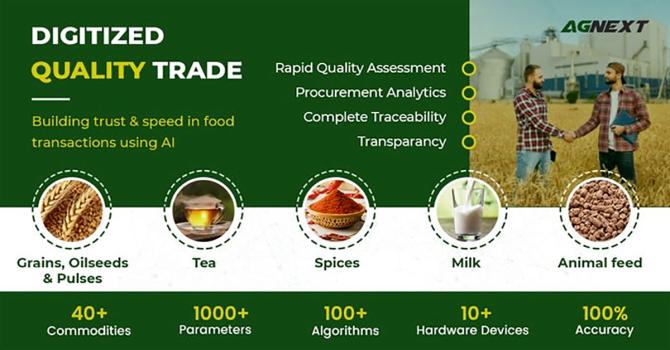 You said it took you four years to build the technology. From building it to finally using it in the field, what were those four years like?
Very challenging.
What we were trying to build was a data-based product, not a simple trading product.
We were trying to solve something from the first principle.
When you are doing that, you are pushed back 99 per cent of the time.
That is because there is no precedent. So, the challenges were immense.
Pushing ourselves continuously for four years to build something requires not only commercial strength, but spiritual strength too.
Incidentally, the buyers of our technology are those in between; they move food from the farmer to the consumer.
Our customer is neither the farmer nor the consumer, but all the agribusinesses and stakeholders in the value chain.
Our technology is used by businesses like Goodricke, Godrej Agrovet, ITC, Unilever, etc.
How do you expect your technology to help Indian agriculture?
When a technology ensures that transactions take place based on a more transparent methodology, trust becomes a part of the trade, benefiting both the buyer and the grower.
That is why the grower is incentivised to produce more, and the buyer gets satisfied with the quality of trade.
We are objectifying quality and removing subjectivity from the process of buying and selling.
Our technology is going to help Indian agriculture the way the White Revolution helped milk production.