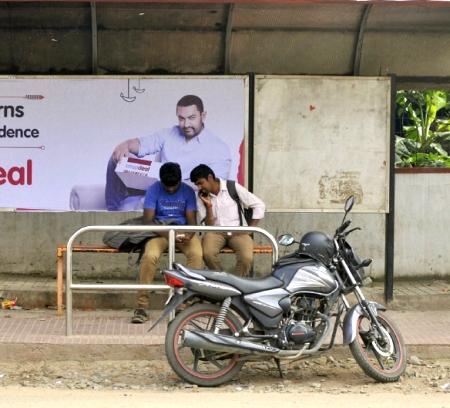 'The problems the rest of the world is struggling with -- the future of work, expectations from government and business in a world without jobs -- will be solved in India, by young Indians, before anyone else,' says Mihir S Sharma.
Once, heartland politicians promised liquor and saris. Then they promised scholarships and laptops. But, most recently, Uttar Pradesh Chief Minister Akhilesh Yadav promised something else: Smart phones.
If re-elected, he would ensure every high-school graduate in UP with an annual income of less than Rs 2 lakh would get one, he said.
(Of course, Mayawati one-upped Yadav by suggesting that she would hand out money instead, and let people buy their own smart phones. Trust Mayawati to get to the most market-friendly policy by herself, and trust the rest of the world to not give her any credit for it.)
Yadav is nevertheless on to something. Smart phones matter.
It's always worth watching what UP politics promises.
Not because 'who rules UP, rules Delhi' -- this is about more than one or two national elections.
It's worth watching what UP politics promises because UP is ground zero for the future.
This is true: Half of India is under the age of 25. This is also true: The population in much of India is not growing.
Fertility in large parts of India is close to or even below the replacement rate needed to keep the population stable; it is in fact the rural and semi-urban areas of north India that are the sources of future population growth.
And UP comprises a large part of that growth.
These have, historically, been some of the most disconnected parts of the world. Not any more.
And even less so in the future, when cheaper -- or subsidised -- smart phones and cheaper -- or subsidised -- data will bring the world to rural north India.
India has failed to give these young people -- men, really, since they are mostly men, given our missing women problem -- solid jobs.
Without China-style manufacturing jobs, it's tough to imagine a traditional, middle-class emerging.
But it is also true that this demographic is ambitious and expectant.
These young men fully expect that, in their lifetime, India will become the centre of the world -- and that they will share in the fruits of that rise.
They are also a political swing constituency. India is a democracy; it cannot stifle or marginalise swing voters.
These young people will determine who rules in Delhi.
The India they shape will not be the slightly stodgy, inward-looking, predictable country of the past. How can it be?
It will be aggressive and active in foreign affairs, seeking recognition -- in fact, seeking centrality -- on the world stage.
After all, their numbers will ensure that, in just eight years, India will be the largest country in the world.
Yes, India has not been able to give them the jobs they need. Yet will they just sit there and accept this fact? I doubt it.
We cannot expect them to hang around and wait for an economy structured for their needs forever. They will themselves seek ways to prosper.
We have not, hitherto, given them the tools to do so -- they have been disconnected, and dependent on old networks of kinship and patronage, of clan and caste and family.
But smart phones and data contain the possibility of dissolving all that.
The economy they create, the ways they seek prosperity, will inevitable be vastly different from what has come before.
For the first time in history, a generation is digital-first. Not the way millennials in the West are; for they are accustomed to physical, public, and social infrastructure supporting their digital lives. They have roads and they have regulators. They have banks and they have colleges.
In the West -- or in East Asia -- the digital world is a simple overlay on the real world.
In India, the first modern financial transaction these young people will conduct will be online.
Their first taste of world-class education will be online.
Their government will exist online; their networks will be formed online.
They will grow accustomed to the information superhighway long before they get used to highways.
We cannot predict the economy they will build for themselves. For soon they will have the ability to find their customers, their funders, and their partners for themselves -- 500 million young people suddenly, spontaneously, leapfrogging into the future.
The first bottom-up, 21st-century economy will be in India.
The problems the rest of the world is struggling with -- the future of work, expectations from government and business in a world without jobs -- will be solved in India, by young Indians, before anyone else.
If they expect to be the centre of the world, it is with good reason.