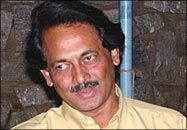 It was Girish Kasaravalli who, along with B V Karanth and Girish Karnad, spearheaded the parallel cinema movement in Kannada. Immediately after graduating from the Pune Film Institute with a gold medal in 1977, he directed his first film, Ghata Shradha, which won the National award for Best Film.
It was followed by Akramana in 1979, Mooru Dhaarigalu in 1981, Tabarana Kathe in 1987, Bannadha Vesha in 1989, Mane in 1989, Kraurya in 1996, Taayi Saaheba in 1998, Dweepa in 2002 and Haseena in 2005. So, in the last 28 years, then, Girish Kasaravalli has made nine feature films, all of which have won awards at both national and international levels. He also won the Golden Lotus for Tabarana Kathe, Thayi Saheba and Dweepa.
The acclaimed director is now ready with Naayi Neralu. In an exclusive interview to rediff.com, Kasaravalli speaks about the parallel cinema movement in India, other filmmakers who started with him in the seventies and, of course, his new film.
| | |
| --- | --- |
| | More on rediff.com! |
| | |
In the seventies, when you made Ghata Shradha, there were many filmmakers like you who made films that could be categorised as parallel cinema. There was an audience for that kind of cinema then. Today, parallel cinema is almost non-existent. Do you feel as if the tastes of the audience have changed?
According to me, people who watch good cinema are still there, but they are not coming to theatres any longer. There are many reasons for this. Firstly, the number of films has not increased. Take Kannada films, for example. Out of 80 films made every year, if there is only one serious film, what is the ratio between commercial films and parallel cinema? One film will never create a wave.
In the 70s and 80s, there were many filmmakers and many films…
Yes, there was a movement back then. The press wrote about these kinds of films, and there was a lot of curiosity among the audience. There was also a kind of participation in the process of filmmaking by the press, the filmmakers and audience, which isn't there now.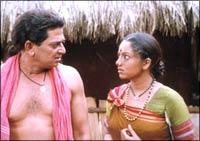 What do you feel are the reasons for not having any interaction among these groups now?
Publicity is what is needed for consumption. One cannot match the kind of publicity commercial films indulge in. In the 70s and 80s, magazines and newspapers devoted a lot of space to parallel cinema; we didn't have to do any publicity. Today, there is no such space for us. Everything has been commercialized; everything is consumerist. Today, newspapers do not write about films like these. The electronic media does not devote any time to us. Everything is assessed through revenue. Nobody cares much about values. They want to use the space for something that will give them profit.
You said there is an audience for parallel cinema even today..
Yes, there is an audience. Many a time, they do not even get to know about these films. Before that, they are removed from the theatres. We do not have the kind of money commercial filmmakers have to spend on publicity.
In the 70s, most films made under the parallel cinema category were about rural India, and the exploitation taking place there. Today, it is said that only films on urban India work.
It is not so. You are only talking about the urban India where changes have taken place, but rural India has not changed much. Maybe those who live in cities are not interested in what is happening in rural India. But, let me ask, what is their percentage? They form only a miniscule minority if you compare the whole of India.
What has happened is, producers today are city-centric, the media is city-centric. In fact, they are not even city-centric; they are metro-centric, and they think the problems haunting the metros are universal problems. That is not true.
In Tamil Nadu too, many analysts and filmmakers say that if they make films with a rural background, even the rural people are not interested in them…
How do you then assess the success of a film like Autograph? The film had something to do with the rural community. If you take a Hindi film like Lagaan, it also was about rural India. What I mean is, it is not right to categorize things like that. Films like Lagaan and Autograph were commercial successes too. What has happened is, in the case of parallel cinema, we hardly get big money to make the film, so, we can't match the kind of publicity commercial filmmakers do. Hindi films spend around Rs 2-3 crores on publicity, which is almost six to seven times the budget of my film!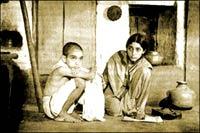 At any point in your career, did you have difficulty raising finance?
Perhaps I am one of those lucky filmmakers. I have been getting finance regularly. So, I am not disillusioned with my kind of cinema and my approach to it.
Did anyone come to you with finance and ask you to compromise?
Many ask me to make 'bridge-cinema'. I don't understand these terms, I tell them. I know only two kinds of cinema -- good cinema and bad cinema. Of course, there are also people who come to me with serious intentions.
Do you feel that internationally too, serious film festivals are falling into the commercial trap? Cannes, for instance.
You may be referring to the Indian example of picking popular cinema. But, if you look at the films that have won the awards, they are interesting films. They are either trying to invent a new idiom in cinema or quite serious. Why do they select such films? Because, for them, it is a non-Hollywood expression. That way, Bollywood films are also a non-Hollywood expression. I think the Bollywood fascination is momentary.
By the way, I wouldn't call these films Hindi films because there are two kinds of Hindi films -- Bollywood films and the kind of cinema made by Shyam Benegal and others like him, which are real Hindi films.
Women characters in your films are very strong and they play a major role. Is this a conscious decision?
I would say it was some kind of subconscious decision because I admire their grit and determination.
Your new film Nayi Neralu is also about three women belonging to three generations, and it is based on a Kannada novel. What was it about the novel that attracted you?
The novel is written by Dr S L Bairappa and, when I first read it, I felt there was a possibility of re-interpreting the novel. I wanted to give it a new interpretation. We tend to believe there was no protest in traditional society. We also believe that protest comes only in one way; that of sloganeering. But there are other ways of protesting too. The protagonist of the novel tries to give the impression that she believes in what society believed. She pretends to believe it because she wants to transgress the rules and regulations set by the society.
There are three female characters -- a grandmother (played by theatre artist Rameswari Varma), daughter-in-law (television actress Pavitra Lokesh) and granddaughter (Kasaravally's daughter, Ananya) -- in the film, belonging to three generations. For the grandmother, her beliefs act as a driving force but, for the granddaughter, it is the rationalist attitude that is the driving force. For the daughter-in-law, everything is ambiguous. Only later do we come to know that she (the daughter-in-law) pretended to believe when she didn't believe at all.
Does the granddaughter belong to the present generation?
No, the story is set in the forties. To be precise, in 1947, just before India's independence.
Was there a conflict in their beliefs?
Actually, it was a conflict between the soul and body, the present and past, beliefs and rationality. These things run through the film. What I want to say is this -- even in traditional society, there were people who didn't fall in line with the established norms. Without being very vocal, they refused or disagreed in their own way.
This kind of conflict exists even today…
Yes, it exists in all societies, all the time. But the general notion is that, in traditional society, it never existed. What I am trying to say is that it did. This film is not issue-based. It is more about understanding human nature.
From Ghatashraddha in 1977 to Nayi Neralu in 2006, how has the journey been for you as a filmmaker?
It is not for me as a filmmaker to look at my journey. I just pick up a short story or novel and try to see it in a new perspective. I never think of my earlier films when I start a new one. I only think of my present work, not my past. I don't know whether you can call it moving ahead or going back….
Is the experience different for different films?
Of course. There are certain films I am very happy with. That happens when I get the feeling I have achieved 50-60 per cent of whatever I have visualized in my mind, on screen. In some films, I feel a lot of things I had visualized had not come through.
What about Nayi Neralu?
A lot of things have come through, and a lot have not. It is all my personal feeling, a viewer may not know how I had visualized things in my mind. You see only what has been realised on screen. That is what is important for the viewer.
Do you feel you were lucky to have begun making films at the right time, considering there was a strong parallel cinema movement to support you?
Actually, I feel I was at the wrong time. I feel the earlier times were better -- the 50s and 60s. I would have been happier making films then!