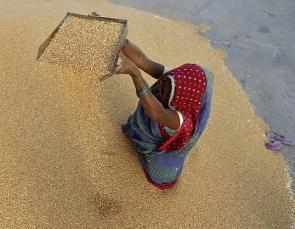 Senior Bharatiya Janata Party leader Murli Manohar Joshi on Monday described the United Progressive Alliance's ambitious Food Security Bill as nothing but a 'vote security bill'.
"This is not a Food Security Bill, it is a vote security bill. The government took four years to come up with the Food Security Bill, and I thought it would be an extensive bill," he said in the Lok Sabha in New Delhi. He further echoed objections raised by Narendra Modi in his letter to Prime Minister Manmohan Singh earlier this month, where he had stated that the scheme will not entitle beneficiaries to adequate calorie intake, and promote malnutrition.
"The bill says adequate nutrition. But what is the meaning of ''adequate''? This bill says household. Does it also include those households where a single member lives? The bill says ready to eat food, nutritional food and fortified food. Where will all of this come from? Where will you get protein from if you made no provision for Dal? Will you give them chicken soup?" he questioned.
Earlier in the day, UPA chairperson Sonia Gandhi urged lawmakers to clear her party's flagship food security welfare scheme to provide cheap food to nearly 70 per cent of India.

"We have a chance to create history with this bill. So, my humble appeal is that we, as representatives of people, must make this Bill into an Act," she told members of the Lok Sabha. Initiating the debate on the UPA government's landmark Food Security Bill in the Lok Sabha Food Minister K V Thomas on Monday said the bill would ensure more transparency and accountability in the Public Distribution System.

The National Food Security Bill is a historic initiative for ensuring food and nutritional security to the people. It gives a right to the people to receive adequate quantity of food grains at affordable prices. The bill has a special focus on nutritional support to the poorest of the poor, women and children. In case of non-supply of foodgrains, the deprived will get a food security allowance.

The bill also provides for grievance redressal mechanism and penalty for non-compliance by a public servant or authority. Under the plan, the government will sell subsidised wheat and rice to 67 per cent of its 1.2 billion population.

Image: A woman winnows wheat crop at a wholesale grain market on the outskirts of the western Indian city of Ahmedabad
Photographs: Amit Dave/Reuters