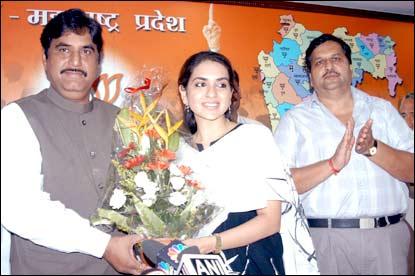 The Bharatiya Janata Party is trying hard to regain its lost sheen. It seems that the party top bosses have decided that the way to sparkle again is to rope in stars.
On Tuesday fashion designer Shaina NC joined the party. Joining the party along with her were more than 270 professionals from various fields.
Shaina NC is the daughter of former Mumbai sheriff Nana Chudasama. Welcoming her into the party was party president and former Maharashtra deputy chief minister Gopinath Munde.
Chudasama is known for his anti-BJP views and has openly criticised Gujarat Chief Minister Narendra Modi for the post-Godhra riots.
The party doesn't seem to be worried that the flurry of stars who had descended on it before the general election did not do anything spectacular.
"I know that everybody wants to know, why I chose BJP. So the answer is that my mother is a Muslim and my father is a Hindu and even then the party accepted me with an open mind. The way NDA government performed in Delhi, no government can compare with that. The BJP is the most progressive secular party in the country," she said.
Shaina is a political science graduate and has a degree in fashion designing from FIT, New York. She will lead BJP's recently formed Health and Cultural Cell of Mumbai.
Shaina found senior BJP leader Sushma Swaraj the most well dressed politician in country, followed by Gopinath Munde.
Munde said, "Shaina will work to convince the new generation to join the party."

Photograph: Arun Patil